The Magazine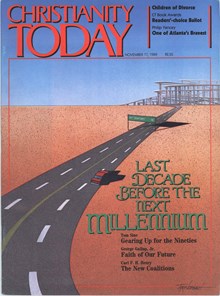 Read CT online anywhere you go.
Subscribers get full print and digital access, including:
10 award-winning print issues
PDFs of each issue
Full web access to ChristianityToday.com
60+ years of magazine archives
Table of Contents
The CT Archives are a rich treasure of biblical wisdom and insight from our past. Some things we would say differently today, and some stances we've changed. But overall, we're amazed at how relevant so much of this content is. We trust that you'll find it a helpful resource. - Mark Galli, editor-in-chief
Also in this Issue:
25 Years Later, Life Still Springs from Death
Current Events: Ministries Come to Aid of Quake Victims
Readers Who Really Read
Rescue Theology
Satanism: The Horror and the Hype
The New Coalitions: Evangelicals Can Count on Having to Join Forces with Nonevangelicals before Significant Social Change Can Come
Those Were the Days, My Friend
Letters
It Is Necessarily So
One of Atlanta's Bravest
FILLER TITLE
Shifting into the Future Tense: Churches in the Information Age Have Tremendous Resources to Plan for the Coming Decade
Tracking America's Soul: Our Nation's Most Famous Pollster Talks about American Religion on the Brink of the Nineties
The Biggest Divorce: Marital Breakup May Be Traumatic for Children, but with Prayer and Loving Attention, the Wounds Can He Healed
FILLER TITLE
Classic & Contemporary Excerpts from November 17, 1989
Interview: Hope for a Peaceful End to Apartheid
Believers Push Forward despite Legal Limbo
'Wall of Separation': A Principle in Crisis?
Justices Pass on Racketeering, Tithe Cases
Will History Be Repeated in New England?