The Magazine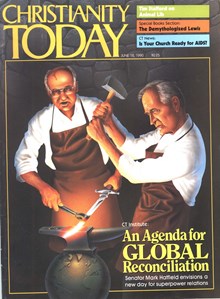 Read CT online anywhere you go.
Subscribers get full print and digital access, including:
10 award-winning print issues
PDFs of each issue
Full web access to ChristianityToday.com
60+ years of magazine archives
The CT Archives are a rich treasure of biblical wisdom and insight from our past. Some things we would say differently today, and some stances we've changed. But overall, we're amazed at how relevant so much of this content is. We trust that you'll find it a helpful resource. - Mark Galli, editor-in-chief
Mark Hatfield on Beyond Containment: A New Vision for Superpower Relations
Envisioning a new day in relations between the U.S. and the Soviet Union.
Also in this Issue:
"A Remarkable Situation Unfolding"
Amy Grant Meets Dr. Strange
Can We Take the Chance?
Deadly Disease: Aids: Coming to a Church near You?
Demon Rum on the Run
Evangelicals Gain but Need More Growth
First, Win the Cold War
Great Britain: World Vision Counters Critics
Public Morality: Old Laws Face New Tests
Send in the "Reconciliation Corps"!
Statement on Racism a Catalyst for Dialogue
Taking Aim at Art
Washington Rally: Abortion Debate Turns into Numbers Game
Letters
Why I like My Pie in the Sky
Feeding the Black-Leathered Masses
High-Power Politics
Animal LIB
CT Institute: An Agenda for Global Reconciliation
Beyond Containment
Classic & Contemporary Excerpts from June 18, 1990
The Demythologized Lewis
Medical Ethics: Christian Doctors Approve in Vitro Fertilization
Mexico: Pope Voices Concern over Catholic Defection
News from the North American Scene: June 18, 1990
World Scene: June 18, 1990
75th Anniversary: Messianic Jews Seek Visibility, Respect
Namo's Hall of Fame