Bible comes with breakfast on sunny South Padre Island, Texas's hottest spring-break resort.
It does, that is, for the students who can't find a seat at one of the two restaurants in town that offer a 99-cent breakfast. So instead, they head over to Island Baptist Church to gobble down pancakes, Spam, orange juice, and French toast—for free. By 9:30 A.M. one especially balmy spring morning in this coastal resort town, 250 college students have dropped by.
"I was just driving down the road and saw their sign, so I thought they wanted me," said Southwest Texas State University student Tom Fawcette. That morning, he got to listen to the contemporary Christian rock group Petra wailing over the loudspeakers. He also was handed a card with the plan of salvation on one side and a hotline number on the other.
He is one of at least 100,000 students from colleges and universities in the Midwest, Texas, and Canada who descend on this five-mile-long island each March. The island's eastern edge, only a few blocks wide, abruptly ends with a line of hotels that overlook the whitest beaches in Texas. The hotels, boarding houses, and cottages, along with a glitzy mall constructed with tourists in mind, make the beach a popular destination amid south Texas's drab terrain. In recent years, South Padre has rivaled Fort Lauderdale and Daytona Beach in Florida for fun, sun, and sin.
Waiting for the student hordes with open arms is Island Baptist. Each spring break, many of its 107 members, along with volunteers from around the state, put together one of the Southern Baptist Convention's more offbeat outreaches. This particular morning, a contingent from the Texas Baptist Men disaster unit (no joke) was flipping pancakes at the grill. Helping out were students from Baptist Student Union (BSU) groups around the state. Last spring, 150 came. Their rewards were suntans and little sleep.
"A girl called us last night," said Buddy Young, a BSU director at West Texas State University, "because a guy had passed out in her room and started throwing up. She didn't even know who he was. His friends had gotten him drunk and left him there. We sobered him up, and we'll be going back this afternoon to talk to him some more."
The "we" includes BSU students involved in the church's van service for spring-break students. Island Baptist prints up about 75,000 manila hotline cards to be distributed on the island. Even local bartenders give them out to students too drunk to walk back to their hotels.
Anyone can call the hotline, day or night, and be put in touch with an operator who will pass on the call for for a ride to one of five vans equipped with CB radios. These vans roam the town and pick up students too drunk to make it back safely to their hotels on their own. Before they leave the van, passengers will hear the gospel presented by two Baptist students stationed in the van for that purpose.
Reaction varies, but sometimes riders tell their compadres to shut up so they can listen. Church members estimate they picked up almost 8,000 during spring break last year.
"That's their most important service, in my mind," said Geri Wilson, communications manager for the South Padre Island Visitor and Convention Bureau. "They're really helping people."
No-Holds-Barred Evangelism
The Southern Baptists may be helping more people than they know, given the nature of the intoxicated college student. One of the country's grisliest murders occurred less than an hour's drive from South Padre last year when a group of bored "spring breakers" left the island on March 13 and drove across the border to the Mexican city of Matamoros. That night, a 21-year-old University of Texas premed student disappeared to become the fourteenth victim of an occult group. The discovery of Mark Kilroy's body days later created headlines around the country.
Spring-break ministry is therefore more significant and serious than it might seem, says Island Baptist's 29-year-old pastor, Charlie Arnold.
"Beach ministry just isn't given much attention," Arnold believes. "We talk about urban evangelism, downtown ministry, border ministry, and so on. But resort areas offer some significant advantages in ministering to people," says this minister sporting a "Padre for Jesus" T-shirt, whose boyish face and wind-tossed brown hair make him look more puckish than preachy.
One of these advantages has to do with the leisure time and built-in boredom factor that hits "spring breakers" on about the fourth day. Then the students start wandering down to Matamoros—and the Southern Baptists start applying Arnold's no-holds-barred evangelistic methods.
His Baptist student volunteers hang out at concerts and start up conversations in Port-a-Potti lines, elevators, and in hotel hot tubs. The last method was pioneered by a wheelchair-bound man who wanted to witness. His friends moved him from one hot tub to another in the luxury beach hotels, where he witnessed to his heart's content.
No Locale Too Remote
Arnold's "army" also crashes private parties. "We've had the parties' hosts turn the music off and ask everyone to sit down and listen to what we were saying about Christ," Arnold said. "And people got saved. We've had people pray in the middle of nightclub dance floors. People are searching for something. There's something about the dynamics of a resort area that make people willing to talk to each other."
Arnold takes that view so seriously he is studying resort evangelism at Luther Rice Seminary in Jacksonville, Florida. No locale is too remote for his evangelists. If crowds of students are floating out in the surf waiting for waves, Arnold sends Baptist surfers out to talk with them.
The action is even faster on the beach, where the Baptists staff "burnt-aid stations" and offer free water and aloe for red skins. An estimated 700 students a day patronize them, stepping around beer cans, pornographic sand drawings, fraternity flags, and boom boxes to get there.
That is no small task. Spring break on the beach looks like a cross between a massive "frat" party and Sodom and Gomorrah. Both sexes model avant-garde swimsuits, guzzle beer, and listen to the rantings of a local disc jockey broadcast at ear-splitting levels. Even students sitting a football-field length from the speakers have a hard time hearing each other.
"Some people have been praying with us [to accept Christ], and others have decided to wait," said one BSU student who was dispensing aloe. "I think they're more willing to tell us about God than we are to tell them. Almost no one has turned us down for conversation. They ask us about premarital sex and drinking."
At the end of each week, Arnold stages a baptism at the most crowded part of the beach. By this time, jaded "spring breakers" are willing to hear something different. Each time a new convert arises, dripping, from the waves, the crowd lets out a cheer.
Five were baptized during spring break 1989 and another five students were converted after they asked what was happening. The church recorded 285 conversions that week. In 1988, when Arnold had more student helpers, 313 students committed their lives to the Lord—and that doesn't include the conversions logged by workers from InterVarsity Christian Fellowship and other Christian groups roaming the beaches.
Island Baptist sends the names of new Christians to the Southern Baptist church nearest their campus and to a local BSU representative. Arnold has three files of letters from grateful "spring breakers" who became Christians at South Padre. Those letters keep him going while he waits for his dreams of year-round evangelism to the island's 1.2 million visitors to come true. They keep him going during weeks of unceasing work and little sleep. They keep him going with memories of students who came looking for enjoyment, found emptiness, encountered Christ, and left knowing him for eternity.
By Julia Duin, religion writer for the Houston Chronicle, and author of Purity Makes the Heart Grow Stronger (Servant).
Have something to add about this? See something we missed? Share your feedback here.
Our digital archives are a work in progress. Let us know if corrections need to be made.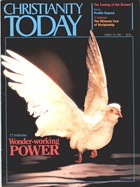 This article is from the March 19 1990 issue.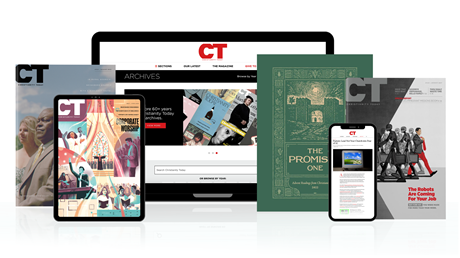 Annual & Monthly subscriptions available.
Print & Digital Issues of CT magazine
Complete access to every article on ChristianityToday.com
Unlimited access to 65+ years of CT's online archives
Member-only special issues
Subscribe
Island Baptist's Burnt-Aid Stations
Island Baptist's Burnt-Aid Stations