ROMANIA
Wcc, Church Admit Mistakes
Officials of both the World Council of Churches (WCC) and the Romanian Orthodox Church have acknowledged that neither body raised a stong enough protest against the regime of deposed dictator Nicolae Ceausescu. Emilio Castro, WCC general secretary, said, "We didn't speak strongly enough, that is clear. That is the price we thought we needed to pay in order to help the human rights situation inside Romania."
Likewise, an official message from the Romanian Orthodox Church, which represents about 80 percent of the country's population, expressed "regret" that the church had not "publicly acknowledged the hidden pain and suffering of the Romanian people." Church officials, led by Patriarch Teoctist, renounced Ceausescu after his fall.
But critics such as Keston College's Michael Bourdeaux were not satisfied by the abrupt about-face. "A voice of prophecy" at the right time "might have saved bloodshed," he said in a BBC interview. "Instead of warning against what was happening and getting the church leaders to take a stand, the church leaders spoke out in entire support of Ceausescu." Bourdeaux cited several statements by Teoctist and other officials that offered praise and support for the former ruler.
Though Teoctist defended his actions as necessary to "prevent the church from obliteration," he resigned in late January. Three bishops were left in charge of the church, but they too have come under sharp criticism for their roles during Ceausescu's regime.
ISRAEL
Immigration At Issue
Reacting to the recent record-breaking numbers of Soviet Jews moving to Israel (CT, March 5, 1990, p. 38), Arab leaders have called on Western governments to stop the Jewish immigration. The Arab League foreign ministers say they oppose the immigration unless guarantees are made that the arrival of the Soviet Jews would not "change the demographic status quo in the region." They have called for regulations that would ban the immigrants from living in Palestinian territories, such as the Gaza Strip, the West Bank, and East Jerusalem. So far, most of the 13,000 Jews who arrived last year have settled outside those areas.
GOD'S KINGDOM
Manifesto Unites Groups
A diverse, international group of Pentecostal, charismatic, and evangelical social activists met in England early this year to discuss and issue the "Kingdom Manifesto," a statement the conferees hope will unite many different groups around the material and social, as well as spiritual and individual, implications of the gospel.
Ron Sider of Eastern College in Pennsylvania served as cochairman of the meeting with British church leader Michael Harper. He said the statement, originally developed by Brian Hathaway of Atatu Bible Chapel, Auckland, New Zealand, will be promoted and studied through many different spiritual communities during the next two or three years.
"The Kingdom of God is both a present reality and a future expectation," says one passage of the ten-section statement. "Therefore we seek its demonstration here on earth while awaiting its full revelation in the future." The statement also calls for the "transformation of the whole of society," which is "inseparable from the transformation of the inner, spiritual life of people, families and communities."
SOVIET UNION
X-Rated Reforms
The new openness of the Soviet Union has ushered in a revolution now 20 years old in the West: the sexual revolution. With glasnost has arrived an erotic art exhibit in Moscow, nude actors and actresses in Soviet theater, explicit sex scenes in films, and a Playboy pictorial on "The Women of Russia."
Dmitri Shalin of Harvard's Russian Research Center reported recently in the New York Times that premarital sex is increasingly common among youth in the Soviet Union (two-thirds lose their virginity by age 21). The number of cases of sexually transmitted disease in Moscow tripled from 1982 to 1986 and continues to rise. Also, prostitution has become increasingly common and accepted.
The new sexual morality has become a political issue: condemned by Communist conservatives as the product of reform policies, cited by liberals as evidence of the state's inability to meet basic needs.
PEOPLE AND EVENTS
Briefly Noted
Resigned: Jonathan Chao, as head of the Chinese Church Research Center in Hong Kong, to train 1,000 new Taiwanese evangelists for mainland China. Chao is president of Christ's College in Taipei, which will offer the training program in conjunction with Taosheng Seminary and the Chinese Mission Seminary in Hong Kong.
Organized: The first Bible societies in the Soviet Union. The Latvian Bible Society was organized by Lutheran and Baptist churches. The Russian Bible Society was founded by individuals that include Alexi Bychkov of the Union of Evangelical Christians—Baptists; Konstantin Kharchev, former head of the state Council for Religious Affairs; and a member of the Supreme Soviet. The Russian Orthodox Church is not represented in the new society, which thus far includes only individuals, not church bodies.
Retained: A Shinto ritual as part of the November imperial ascension ceremony for new Japanese Emperor Akihito. Legal scholars and religious leaders say the ceremony violates the church-state separation required by Japan's constitution, adopted in 1947.
CAPITAL CURRENTS
Baker's "journey of faith"
Secretary of State James Baker startled many Washingtonians at last month's National Prayer Breakfast when, as the keynote speaker, he talked about the "development" of his personal faith. "For me, living in this centrifuge of power and politics has encouraged, and I might even say has demanded, spiritual growth," he said.
Noting the addictive and corruptive aspects of power, Baker said after nine years in high-level government office, he has discovered that "having a position of power does not bring inner security or fulfillment." He said, "That comes only, I think, by developing a personal relationship with God, which for me is personified by Jesus Christ."
Baker's wife, Susan, a devout Episcopalian, has been outspoken about her Christian beliefs, but this event was the first time Baker has publicly discussed his faith. During his address, he admitted being uncomfortable with talking about such a personal thing. "I certainly don't feel like an expert on this subject," he said. "I am just one person genuinely struggling to put faith into practice in my life." But, he added, politicians "shouldn't be hesitant to speak about spiritual values."
Evangelical Christians were encouraged by Baker's remarks, but some veteran Washington observers were more skeptical. In an editorial in the Washington Post, influential columnist Mary McGrory raised questions about whether Baker's political ambitions motivated the speech. "Baker has always been anathema to the right wing, which thought him a dangerous internationalist," McGrory wrote. "They might be mollified by his show of religion. At least it opens a door to the element in the party without whose support no Republican can hope for the presidential nomination."
GOP waffling on abortion?
At the winter meeting of the Republican National Committee, how to handle the abortion issue was among the top agenda items. On the first day, an effort to pass a resolution reaffirming the GOP's opposition to abortion was firmly squelched.
Party leaders, beginning with chairman Lee Atwater, have lately advanced the view that the party should accommodate Republicans on both sides of the abortion issue, with some saying that, for the sake of the party, abortion should not be considered a "litmus test."
Yet many within the party fear an internal war over the issue may be unavoidable. Atwater urged all Republican candidates, whatever their abortion positions, to be clear and unequivocal about where they stand.
Tax alert
A coalition of churches and nonprofit, religious, business, and labor groups has launched an educational effort to help low-income families obtain full tax benefits from the Internal Revenue Service. Called the 1990 Earned Income Credit campaign (EIC), the effort alerts working families who have children living at home that they may be eligible for the tax credit, even if they earned too little to owe income tax.
"Many low-income working families may be unaware of the credit and may fail to apply," said Robert Greenstein, director of the Center on Budget and Policy Priorities, the Washington-based group coordinating the campaign.
Fighting over peace dividend
As talk of massive military budget cuts increases, more and more special interest groups are coming up with ideas about what to do with the resulting "peace dividend." The Christian antihunger group Bread for the World (BFW) is suggesting the dollars go to a "Harvest of Peace" to fight world hunger. A congressional resolution backed by the group and introduced by Sen. Mark Hatfield (R-Oreg.) and Rep. Matt McHugh (D-N.Y.) calls for the nations of the world to cut military spending in half by the year 2000 and redirect the resources to hunger assistance.
Meanwhile, the Family Research Council (FRC) has circulated a memo urging Congress to use any peace dividend funds to finance across-the-board tax cuts for families, who, according to the group, have shouldered the brunt of the Cold War military build-up.
People
Former FRC president Jerry Regier has been appointed to the Justice Department, where, as executive assistant to the attorney general, he will be involved with the Bush administration's antidrug efforts. Rep. Frank Wolf (R-Va.) received Prison Fellowship's (PF) annual William Wilberforce Award because of his work on human rights and other justice issues. "Frank Wolf is a politician whose commitment to God's standards of justice and righteousness supersedes his pursuit of political advancement," PF chairman Chuck Colson said. Rep. Paul Henry (R-Mich.) was among 12 members of Congress on the National Journal's list of "Congress's Rising Stars." The weekly Washington magazine praised Henry's "thoughtful" and "conciliatory" approach to politics, specifically citing his work in recycling and worker-safety issues.
Have something to add about this? See something we missed? Share your feedback here.
Our digital archives are a work in progress. Let us know if corrections need to be made.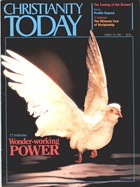 This article is from the March 19 1990 issue.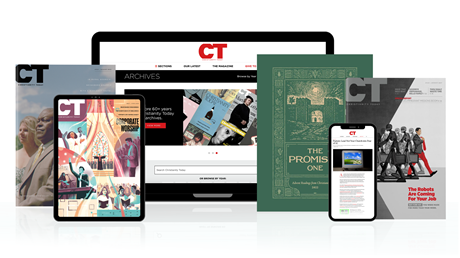 Subscribe to Christianity Today and get access to this article plus 65+ years of archives.
Home delivery of CT magazine
Complete access to articles on ChristianityToday.com
Over 120 years of magazine archives plus full access to all of CT's online archives
Subscribe Now
World Scene: March 19, 1990
World Scene: March 19, 1990