The mystery novel is thoroughly moral in its basic conflict between good and evil.
In search of a detective story he had not already read, Old Testament scholar Henry Wheeler Robinson once reduced a railroad bookstall to chaos. Exclaimed an exasperated clerk, "Well, sir, all I can suggest is that perhaps you might try some serious literature for a change."
The detective story is the serious-minded person's sabbatical. It is the literature of amusement and recreation, the sickroom and the traveling public. At least three theologians—Dorothy L. Sayers, Gilbert Keith Chesterton, and Ronald Knox—wrote detective stories, and this suggests there are some connections between this genre and theology.
Said Chesterton: "My taste is for the sensational novel, the detective story, the story about death, robbery and secret societies; a taste which I share in common with the bulk at least of the … population of this world.… As long as a corpse or two turns up in the second, the third, nay even the fourth or fifth chapter … I ask no more. But a novel without any death in it is still to me a novel without any life in it."
Many reasons are advanced for the detective story's popularity. Is it aberration or self-indulgence? Interest in people or plot? Alexander Dumas's "egotistical piety" that says in effect "Now that's something I don't do / of which I'm not guilty / for which I can't be blamed" (compare the Pharisee's prayer in Luke 18:11–12)? Is it relaxation from anxiety or vicarious satisfaction from seeing honesty vindicated, justice done, faith in order, moral, and social stability confirmed, and permissiveness corrected? Marvels Dorothy L. Sayers, "What a piece of work is man, that he should enjoy this kind of thing!"
First, The Crime
The detective story's process is customarily as follows: First, a crime is committed—"against one's neighbour," says W. H. Auden, "against society or against God. The first and second are also against God."
Second, the law, hitherto uncalled-for, enters the subsequent state of dissidence and disequilibrium. It may come in the form of an official representative—an Inspector Plodd, say, whose dogged persistence and bulldog tenacity is supplemented by the "police machine." Or it takes the form of an exceptional person—a sleuth who is typically insouciant, languid, even amoral, and indifferent to fame and fortune. A charmed life is punctuated with preferred choices for the application of detective skills. The male of this species is either a loner or surrounded by fast cars and faster women. Although, notes Dorothy L. Sayers, "the less love in a detective story, the better."
Third in development of the process is that prior to the crime, everyone is innocent. Once normative behavior is exceeded, however, everyone—to varying degrees—has something to hide. Clues are isolated and deductions are made from them. "There is nothing covered, that shall not be revealed; and hid that shall not be known" (Matt. 10:26). Detection is through rationality, logic, and imagination. Logical explanation, claims Sayers, is the detective story's raison d'être.
Fourth, the detective story seeks simultaneously to surprise its reader and to convince him that everything previously revealed about the suspects is consistent with the criminal's identity. Readers then realize that the guilty person has, so to speak, been traveling incognito in their company. The revelation of guilt alone is not enough. Readers need to be assured that public justice is done and redressive action is taken. The exceptional person, more often than the law's official representative, sometimes decrees the criminal act justifiable—to the point of allowing the guilty one to stay free or to arrange his or her own life's end.
This genre is thoroughly moral. Within the basic human conflict between good and evil, evil is identified and its perpetrator is punished. The detective story possesses a moral seriousness, a message, mission, and a conscience.
Inspiration For Theology
The study of the whodunit gives rise to theological reflections. Of importance to the detective is the seemingly insignificant clue—the cigarette butt, speck of blood, carpet thread, wisp of hair, fingerprint, and half-burnt match. Things matter. Such clues need to be taken seriously, used, and seen as vehicles for messages, just as in Scripture some sleuths follow age-old clues telling of a promised ideal Davidic king who will usher in an ideal future, while others pursue clues that lead to a manger, the world's back door through which enters God in Christ Jesus as a baby to make a woman cry and commence his human nature.
Detective fiction assumes that, given the facts, these are amenable to discernment and rational explanation as they relate to a specific situation. These facts are subject to the absolutes of truth and justice, neither whims nor relativities. They are, at least, the starting point of an apologetic that concludes with faith.
Man is made in God's image. Yet he is flawed and disfigured by sin. He is capable of crime. Good people may become criminals. The hero may be a villain, and the villain a hero. One may be capable of committing crime, yet he or she exercises restraint. "What a chimera is man!" Indeed, "there is no distinction: since all have sinned and fall short of the glory of God" (Rom. 3:23). The criminal represents a form of humanity's general condition. The criminal is quintessentially human. The discovery of sin within us that may tilt into a crime should influence our views concerning the understanding and treatment of the criminal. It should inform our self-understanding.
This humanizing quality of the Christian faith is ideally reflected in Chesterton's Father Brown. This pious priestsleuth's "skill" comes through an ability to put himself in the criminal's place, to discover the criminal's ambitions, fears, desires, and hopes. Father Brown is, therefore, a priest who understands the criminal act as a human act, and its perpetrator as a human being with desires and needs not unlike his own. Father Brown is thus compassionate above all else.
Each man, woman, and child has the right not to be cheated, molested, robbed, or to have life taken away. This applies to politician, pauper, bag lady, beauty queen, street sweeper, or physician. The law initiates identical painstaking efforts to do justice. That people matter is the fundamental principle of the whodunit. And the law respects neither status nor worthiness—neither a Saul nor a David.
The author of detective fiction allows tragedy to run its course before a solution is discovered, equilibrium restored, brokenness repaired, and redress made. Tragedy is neither trivialized nor suppressed. In Christianity, crucifixion must precede resurrection, Good Friday's three hours must precede Easter morning. In both biblical faith and crime detection, tragedy does not have the final word. There is absolution (Isa. 53:10–12). There is vindication and victory.
God in Christ Jesus is like a detective who comes, not to avenge and punish, but to seek and save the lost. His search-and-rescue mission is committed to the mediation of God's pardon and peace. Francis Thompson's Hound of Heaven is a theological nightmare that expresses the remorseless love and grace of God. The sinner is pursued by one from whom no secrets are hid. His capture results in salvation, God engages in this pursuit "with unhurrying chase, and unperturbed pace, / Deliberate speed and majestic instancy."
A Pastoral Theology
There are also pastoral reflections that arise from a study of the whodunit.
Consider that the parish pastor generally, and the counselor specifically, deals with mysteries of doing and being, at times hidden and confused. What is perceived as a clue needs to be followed up once it is teased out. The implicit is clarified. Latent meanings are focused upon. What is it that is being said that cannot be said safely in another way? Are there feelings behind words? What is not being said that should be said?
The detective and the pastor share the right of geographical access. With the exception of the moored and nearly immobile Nero Wolfe, the former must use initiative in order to do his work. Pastoral initiative is necessary, too. This is demonstrated by the pastor's home visitation, attention to correspondence, use of the telephone for shepherding rather than merely for administration, and housekeeping.
John Wainwright's Inspector Caan says of his "patch": "We police it. We go through the motions. But we never get to the bottom … or ever will" (Take Murder, p. 12). And of Chief Detective Inspector Wycliffe, his creator, W. J. Burley, writes:
Sometimes he envied people with jobs where they knew exactly what they had to do. Their days had a beginning, a middle and an end. One might take pride in doing such a job well. He seemed to spend his time floundering in a welter of activity which might come to something or nothing. Only rarely was it possible to go home at the end of the day with any feeling of completion; there was always the carry-over to tomorrow.
(Wycliffe's Wild Goose Chase, pp. 70–71)
Characteristics of the ministry include a similar unpredictability—all the surprises that come for work with, among, and for people, rather than at and upon things. The pastor, too, needs wisdom, common sense, tact, judgment, and an ability to accommodate disturbing, even turbulent, second or subsequent thoughts about previous decisions. He, too, works upon more than one thing simultaneously. He, too, is wearied by an inability to witness concrete and tangible results, by not being able to do enough, by never catching up and never finishing his work. He, too, finds that work may become an obsession, the tiger from which he dares not dismount. Every relationship can become professionalized.
The detective story's final chapter gives sense to all that has gone before. The minister's work is enlivened and undergirded by what precedes. This is the Christian story—manger, cross, garden tomb, Pentecost. These give aim and substance to his efforts. These and the shape of things to come make his labor not in vain. Although he probably agrees, God's will and wisdom resemble many a crime story. The Author takes a long time to say what he has to say, and, while he may indeed finish his sentences, his words are often strung out to the point of frustration.
Upon reflection, then, let us be less apologetic about enjoying a good whodunit before we turn out the light.
Have something to add about this? See something we missed? Share your feedback here.
Our digital archives are a work in progress. Let us know if corrections need to be made.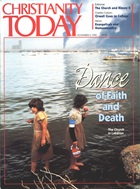 This article is from the November 5 1990 issue.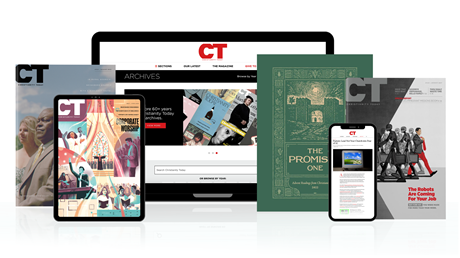 Subscribe to Christianity Today and get access to this article plus 65+ years of archives.
Home delivery of CT magazine
Complete access to articles on ChristianityToday.com
Over 120 years of magazine archives plus full access to all of CT's online archives
Subscribe Now
Whodunit Theology
Whodunit Theology