Speakers and delegates at the forty-ninth annual convention of the National Association of Evangelicals (NAE) held last month in St. Louis tried to stick with the theme, "Proclaiming Jesus Christ Together!" But amidst the calls to step up to the evangelistic challenge were the realities of being the church in a troubled world, NAE convention program coordinator David Rambo issued the call for "a coalition of allied evangelical forces to do what nobody thinks they can do—evangelize at least 82 million Americans who do not yet know Jesus Christ as Savior."
But the meeting halls also were buzzing with talk about the recent Gulf War and the relationships between evangelical whites and blacks, two issues that illustrate that NAE'S greatest challenge perhaps remains in building a unified front of evangelicals from which to proclaim Christ "together."
Much like an adolescent enduring growing pains, the convention was subject to mood swings. There were solemn moments, such as when the estimated 1,000 delegates read aloud a litany confessing the sin of racism, or when NAE executive director Billy Melvin uncharacteristically broke down while pleading for unity.
There were also intense moments, such as when a committee including just-war advocates and pacifists worked to grind out an agreeable statement on the Gulf War.
At the top of the convention agenda, delegates took a serious look at the state of evangelism as the church moves toward the twenty-first century. Evangelists John Guest and Luis Palau urged leaders to reclaim a vision for proclaiming the gospel and equipping laity to witness.
"There is a desperate need for those of us who call ourselves evangelicals to go and evangelize," Guest said.
A convention resolution echoed their sentiments: "This final decade before the twenty-first century is an unprecedented and wonderful opportunity for evangelism," it said.
Researcher George Barna painted a picture of the complicated fields evangelicals must harvest, with time-conscious baby boomers demanding the church be relevant. The church must provide its Sunday-school children with the same computers they thrive on at school.
No issue, however, is more important than the need for evangelicals to work together, Melvin told the gathering. "We have not yet achieved the biblical mandate that calls us to minister together," he said.
Unity, Diversity
A quick glance at the resolutions hammered out during the convention gave evidence that NAE'S members from 48 denominations are at once more unified than ever and yet as diverse as ever.
Besides church growth, perhaps the most-discussed topic was an appropriate response to the recent Gulf War, a matter that stretches thin the evangelical group's cohesion. Traditional peace churches, such as the Mennonites, opposed a statement that would have implied support of military action, which was favored by many just-war advocates.
An early draft thanked God that the war was over, thanked President Bush for calling the nation to prayer, and designated April 21, 1991, as War Relief Sunday, in which member denominations are urged to pray and to aid victims of war.
But sparked by complaints by Robert Dugan, the director of NAE'S Washington Office of Public Affairs—and also by Bush's omission of any reference to God during his speech to Congress on the Wednesday night of the convention—the resolution committee issued a revised statement that criticized the President because he "thanked everyone but God" in his address.
The statement also was amended on the floor to commend Bush "for his principled leadership" and to thank God "specifically for … the removal of the original aggressor from Kuwait."
Racism As Sin
On another front, members of the National Black Evangelical Association (NBEA) attended the convention as part of an ongoing effort to promote unity among the two groups. Having forged a joint statement against racism last year, NAE this year adopted its own resolution condemning racism as an "insidious sin" and urging NAE denominational members to work against racism—by rejecting segregation in local churches, forming partnerships between local black and white churches, and teaching correct attitudes in the home.
With six NBEA members sharing the stage on Wednesday night, NAE delegates, led by Melvin, confessed jointly, "We have harbored sinful racist thoughts that have not regarded all human beings as equally made in the image of God."
While the efforts encouraged NBEA executive director Aaron Hamlin, he said he hoped to see people deal with the issue with more emotion on a personal level. He added that the groups' leaders are engaged in fruitful conversation and that the best working model for the two groups appears to be that of being separate, but cooperative.
Nonetheless, George McKinney, the pastor of the 2,000-strong, black Saint Stephen's Church of God in Christ in San Diego, California, and an NBEA leader, said during his Wednesday night speech, "I think God is up to something here."
One thing on which NEA convention members resoundingly agreed was adoption of a reaffirmation of the Bible as the sole authority for believers, and of abortion and homosexuality as sins. The statement was prompted in part by recent movements in several mainline denominations to reconsider the role of homosexuals in the church.
In other action, Missouri Gov. John Ashcroft was named the NAE 1991 Layperson of the Year. James Reapsome received the James DeForest Murch award for excellence in Christian journalism. Jerry Ballard, recently resigned as executive director of World Relief, was presented the 1991 J. Elwin Wright award for "faithfulness in advancing evangelical cooperation on both a national and international level."
By Joe Maxwell in St. Louis.
For years Elder Paul Dunn was one of the top 90 men in the Church of Jesus Christ of Latter-day Saints, noted in the 7.3 million-member church as a dynamic speaker. But in mid-February Dunn was forced to admit he made up many of the personal stories that had gained him wide acclaim.
There was the one about a World War II buddy dying in his arms while begging Dunn to teach American youth about patriotism; the one about God protecting him as enemy machine-gun bullets ripped away his clothing, gear, and helmet without touching his skin; the one about playing baseball for the St. Louis Cardinals.
"Maybe he got me mixed up with another person," Dunn's war buddy, Harold Lester Brown, told the Arizona Republic, the paper that exposed Dunn's partly true-to-life stories.
Dunn, 66, who has a doctorate in education and is the author of 28 books and 23 inspirational cassettes, told the Republic his technique was to combine elements of several stories to make a single story that better conveyed a message and captured interest. "My motives are pure and innocent," Dunn says. "I haven't purposely tried to rewrite history."
In fact, Dunn never played for the Cardinals, though he did spend part of one season on a Cardinals' farm team. And Dunn admits only the heel of a boot was shot off by machine-gun fire.
The truth came to light last fall after a Mormon free-lance writer, fired from his teaching position at Brigham Young University, provided the Republic information about Dunn. Mormon leaders in fall of 1989 had quietly placed Dunn on emeritus status "for health reasons" after investigating some of the stories. But until publication of the Republic's article, there was official silence regarding Dunn's actions. Mormon leadership still chooses words such as embellishments to describe Dunn's stories.
An article in a Mormon paper the day after the Republic's article was published said Dunn was "deeply sorrowed to read the article, which aims at a great institution and those officers who represent it."
Mormon spokesman Don LeFevre told CHRISTIANITY TODAY that "the church does not condone misrepresentations," adding that Dunn's problems "won't affect the [Mormon] church at all. We are talking about an individual here."
Have something to add about this? See something we missed? Share your feedback here.
Our digital archives are a work in progress. Let us know if corrections need to be made.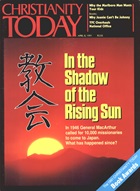 This article is from the April 8 1991 issue.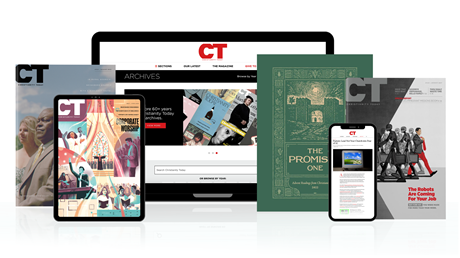 Annual & Monthly subscriptions available.
Print & Digital Issues of CT magazine
Complete access to every article on ChristianityToday.com
Unlimited access to 65+ years of CT's online archives
Member-only special issues
Subscribe
Annual Convention: NAE Struggles for Statement on Gulf War
Annual Convention: NAE Struggles for Statement on Gulf War