War in the Persian Gulf and a failed coup in the Soviet Union dominated world headlines in 1991. Both events altered the terrain for Christian ministry in those regions.
The year began with the world anxiously watching the U.S. and its allies assemble more than a half-million troops in Saudi Arabia, ready to drive Iraqi forces from Kuwait. The night after President Bush issued the order to begin the attack, his White House guest was Billy Graham. Prior to issuing the order to attack, Bush sought counsel from religious leaders, including Senate Chaplain Richard Halverson and Edmond Browning, presiding bishop of the Episcopal Church.
Operation Desert Storm enjoyed broad support among the American people, overwhelming the voice of protest from ardent pacifists and some mainline church leaders. While the National Association of Evangelicals took no official position on the war, Robert Dugan, director of the NAE Office of Public Affairs, stated publicly that he supported the use of force in the region, arguing that Desert Storm met the criteria for a just war. Religious broadcaster Pat Robertson was among the many who viewed the war as a possible sign of the end times. Indeed, the war created a bull market for apocalyptic books.
Democratic reforms in the USSR received a boost from an unlikely source—hardline Communists—when their failed efforts to replace Mikhail Gorbachev merely energized those intent on restructuring Soviet society. The events of late summer solidified religious freedom, holding open the door to scores of Western ministries. At the same time, however, Mormons, Hare Krishnas, Jehovah's Witnesses, and other non-Christian religions also rushed in to fill the spiritual vacuum left by decades of communism.
Domestic Battles
As a shooting war was fought and a cold war was laid to rest in the name of freedom, religious leaders on the home front registered their concern about threats to religious liberties. Church/state experts cited the trend toward limiting the free exercise of religion, following the 1990 Supreme Court decision in Oregon Employment Division v. Smith, which dealt with the use of peyote in religious ceremonies.
The antiabortion "rescue" movement proved its vitality. Some 2,000 were arrested in 41 cities during "Holy Week Rescues" in the spring. In the summer, the movement drew the nation's attention to Wichita, Kansas, where, during six weeks of organized activity, more than 2,500 were arrested. Meanwhile, with the advancement of prolife legislation in several states, the stage seemed set for a Supreme Court reconsideration of Roe v. Wade within the next year.
Euthanasia assumed higher priority on the domestic moral agenda. In late 1990, Nancy Cruzan died after food and water tubes were removed at her family's request. Not long afterward, the father of 21-year-old Christine Busalacchi, who had been in a brain-damaged state since a 1987 car crash, began a legal battle to allow her to die, absent any prior instructions from his daughter. Advocates of euthanasia were dealt a serious blow in November, however, when citizens in Washington state voted solidly against a November referendum proposing doctor-assisted suicide (see p. 50).
Sexuality Debate
Issues of sexuality dominated the headlines among mainline denominations. In June, representatives of the Presbyterian Church (USA) overwhelmingly rejected a report calling for acceptance of homosexual unions, though the church's assembly chose to retain the report for study in the church.
Delegates to the general convention of the Episcopal Church affirmed that church's teaching that sexual expression is appropriate only in the context of monogamous marriage, but acknowledged that this position was at odds with the experience of many church members. As a result, traditionalists launched their own national diocese (see p. 65).
The majority of the members of an ad hoc United Methodist Study Committee on Homosexuality urged the church to abandon its condemnation of homosexual practice. The issue will likely top the agenda when the denomination's highest lawmaking body convenes in 1992 for its quadrennial meeting.
For the first time in a dozen years, the Southern Baptist annual convention, held in Atlanta, was devoid of intra-church political and theological battles as moderates put their energy instead into forming an alternative fellowship. John Hewitt, following his election as moderator of the new Cooperative Baptist Fellowship, announced that moderates' "long denominational exile" had ended.
Several pillars of the contemporary evangelical church passed away in 1991, including Thomas Zimmerman, Carl Lundquist, Paul Rees, Stanley Mooneyham, and Duncan Brown. Violence led to death for Christians in Peru, Liberia, Ethiopia, Kenya, Zaire, Haiti, and elsewhere.
But amid the sadness and uncertainties brought on by the year's events, there were signs of hope. Some 250,000 people in New York City came to hear Billy Graham; 5,000 believers marched through the streets of St. Louis to proclaim their faith in Christ. Middle Eastern Christians and their Western counterparts met to pursue better understanding of one another. And in Romania, Christian relief-and-development efforts to help rebuild a society destroyed by dictatorship paid off: a two-year-old orphan named Catalina, the victim of institutional child abuse, learned to smile again.
By Randy Frame.
Have something to add about this? See something we missed? Share your feedback here.
Our digital archives are a work in progress. Let us know if corrections need to be made.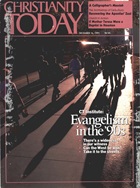 This article is from the December 16 1991 issue.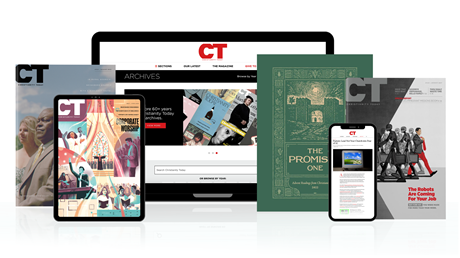 Subscribe to Christianity Today and get access to this article plus 65+ years of archives.
Home delivery of CT magazine
Complete access to articles on ChristianityToday.com
Over 120 years of magazine archives plus full access to all of CT's online archives
Subscribe Now
1991 In Review: Enter the New World Order
1991 In Review: Enter the New World Order