On Tuesday mornings, trucks pull up to the Baptist Mission Center, a low-lying building on Fletcher Street surrounded by dilapidated homes in north Houston. A knot of teenagers surrounds each truck, unloading piles of donated fruit and brand-name bread. Standing by and giving orders is a grandmotherly woman wearing a powder-blue dress: Mildred McWhorter, the Georgia-born daughter of a Southern Baptist minister and a Mother Teresa figure to Houston's down-and-out.
McWhorter, who directs this and three other Houston mission centers for the poor, is soon inside the center's nursery, checking up on a six-month-old who may have Down syndrome. "With a lot of children, their mommies will have a fight with the husband, and the children will get hurt," she says, cradling the infant boy. "The mother won't tell us if the child's been hurt, but she'll bring it to the nursery where we check them. We've seen a lot of hard, black spots on their backs. We've had one broken shoulder and one concussion. We work with the families. If we see a change, we'll say nothing, but if not, we have to report them.
"You play sweet, now," she says, laying the child back down. "I can't help you no more."
Mildred McWhorter isn't glamorous by any definition. She finds it comical that three local women have named their daughters after her. Says Mildred, "One of those babies was one of the ugliest things I've ever seen. It had a little fat face. 'Mildred,' the grandmother would say, 'she's more looking like you every day.' Now if that isn't enough to make you humble, I don't know what is."
McWhorter, 60, is a case study in longevity. Turned down as a young woman for foreign missions, McWhorter applied her energies to helping urban poor wherever the Baptists would let her. Peru and Nigeria were her first choices, but in 1963, she got an assignment for Houston, a southern city with a climate similar to a moist, hot washrag. She has been there 28 years, during which time her brown eyes, graying black hair, red cheeks, plump figure, and rural Georgia accent have endeared "Miss Mac" to thousands of needy people.
A Street-Smart 60-Year-Old
This particular morning, McWhorter came to work early, passing several dozen street people sleeping on the sidewalks and propped up against buildings and fences. Some will drop by another of McWhorter's centers, a large, beige house about a mile away, for showers, towels, and new clothes. Some 140 to 160 people a day drop by each of the four centers to obtain food, learn crafts, get help finding a job, attend a Bible study, take citizenship classes, or undergo alcohol rehabilitation.
A sense of organization pervades the Fletcher Street center despite the constant comings and goings of volunteers, the rumble of a bulky air conditioner, and the Spanish-language Bible study going on a few feet away. Forty-odd typewriters and adding machines lie stacked on side tables. As a home-economics and typing teacher in her premission days, McWhorter will use these to teach office skills to the jobless.
Years in the ghetto have made her street smart, especially after she had some ribs broken by a drug addict. Some of her successes with young thugs sound like episodes out of The Cross and the Switchblade. Street gangs who convert to Christianity will leave their knives at the center, figuring that Christ will protect them. Working at the center, one visitor told McWhorter, is like seeing a "a little bit of heaven in a whole lot of hell."
"My sense of humor has kept me from going crazy," McWhorter says. "I used to pray, 'God, tell me where I'm going and what I'm going to do.' If he had told me I'd spend the next 30–40 years of my life in the ghettos of Houston, I would have passed Jonah on the way from Nineveh."
She needs that humor to deal with children like eight-year-old Gilbert, whom she spotted walking with his arms held over his head.
"Why are you holding your arms that way?" she asked him.
"I can't tell you," he said. "My mama did it." Raising Gilbert's shirt, McWhorter saw that large sections of skin under each arm had been rubbed away. Blood dripped down his sides.
McWhorter cleaned him up and took him home, where she learned his mother had slipped a burlap sack over his head and arms. Then she tied his arms over a clothesline, forcing him to hang there for hours. Every time he cried, she beat him over the head with a broom and ripped out handfuls of his hair. His crime: He reminded her of his father. It took McWhorter months to win the family's trust enough to help Gilbert and his eight siblings. They taught her a cardinal rule: Friendship and help must be long-term to be effective. "You don't do any good putting on Band-Aids," she philosophizes. "You have to work continually with people. Band-Aids will help for a day, that's all."
Near-Third World Conditions
Some change has happened. The neighborhoods are a little less raunchy. People use soap and shampoo more, thanks to the untold amounts dispensed by Miss Mac. The centers are also well stocked with fresh vegetables, cheese, oatmeal, beans, rice, and bread and pastries from local supermarkets. The beans and rice are staples for McWhorter's mostly Hispanic clientele. Beds, appliances, and heaters are also hot items for people living in near-Third World conditions.
"I wish I had 800 mattresses," McWhorter says. "I could give them away in a week. People don't have beds, or they sleep five people to one. One family doesn't eat all at once because they have only one plate. There's no sense in calling the health department on some of these people. They'll just get evicted onto the streets. So you have to work with people as they are."
Local Southern Baptists turn out to help, especially on Thanksgiving Day, when pastors and deacons from the 11,000-member Second Baptist Church show up to serve 3,000 meals. But 90 percent of the volunteers come from outside the state. ("Missions are easier to do a long way off than on the other side of town," McWhorter says with a touch of irony.) Some volunteers end up near Houston's ship channel to work at another mission center, Joy Fellowship, a squat building with blue metal siding and white brick walls. McWhorter is sometimes there on Thursday mornings, where free clothes are given out in the gymlike building. In the afternoons, kids take over, whizzing about on roller skates while playing basketball.
During speaking engagements, McWhorter pled with Baptists to help her collect redemption stamps for skates. She got enough to buy 300 pairs.
The "Why" Behind The Work
Several hundred people become Christians each year through the Baptist mission centers. McWhorter remembers a man who once begged bread from them who is now a Hispanic pastor north of Houston. Another former drunk who beat his wife now packages free bread at the Fletcher Street center.
Still, there are people who will never understand why she is there.
"One day some people from River Oaks [a wealthy Houston neighborhood] told me, 'Surely, Mildred, you could find a better place to work than that part of Houston.' I have a master's degree in social work and religious education and I've started on my doctorate. They couldn't understand why, with all this education, I'm working in the ghettos of Houston." Sometimes she doesn't know, either. But she doesn't spend much time worrying about it.
"People really don't understand the inner city unless they've worked here for eons," McWhorter says. "People don't choose to come here, they are born here. And they don't get out until someone reaches down and helps them out of the mire. Someone has to let them know they don't have to live and die here."
By Julia Duin, a free-lance writer living in Ambridge, Pennsylvania.
Have something to add about this? See something we missed? Share your feedback here.
Our digital archives are a work in progress. Let us know if corrections need to be made.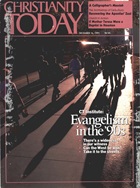 This article is from the December 16 1991 issue.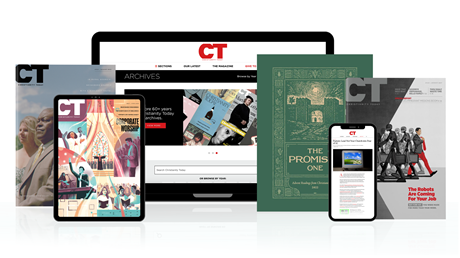 Annual & Monthly subscriptions available.
Print & Digital Issues of CT magazine
Complete access to every article on ChristianityToday.com
Unlimited access to 65+ years of CT's online archives
Member-only special issues
Subscribe
If Mother Teresa Were a Baptist in Houston
If Mother Teresa Were a Baptist in Houston