The $7 million film China Cry has received rave reviews from both Christian and secular film critics. The lushly photographed, professionally edited production, which portrays the story of evangelist Nora Lam's escape from Communist China, may be the most ambitious overtly evangelical movie ever released. It is produced by Paul Crouch of the Trinity Broadcasting Network (TBN).
Some are predicting that the film, based on the 59-year-old Lam's book, could make her one of the nation's leading religious figures. But ironically, the film could also prove to be her downfall. The essential problem, according to Lam's detractors, is that the real Nora Lam bears little resemblance to the saintly woman portrayed in the book and the movie.
Questions Of Credibility
Among those who have raised questions about Lam's book and film is Orange County, California, attorney and Christian radio talk-show host John Stewart, who has publicly referred to the film as "China lie." Stewart said he had heard complaints about Lam's ministry for a few years but did not have the time to investigate. Then he was asked by the film's distributor, Tim Penland, to endorse the film. The two had met each other in 1988 when they spearheaded the protest of the movie The Last Temptation of Christ.
Before endorsing China Cry, Stewart decided to look into the complaints. He said, "Based on my interviews with numerous people who've known Nora Lam, I've reluctantly come to the conclusion that her stories simply aren't credible."
Among the miraculous claims made in the book and the movie are that God kept Lam pregnant for nearly a year to enable her to flee to Hong Kong before giving birth. Lam also claims that while facing a Chinese Red Army firing squad, a sudden flash of light blinded her would-be executioners, sparing her life.
Though many have questioned whether Lam really faced a firing squad, Stewart said he does not deny the possibility of the miracle portrayed in the film. He said it would be virtually impossible to substantiate or deny something that supposedly took place halfway around the world three-and-a-half decades ago. Stewart said his case against Lam is based on her activities since 1958, the point at which the movie concludes.
For example, in her book Lam claims she escaped Communist China only to suffer another kind of tyranny: physical abuse at the hands of her husband. Because she was a submissive wife, Lam says, she never disclosed the abuse to her pastor. Lam claims her pastor learned about the abuse through supernatural revelation and urged her to leave her husband.
However, Lam's pastor during that time, Paul Kauffman, now president of the mission organization Asian Outreach, said Lam several times told him she was being abused, and even showed him her bruises. Kauffman, who now lives in Southern California, said he never advised Lam to leave her husband.
Kauffman added that S. K. Sung, Lam's current husband, was a respected leader in Hong Kong's evangelical community before "he left behind his first wife" and followed Nora Lam to the United States. Kauffman said Sung's first wife "came to me with tears in her eyes" when her husband left, and said that she still believes God will bring her husband back. Lam's biography implies that her relationship with Sung blossomed only long after Lam's divorce from her first husband. Sung told the San Jose Mercury News he left his wife because of her unfaithfulness.
Questions surrounding Lam also include allegations of fund-raising improprieties. California dentist Alvin Dunn, a Chinese immigrant, gave some $18,000 to Lam's ministry in 1983 and 1984. He cited several incidents that caused him to question where his money was going. Dunn went on a Nora Lam China tour, for example, during which Lam gathered the American tourists in a Taiwan hotel and pled for money to pay bus drivers who had transported children to her crusade.
According to Dunn, Lam said the drivers were "downstairs right now" awaiting payment. Dunn said he wrote Lam a personal check for $10,000 and that she assured him she would have no problem cashing it in Taiwan. When Dunn arrived back in the U.S., however, he discovered that Lam had not cashed the check until returning home. Addressing this allegation in the Mercury News, Lam said the money eventually was sent to the bus drivers.
Those who have gone public with accusations against Lam say they have harbored their concerns for years, hesitant to criticize a fellow Christian. They have come forward now, they say, concerned that China Cry is not an accurate representation of Nora Lam's background and ministry.
Not Endorsed
There are indications that other Christian organizations have concerns about Lam and her ministry. In 1989, the National Association of Evangelicals turned down her application for membership (NAE policy precludes disclosure of the reasons). In 1977 the Assemblies of God warned its ministers that "Nora Lam is not endorsed" by its Division of Foreign Missions and is not recommended as a speaker at church services "where missions presentations are made."
Many of Lam's supporters cite the number of people who come forward to accept Christ at her crusades as evidence of her credibility as a Christian leader. But David Plymire, assistant director of China Radio, says that some Americans who have witnessed a Lam crusade may be victims of deception.
Plymire cited one crusade at which the Chinese people were told to come forward to receive a free book. The interpreter, according to Plymire—who speaks Chinese—told the American tourists listening via headphones that the people were responding to Lam's invitation to accept Christ.
Stewart said he informed Penland of the various allegations against Lam prior to the film's release. He said Penland agreed to arrange a meeting between Lam and her accusers but never followed through.
Penland said the meeting didn't take place because Stewart did not return his phone calls. He said his goal was a process that would be "honoring to Christ," but that Stewart short-circuited the process when he "went on the air blasting Nora Lam."
Stewart said the only thing he went public with was "a challenge for the parties to meet." "We played phone tag," said Stewart, "but they're the ones that dragged their feet."
The Nora Lam ministry declined to return CHRISTIANITY TODAY's phone calls. However, in the San Jose Mercury News, her son, Joseph, an employee of the ministry, called Lam's critics "dart-throwers" who are "motivated by jealousy and vendettas." He claimed Stewart has a grudge against TBN's Paul Crouch and that his mother is "caught in the crossfire." The younger Lam added, "White missionaries overseas can labor 35 years and more and not get the same results as someone like Nora Lam. They are jealous, so they stand on the sidelines and criticize."
Have something to add about this? See something we missed? Share your feedback here.
Our digital archives are a work in progress. Let us know if corrections need to be made.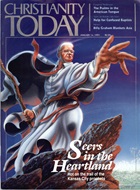 This article is from the January 14 1991 issue.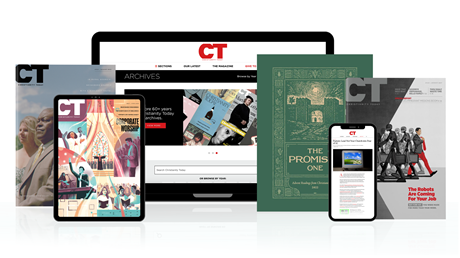 Subscribe to Christianity Today and get access to this article plus 65+ years of archives.
Home delivery of CT magazine
Complete access to articles on ChristianityToday.com
Over 120 years of magazine archives plus full access to all of CT's online archives
Subscribe Now
China Cry: Critics Question Nora Lam's Life Story
China Cry: Critics Question Nora Lam's Life Story