In a tiny, white, clapboard Cape Cod house in Kalamazoo, Michigan, a ministry measures its success not by counting dollars, but by watching people laugh. Laughter might even greet the visitor taking the stairs down to the basement office, where Cal Samra works at his desk, chuckling over the one-liners and cartoons that fill the pages of the bimonthly newsletter he edits and publishes, The Joyful Noiseletter. As coordinator of the nondenominational Fellowship of Merry Christians (FMC), Samra is something of a professional Christian joker.
For all his lightness, Samra is in earnest when it comes to humor. Since 1986, when he founded FMC, the group has grown to a membership of over 10,000. Members include pastors, Christian bookstore managers, and church and seminary librarians. In addition to receiving the Joyful Noiseletter, members are part of a book club featuring humor and cartoon books, audio cassettes (to help them laugh their way through traffic jams), and greeting cards and posters of Jesus with various joyful expressions.
"There's too much solemnity and dourness about religion," says Samra, but there is nothing dour about Cal. He speaks through a wide smile and wears a red-white-and-blue-checkered shirt tucked into almost-white slacks. "We're trying to recapture both the joy and the humor of early Christians. Even the martyrs laughed and sang in the face of persecution."
As Cal explains his love of laughter, his wife (and Joyful Noiseletter associate editor), Rose, produces glasses of cold root beer and homemade chocolate-chip cookies. Snoopy of the "Peanuts" comic strip would feel right at home.
God's Last Laugh On The Devil
Samra not only believes, in the words of the fellowship's motto, that "humor is good for your health," he is convinced that jokes make good sense theologically. As evidence, he cites an old Christian tradition celebrating Easter Monday as a "a day of joy and laughter," replete with picnics, parties, and pranks.
This year, Samra plans to capitalize on a rare occurrence when Easter Monday falls on April Fools' Day. Designating April as Holy Humor Month, FMC is encouraging church groups to observe the Easter season as the commemoration of "God's last laugh on the Devil when he raised Jesus from the dead." Churches wanting to join in the observances can even write to FMC for a list of "ministers of humor"—Christian comedians, clowns, jesters, cartoonists, and toastmasters. Many of the "ministers" conduct "playshops" (no workshops for these folks), designed, in the words of the group's brochure, "to help individuals take God more seriously and themselves less seriously."
It is hard to hear Samra describe his ministry of mirth and not ask why laughter figures so prominently. Before answering, Cal swipes at graying strands of hair at the fringes of his balding head and glances out the window to take in the house's back yard, where his four-year-old son plays most days amid a sandbox and metal swing set. "I was a newspaper and wire-service reporter for 20 years. I made my living on huge doses of bad news. Then for six years I was the executive director of a psychiatric-research foundation. People always dump heavy stuff on you in the mental-health business. If you feed on negative stuff on a day-to-day basis, you can get pretty depressed."
By the time he was 50, Cal was full of bitterness, self-hatred, fear, and doubt. Finally, in 1982, he walked away from his job, home, and family in Michigan. His emotions on edge, his health deteriorating, he headed for Arizona's sunnier climate on a doctor's recommendation.
The move seemed to solve nothing, however, so Samra went to a hardware store, bought some clothesline rope, and drove all over Phoenix and the surrounding desert looking for, as he puts it, "a suitable tree to hang myself from. But how do you hang yourself from a cactus? So I drove around looking for a river to jump into. But all of Arizona's rivers were dry that time of year."
Ultimately, Samra's driving took him to the Franciscan Renewal Center in nearby Scottsdale, where a drawing of a grinning Jesus on the wall in the kitchen triggered a profound change. With the help of Father Gavin Griffith, Samra died to himself and began to experience the joy of new life in Christ.
Studying the Bible with some friends, Samra was soon astonished by the contagious joy of the early Christians, by the New Testament's regular references to joy, gladness, merriment, and celebration.
"The joyful Christ blew the depression (and my myriad psychological theories) right out of me," he reflects. The friendship and music of singer John Michael Talbot also made a difference; Cal and Rose met in 1983 through Talbot, and Talbot's gentle vocals still fill the Samra household.
Leaning back in an early-American-style chair at his round kitchen table, Samra's baritone voice bounces off the bright-yellow walls and cabinets around him. "After my book [The Joyful Christ: The Healing Power of Humor, Harper & Row] came out, letters poured in from pastors, health professionals, and lay people suggesting that we publish a newsletter providing clean humor and promoting the joy in living the Christian faith." Thus was born the Joyful Noiseletter, five years old this April Fools' Day.
The newsletter's board of 40 consulting editors confirms that Samra's operation is no joke. It includes not only respected Christian leaders, but also an array of denominational representations: Tony Campolo and Tal Bonham (Baptist), Malcolm Muggeridge and Lois Donahue (Catholic), Dennis Fakes (Lutheran), David R. Francoeur (Episcopal), George Goldtrap (Church of Christ), Conrad Hyers (Presbyterian), Terry Lindvall (Congregational), Tom Mullen (Quaker), William H. Willimon (United Methodist), and Burt Rosenberg (Messianic Jewish).
The immense denominational diversity represented by this "board of jokers" gratifies Samra, who sees the facilitation of such cross-denominational communication as perhaps his greatest contribution. "A lot of our members would not ordinarily talk to each other," he chuckles.
With such serious goals, publishing Christian jokes is not just fun and games. Samra prints only humor that is tasteful and reverent. Indeed, he believes the best humor presents people of all stripes struggling with a common problem, such as the need for money: A burglar, brandishing his gun in a minister's bedroom, says, "If you stir, you're a dead man. I'm hunting for your money." Minister: "Money! Let me get up and turn on the light and I'll hunt with you."
Then there's the joke Samra loves to tell about the woman saying to her pastor, "I can't tell you how much your sermons have meant to my husband since he lost his mind." That one gets about as close to finding humor at others' expense as Samra will allow.
"It intrigues me," he notes, "that the word humor and the word humility both have the same Latin root—humus—which means 'of the earth.' Humor demonstrates our vulnerability. It teaches us humility. It shows how much each of us has fallen short of the glory of God." Samra marshals a favorite quote from G. K. Chesterton to underscore his point: "Angels can fly because they take themselves lightly.… Satan fell by the force of gravity."
Samra might sit in the sunny kitchen and tell jokes and share quotes all day, but he has work to do: piles of books and tapes to review for the next catalog, and another newsletter to write. With editorial guidance from Rose, Samra will write and compile all the copy on a 25-year-old typewriter that frequently needs a good thumping to work properly.
He ducks down the basement stairs to get to his office. Here, surrounded by unmatched file cabinets and boxes of newsletters, Samra goes about his joyful business, while paintings and posters of a happy Christ smile down upon him.
By Dan Runyon, editor of Missionary Tidings, the world-mission news magazine of the Free Methodist Church.
Have something to add about this? See something we missed? Share your feedback here.
Our digital archives are a work in progress. Let us know if corrections need to be made.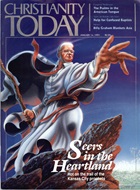 This article is from the January 14 1991 issue.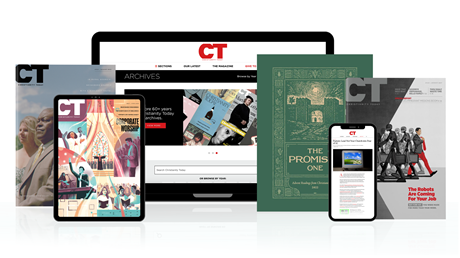 Subscribe to Christianity Today and get access to this article plus 65+ years of archives.
Home delivery of CT magazine
Complete access to articles on ChristianityToday.com
Over 120 years of magazine archives plus full access to all of CT's online archives
Subscribe Now
A Joke or Two from Kalamazoo
A Joke or Two from Kalamazoo