When Dale Ryan graduated from seminary, he made his way to suburban Los Angeles to become associate pastor of Whittier Area Baptist Fellowship. But what looked like a nice, middle-class congregation was actually filled with hurting people, many of whom were trying to cope with various addictions and the consequences of abuse. After starting several successful groups to deal with these issues, the church commissioned him as a missionary to help other churches and individuals begin recovery ministries.
Ryan is now executive director of the National Association for Christian Recovery, based in La Habra, California. A membership organization devoted to developing distinctively Christian recovery resources, they publish a quarterly newsletter called Steps, sponsor regional workshops and conferences, and consult with individual churches. Along with his wife, Juanita, Dale has also published Life Recovery Guides, a series of Bible study guides on such topics as addiction, shame, family dysfunctions, and others, published by InterVarsity Press. CHRISTIANITY TODAY talked to Ryan to find out how the church should respond to the phenomenon of the recovery movement.
How did you become involved in recovery work?
Seven years ago I left seminary and entered my first pastorate. I was at my new job for less than four hours when I had a phone call about a child in my congregation who had been sexually abused by her parents. That led to some discoveries. I soon found that our biggest problems in terms of pastoral care were addictions and abuse.
Did seminary prepare you for dealing with these issues?
Like most pastors, I had almost no resources for dealing with these problems. I had no clue what to do. The key for my ministry, however, was breaking through my own personal denial system and recognizing that I was a badly broken person and that I had painful realities to face in my own life.
Were you addicted to something?
My addictions were those that are socially rewarded. I'm a binge workaholic and a recovering religious addict.
If religion is something you can be addicted to, I think we need to spend some time defining addiction. [See review of books on religious addiction on p. 54.]
My preference in understanding addictions is to have a narrow definition, a clinical definition. There are five parts. One is tolerance, needing more to get the same kind of mood alteration. Second is withdrawal, meaning it would be very uncomfortable if you can't continue. A third part is self-deception, that you deny that this is really affecting you, or covering up and pursuing the activity in secret. The fourth key—and this is important—is the loss of will power: That I cannot choose not to proceed with the addiction.
Finally, the behavior process or substance is causing problems in your life.
How did you implement these new insights into the church?
I set up a series of support groups. We had groups for alcoholics, adult children of alcoholics, for people coming out of the gay lifestyle, survivors of sexual abuse, people with cancer.
It soon became obvious that there was something going on in these groups that wasn't happening in other kinds of groups within the congregation. There was a sense of community; they were experiencing personal transformation and empowerment; there was a level of honesty that was sustainable. There were also difficulties, but people were genuinely finding healing and recovery. Their lives were not the same.
Furthermore, although initially I construed those support groups as a pastoral-care strategy, they turned out to be an effective outreach strategy. The experience has changed my fundamental ministry philosophy—that is, if we take seriously our own brokenness, that will lead us out into the world. And there will be an audience for people who are prepared to talk honestly about their own stories and how God has been helpful to them.
How did the church react to these different groups?
It was quite mixed. On the whole, over time, they were enthusiastic. That doesn't mean that there weren't a lot of struggles. What comes to mind was the setting up of the support group for people coming out of the gay lifestyle. I found that the greater the perceived social stigma to a certain kind of brokenness, the greater the resistance to setting up a group for those people. But excluding people from ministry because of social stigma is not part of the gospel.
I find that many congregations have the fear that if you have too many broken people, the church will be unbalanced. My question to them is, Who are these healthy, happy, wholesome people that are the pillars of the congregation? I'm open to the notion that such people are out there, but when I try to compile an honest list of such folks, I'm unable to do so.
How would you say the church has responded to the recovery movement?
There's enormous denial in the evangelical community about the need for recovery ministries. Yet I am not pessimistic. If you had told me a few years ago that there would be thousands of churches in America with ministries helpful to alcoholics, I would have thought you'd lost your mind.
For years Alcoholics Anonymous quietly did its work. But within the last ten years we've seen best-selling books on all sorts of addictions. Twelve-Step programs now seem to be popping up all over the place. What happened?
I'm not entirely sure, but I think something did in fact happen. Ten years ago these topics were not suitable topics for conversation. Now you turn on the TV and find Donahue and Oprah talking about addictions and abuse. It's not necessarily that the incidences of these problems have changed, but they are now public concerns rather than private concerns. What's most important is to recognize that something really has changed and that we'd better come up with coherent responses to it.
How open is the recovery movement to Christian involvement and influence?
Parts of the recovery community welcome Christian input, and other segments are thoroughly hostile. Some groups have a strong New Age emphasis; others are distinctively Christian. The worst possible responses, however, would be either to caricature the movement and throw it all out as unnecessary, or to embrace it without discretion. Hundreds of people have come to Christ through first getting into the 12 Steps and taking seriously that there really was a Higher Power in life. That's an opportunity for the Christian community if handled right.
Codependency seems to be a key term in many recovery circles. Could you explain the concept?
We seem to be very susceptible to sick kinds of dependencies. Any time two people collaborate or cooperate to sustain a sick dependency, that is what you call codependency. The classic example would be the spouse of an alcoholic who somehow conspires with the alcoholic to support the addictive process.
One of the characteristics of a codependent, according to best-selling author Melody Beattie, is to feel compelled to help persons solve their problems. How is this different from the Christian command to bear one another's burdens?
There's nothing about recovery from codependency that suggests that it's wrong to be a caring, loving person. That's not the problem. It is a problem to give away things that you don't have, to care for people as a way of avoiding your own neediness.
Does the church encourage codependency?
In many ways, yes. We reward compulsive behaviors. We discourage people from working on their own process by naming it as self-centeredness rather than teaching people how to do appropriate self-focus. Things like that result in codependent behaviors.
Many people describe addiction as a disease. Doesn't that allow addicts to evade responsibility for their actions?
The concern about responsibility is a legitimate one. Yet if you look at the people most committed to the notion that alcoholism is a disease, these are the same ones who are most adamant that an alcoholic is responsible for his or her own behavior. Look at the 12 Steps: if this is a way of avoiding responsibility, why would you do things like making a searching moral inventory and then making amends as a high priority for the recovery process?
Why are 12-Step groups so effective?
The 12 Steps are a collection of traditional Christian disciplines—confession, testimony, making amends, prayer. I think God honors these spiritual disciplines, and that's one of the reasons why 12-Step groups work.
There is nothing magical about support groups. Recovery is not easy. It's not quick. But the things people can get from a support group are many. The opportunity to speak is an enormously empowering thing for people who have lived in families that have "don't talk" as a central rule. People who have lived in systems where feelings were not accepted see other people expressing these feelings; there's an enormous awakening as they get in touch with emotions they didn't realize they had.
What happens at a typical support group?
There's a number of different strategies. In a typical group there would be some introductory activities: the 12 Steps are read as well as an introductory statement about what the group is and a statement about what the problem we face is and how this is the reason we're here. That would be typically followed by a time where people say part of what's going on in their lives right now. It's not a discussion, but a sharing of testimonies. In Christian support groups, a time of testimony would typically yield to a time of prayer where people would pray about many of the concerns that have been raised.
Are they supposed to be permanent?
My own view is that chemical dependency is a lifelong issue. For other kinds of issues, different support-group processes may be more appropriate. For example, if the group is working on sexual abuse, I think it would be a mistake to plan on this being a lifelong issue. The danger is the possibility of getting stuck in the past.
Some critique the recovery movement for promoting self-centeredness.
This is a real misconception. Many people in recovery have disciplined themselves to ignore their feelings for many years. It's going to feel self-centered to suddenly pay attention to these neglected feelings. Now having said that, it is true that inappropriate self-focus is a problem for all of us. What we strive for is an honest, disciplined focus on oneself for a purpose.
From alcohol, the addiction paradigm has spread to other drugs, overeating, sex, shopping, religion, and even society as a whole. At what point are we stretching this paradigm too far?
I don't think it's stretching the paradigm to point out the commonality of some elements of the addictive process in our culture. We are a culture very susceptible to addictions, and to note that is a healthy observation. On the other hand, it is possible to stretch your language past where it can be helpful as an analytical tool. When you get to the point of saying, "Everybody is codependent," where do you go from there?
Do recovery groups compete with the church?
Support groups are by no means a replacement for the local church. But some go to a support group and find a level of honesty and integrity about life that is in contrast to what they experience in church. They wonder why one seems real and one seems pretend. It can be very confusing.
The 12-Step movement has tapped a profound need in people. Was the church doing something wrong to have missed these people before?
Yes and no. It is the Christian community that is the source of the 12 Steps. So to the extent that we have this strategy today, it was Christian instincts and values that nurtured that and made it possible. The dilemma is that the sort of Christian wisdom that's embodied in the 12 Steps got separated off institutionally from the mainstream of the church.
What can the church learn from the success of 12-Step groups?
The need for a relentless and disciplined focus on honesty.
Do you think every church should have some recovery program?
Take one issue—say, sexual abuse. Let's say one in five women have been sexually abused. (This is a conservative estimate.) If you have a congregation of 100 adults, then there are 50 women, probably 10 of whom are survivors of sexual abuse. Now, if you had 10 sixth graders, you'd have a sixth-grade Sunday-school class. If you have 10 survivors of sexual abuse, you should have some sort of structured response to that kind of problem.
So, yes, I think every congregation in America should have some ministry strategy for sexual abuse. And one for alcohol. And one for drugs. And one for whatever other problem its people are suffering from.
Eugene H. Peterson is pastor of Christ Our King Presbyterian Church, Bel Air, Maryland, and author of A Long Obedience in the Same Direction (InterVarsity) and Answering God (Harper & Row), both of which are about the Psalms.
Have something to add about this? See something we missed? Share your feedback here.
Our digital archives are a work in progress. Let us know if corrections need to be made.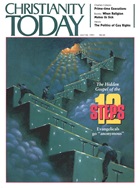 This article is from the July 22 1991 issue.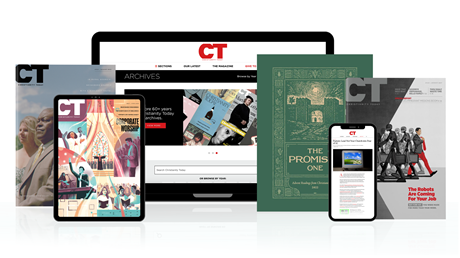 Subscribe to Christianity Today and get access to this article plus 65+ years of archives.
Home delivery of CT magazine
Complete access to articles on ChristianityToday.com
Over 120 years of magazine archives plus full access to all of CT's online archives
Subscribe Now
Addicts in the Pew: A Missionary to the Addicted and Abused, Dale Ryan Lays Bare the Myths, Facts, and Concepts of the Recovery Movement
Addicts in the Pew: A Missionary to the Addicted ...