GUATEMALA
Street Ministry Threatened
About one year ago, a 13-year-old boy was kicked to death by four uniformed, on-duty policemen in downtown Guatemala City. Outraged, Bruce Harris, director of Casa Allanza (Covenant House), a 10-year-old ministry to street children in Guatemala City, undertook his own investigation of the incident. Ultimately, the four officers were convicted and sentenced. "This is only the second time in the history of Guatemala where police have been jailed for human-rights abuses," says Harris.
Since then, Casa Allanza, a branch of New York City's Covenant House, has become involved in 39 court cases alleging mistreatment of street children by local police and military, 16 of which involve murder charges. As a result, the ministry itself has suffered harassment by local military police. In one instance, plainclothes officers allegedly abducted two workers who were offering first aid to street children. After action by the U.S. ambassador and Amnesty International, the workers were released unharmed. Harris says he has received death threats.
ISRAEL
Christian Embassy Honored
The International Christian Embassy in Jerusalem has been awarded the Knesset Speaker's Award, the first time a Christian institution in Israel has received the prestigious civic prize. The award, presented for the promotion of good will in Israel, was opposed by Orthodox Jewish activists, who accused the embassy of being a missionary front, the Religious News Service reported.
Embassy director Johann Luckoff said the organization would use the $7,500 prize money to help charter planes to transport Soviet Jews to Israel.
ANGOLA
Churches Cheer Cease-Fire
Church leaders in Angola welcomed the signing of an agreement to end 16 years of fighting between government and rebel forces. An official cease-fire went into effect May 31, signed by President José Eduardo dos Santos, who until recently espoused Marxism and was supported by the Soviet Union, and by Jonas Savimbi, leader of the National Union for the Total Independence of Angola (UNITA), which received U.S. and South African aid.
"The dreamed-of peace has arrived!" said Antonia Leonora van der Meer, international correspondent for the Association of Evangelicals of Angola. Church leaders called for an ecumenical service of thanksgiving and prayer for the future of the nation for June 2. With the U.S./Soviet-fashioned peace in place, Angolans turned their attention to rebuilding their country after the war, which claimed an estimated 300,000 lives. Free elections are scheduled for late 1992.
"Biblically, peace means much more than just absence of war," van der Meer said. "Many took advantage of the period of war to indulge in all kinds of corruption. As a church, we hope to receive the grace to raise a prophetic voice to denounce this social disease, demonstrating a different standard." Van der Meer said a "growing openness" now exists in the country for Christian witness. It is now possible to use public buildings for evangelistic meetings, he said, and the government has sought to improve relations with churches.
JORDAN
King Counters Islamic Power
Moves by Jordan's King Hussein to revive the country's multiparty system of government are seen by most Middle East observers as an attempt to counter the growing influence of Islamic fundamentalists in the country. The Muslim Brotherhood, which advocates strict Islamic laws, won the largest block of seats in Jordan's parliamentary elections, held in November 1989 for the first time in 22 years.
Recently, government officials who are members of the Brotherhood have sought to remove women from key government positions. They have also tried to impose Islam-inspired constraints on society, such as a ban on coeducation and on fathers watching their daughters' gymnastics and sports classes. Those actions have drawn strong criticism from the country's more Westernized citizens.
Hussein's new charter calls for the government to craft laws consistent with both democracy and Islamic tradition, and for greater freedoms for women and the press.
PEOPLE AND EVENTS
Briefly Noted
Formed: The Brazilian Evangelical Association. Its constitution opens membership to local churches, state conventions, missionary agencies, and pastors, and it establishes 15 commissions to study various issues. Evangelist Caio Fábio D'Araújo Filho was selected as president.
Cleared: A controversial measure to allow divorced and remarried people to be ordained in the Church of England. The law, approved for the state church last year by Parliament, was delayed by a lawsuit, which was rejected by the courts.
Established: The Qur'an as the supreme law in Pakistan. A measure passed by the country's Parliament subjected all aspects of life to Islamic tenets, or shari'a, though amendments to the bill secured Parliament's authority and protected constitutional rights of women.
Dedicated: A memorial to Eric Liddell, the Scottish missionary and runner whose story inspired the movie Chariots of Fire. A stone marker was unveiled at the Second Middle School in Weifand City, the site of the prison camp in northern China where Liddell died as a prisoner of war in 1945.
Have something to add about this? See something we missed? Share your feedback here.
Our digital archives are a work in progress. Let us know if corrections need to be made.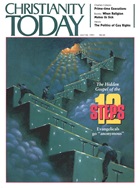 This article is from the July 22 1991 issue.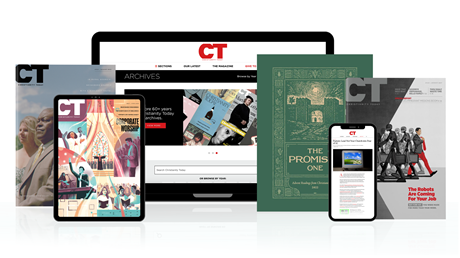 Subscribe to Christianity Today and get access to this article plus 65+ years of archives.
Home delivery of CT magazine
Complete access to articles on ChristianityToday.com
Over 120 years of magazine archives plus full access to all of CT's online archives
Subscribe Now
World Scene: July 22, 1991
World Scene: July 22, 1991