Aberrant and unorthodox groups join Christians in filling Eastern Europe's spiritual vacuum.
Kathleen Mickelsen's eyes panned the crowded music hall in Leningrad as her church choir performed. "Halfway through the concert, my eyes were drawn to a woman in the audience—and I noticed her eyes were drawn to me," recounts Mickelsen. "She just melted at our singing of 'Love So Amazing, So Divine,' a song about Christ on the cross. We kept looking at each other through the rest of the concert—and I sang the songs as my testimony to her with all my heart."
Mickelsen's testimony? She's a Mormon, a member of the famed Mormon Tabernacle Choir, which completed a highly successful tour through Eastern Europe and the Soviet Union last summer. The choir's appearances, according to the Mormon publication The Ensign, which told Mickelsen's story, revolved around a carefully planned, four-point strategy for spreading the Mormon message to formerly communist countries.
First, the choir "elicited waves of advance publicity"; second, its musical message drew people in; third, national dignitaries were invited to receptions and dinners held in several countries; finally, top U.S. Mormon leaders offered more information about their church at eight informal gatherings, reportedly attended by thousands.
If the Mormon campaign sounds highly organized, it is. And like the Latter-day Saints, other aberrant Christian groups, sects, and Eastern religions have big plans for growth in former Eastern Bloc countries.
Spiritual Vacuum
"Cults are everywhere," says Daryl McCarthy, executive director of the International Institute for Christian Studies, which sets up educational exchanges throughout Eastern Europe. "The people are ready to accept some form of religion. The only question is, What religion will they follow? The Moonies or Hare Krishnas? Jehovah's Witnesses or Mormons?"
Virtually all of those groups are mounting organized campaigns to gain disciples in Eastern Europe and the Soviet Union. And as they return from the mission fields, the stories they tell sound much like those of many Western evangelicals.
There is no doubt that Christian evangelists are experiencing real success in making converts. But so are others. Experts admit that success—at least in terms of numbers of responses—is not hard to achieve in countries where religion has been repressed for so long.
A massive "spiritual vacuum" exists throughout Eastern Europe and the Soviet Union, says Gordon Melton, who heads the Institute for the Study of American Religion, based in Santa Barbara, California. In the past 45 years, "a steady but growing stream of Eastern teachers and new Western esoteric teachers have opened their centers in Europe," Melton says. Now those groups are taking their message to their former communist neighbors via slick, Westernized promotional techniques. And naïve listeners often raise their hands or sign on the dotted line to join whatever new movement comes along.
Hare Krishnas now plaster Moscow's walls with full-color posters. A pop music band of Krishna followers tours Eastern Europe singing songs and passing out literature. In the summer of 1990, the band gave multi-projector slide shows to crowds in Romania, where more than 6,000 people showed up.
One Krishna missionary, writing in Back to Godhead magazine, recalled an experience: "During the chanting of Hare Krishna at the end [of one performance], many [Romanians] literally jumped out of their seats. They flooded the stage with flowers—a tradition for a performance appreciated. The holy name of Krishna had melted their hearts."
The Children of God are saturating the street corners of Sofia, Bulgaria, with posters and thousands of leaflets. Already the group claims more than 2,000 youthful adherents there (see "Fertile Ground for False Teaching," p. 40). A young man who finally left the Children of God expressed his concern in a letter to the Christian Research Institute (CRI) of San Juan Capistrano, California: "You'll be surprised to know that such cults are flooding now the ex-communist countries of East Europe. I left [the Children of God] five months ago. The problem with them now is that in Bulgaria they still haven't revealed their cultic nature. They seem still quite evangelical, and unfortunately many Christians join them."
Government Approval
Other groups have campaigned for acceptance by newly established governments. The former U.S. ambassador to Poland, David Kennedy, a Latter-day Saint, helped gain official recognition for the Mormon church in that country. Among other efforts, Mormons are now helping Polish farmers learn skills for marketing their produce.
Kennedy apparently has also been influential in opening other areas of Eastern Europe to Mormonism. For instance, while East Germany was still under communist control, the Mormons received permission to build a temple there. And according to an evangelical missionary to Albania, 60 percent of the new recruits in the Albanian division of the U.S. State Department are Mormons.
"Cults are everywhere. The people are ready to accept some form of religion. The only question is, What religion will they follow? The Moonies or Hare Krishnas? Jehovah's Witnesses or Mormons?"
Mormon influence has also extended to Soviet Armenia, where last year local officials gave the church a plot of land in Yerevan, near Mount Ararat, in gratitude for aid offered after the 1988 earthquake. A Mormon temple will be built there.
In the past year, Sun Myung Moon, leader of the Unification Church; Daisaku Ikeda, leader of a large Buddhist sect; and Sri Chinmoy, a popular New Age guru in the U.S.; have all met with Soviet leader Mikhail Gorbachev.
Moon promised Gorbachev he would pump money into the ailing Soviet economy. In exchange, he was allowed to fly more than 1,400 Soviet students for field trips in the U.S. More than 800 eventually committed to study full-time under Moon. Moon is also repotedly offering $100,000 to any Soviet university that will allow his scholars to teach there. Many are accepting his proposal.
Other groups are using recently unshackled media in their proselytizing efforts. L. Ron Hubbard's video, An Introduction to Scientology, has been translated into Czech, Polish, Serbo-Croatian, Hungarian, and Russian. More than 50,000 copies of the key works of theosophy are being produced for shipment to Russia.
Kind And Smiling People
Beyond the strategies some groups are using, it appears many Eastern Europeans are being influenced most by what they deem to be the sincere, wholesome lifestyles of some religious groups. As the Jehovah's Witnesses held conventions throughout Eastern Europe last summer, they constantly received comments like one that appeared in an article in a Prague newspaper: "You are not likely to meet so many kind and smiling people in Prague at any other time than during the second week in August," which was the week of the Witnesses' convention. The Witnesses are one of the fastest-growing groups in the formerly communist countries, claiming 18,293 converts at 30 conventions last year alone.
Robert Johnson, a minister in charge of public relations at the Watchtower Society's Brooklyn headquarters, told CHRISTIANITY TODAY that most of their work is being done by indigenous Jehovah's Witnesses, who operated for years undercover. In 1946, there were over 4,000 Witnesses preaching in the Soviet Union. In the late 1930s, there were more than 2,000 in Romania, 1,000 in Poland, and hundreds in Czechoslovakia and Hungary.
"They've grown underground," Johnson says. "They are fully committed to spreading the good news. But they need help and they need equipment. We [in the U.S.] try to give them that."
A Hungarian policeman who observed a Jehovah's Witnesses convention in Budapest last summer was amazed at the group's commitment to meet even in torrential rains. "It is mindboggling!" he said, according to Awake!, a magazine published by the Jehovah's Witnesses. "They keep coming and coming. Nothing can hold them back."
For some evangelical missionaries, the persistence of such groups is extremely frustrating. In a recent letter, Charles Spine, who works with Campus Crusade in the Soviet Union, wrote: "The weekly meeting of the New Life group has already been invaded by Jehovah's Witnesses claiming to be Christians and asking to 'say a few words.' Furthermore, Mormons have built several churches in the area and are deceiving many.… There are many Hare Krishnas—at least one in every metro station in Moscow [and] St. Petersburg [formerly Leningrad]."
Spine wrote to CRI, begging for materials to combat such non-Christian groups. Paul Carden, a CRI researcher, says evangelicals must respond by providing literature and audio-visual materials to educate and warn those in Eastern Europe and the Soviet Union. Many aberrant groups and cults have waited for years "to exploit any opening in East Bloc nations," he says. "Perhaps most disturbing of all, the Christian church and the general public in Eastern Europe are largely ignorant, and all but defenseless, in the face of this cult invasion."
By Joe Maxwell.
Have something to add about this? See something we missed? Share your feedback here.
Our digital archives are a work in progress. Let us know if corrections need to be made.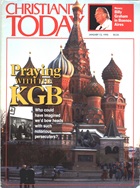 This article is from the January 13 1992 issue.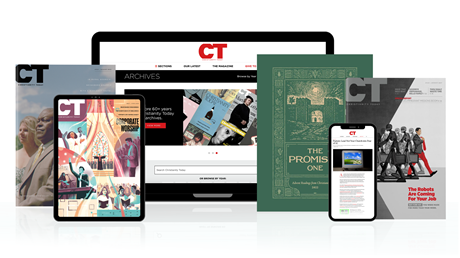 Annual & Monthly subscriptions available.
Print & Digital Issues of CT magazine
Complete access to every article on ChristianityToday.com
Unlimited access to 65+ years of CT's online archives
Member-only special issues
Subscribe
New Kingdoms for the Cults
New Kingdoms for the Cults