"Can people with fundamentally different truth claims live together without killing each other?" That basic question shadowed an unusual gathering in New Orleans. Author M. Scott Peck (The Road Less Traveled, People of the Lie) had invited ten Christians, ten Jews, and ten Muslims to meet for three, days and discuss, well, whatever we wanted to discuss. We convened at a Catholic retreat center the weekend before Mardi Gras. (Try explaining the Christian roots of that booze-and-sex bash to followers of another religion.)
Certain cultural differences surfaced right away. Scott Peck conducts his community-building workshops according to a formula that calls for introspective "I" statements and personal sharing. The Jews responded warmly. "Don't forget, we invented psychotherapy," joked one rabbi. Muslim participants, though, showed less enthusiasm. One imam tried to explain, "We have a cultural aversion to psychotherapy. You'll rarely hear a Muslim talk about personal problems. It just isn't done."
We Christians frequently found ourselves sitting on the sidelines watching Muslims respond to the Jews' discursive musings with fixed pronouncements. These in turn provoked even more "I" statements from the Jews and more pronouncements from the Muslims. (It felt good to be on the sidelines, actually; Christians don't have a good history with either of these religions, and I much prefer our new mediatorial role to pogroms and the Crusades.)
Supersessionism
I learned a new word in New Orleans, supersessionism, which helped me understand the Muslims' aplomb. The Jews resented the notion that Christian faith had superseded Judaism. "I feel like a curiosity of history, as if my religion should be put in a nursing home," said one. "It grates on me to hear the term 'Old Testament God' or even the word 'Old' Testament." He's right that Christianity has a frankly supersessionist aspect. Jesus introduced the "new covenant" even as he transformed the Jewish Passover seder into what Christians now call "the Lord's Supper." Later, Paul pointed to the temporary nature of the Law, calling it "our custodian until Christ came" (Gal. 3:24).
I had not realized, however, that Muslims look on both faiths with a supersessionist attitude. As they see it, just as Christianity grew out of and incorporated parts of Judaism, Islam grew out of and incorporated parts of both religions. Abraham was a prophet; Jesus was a prophet; but Muhammad was The Prophet. The Old Testament has a place, as does the New Testament, but the Qur'an is "the final revelation." Hearing my faith described with such condescension gave me insight into how Jews have felt for two millennia.
Ironically, it was the common language of pain that seemed to bring the three groups together. Many of the Jewish participants had lost family members in the Holocaust, and some had also served as volunteers in Israel's wars against Arab neighbors. On the Muslim side, one woman told of the horrors that descended on her once-lovely neighborhood in Beirut, Lebanon. Another Muslim gave a wrenching account of the Deir Yassin massacre in 1948, when members of the Israeli Stern gang killed 250 members of his village and threw their bodies in a well. He, at the age of ten, was fast enough to escape. But a soldier shot his two-year-old brother and 96-year-old grandmother in cold blood.
Suffering sometimes serves as a moat and sometimes as a bridge. The Muslim who fled Deir Yassin years later had an automobile accident in the United States. It was a Jewish nurse who stopped, tied a tourniquet with her scented hanky, and painstakingly plucked glass from his face. He believes she saved his life. The Muslim man's wife, a physician, went on to say that she once treated a patient with a strange tattoo on his wrist. She asked him about it, and he told her about the Holocaust, a historical event omitted from her high-school, college, and graduate-school education in Arab countries. For the first time, she understood Jewish pain.
Why do human beings keep doing it to each other? Yugoslavia, Sudan, Azerbaijan, the West Bank—is there no end to the cycle of pain fueled by religion? The logic of "an eye for an eye, a tooth for a tooth" cannot sustain itself forever; ultimately both parties end up blind and toothless.
The Pain Of Healing
Our meeting did not, rest assured, change the Middle East equation, or make peace among the three major religions any more likely. But it did change us. For once, we focused on intersections and connections, not just boundaries. We got to know Hillel, Dawud, and Bob, human faces behind the labels Jew, Muslim, and Christian.
Each faith held a worship service—Jews on Friday, Muslims on Saturday, Christians on Sunday—which the others were invited to observe. The services had striking similarities and reminded us how much the three faiths have in common. Perhaps the intensity of feeling among the three traditions stems from a common heritage: family disputes are always the stubbornest, and civil wars the bloodiest.
One rabbi gave this response to the weekend. "I did not want to come here. I almost canceled. Ten days ago I was visiting Auschwitz. I stood where so many thousands died—just for the crime of being Jewish. At Auschwitz, some Catholics asked me to pray with them. Yet I knew that the Catholic church had remained silent while members of my family were forced to dig their own graves.
"I wasn't ready to meet with Christians and Muslims so soon. I could not get past my own pain. This weekend has been hard for me, and yet now I can say I am glad I came. It was the pain of healing I have felt, not the pain of fresh wounds.… A few of us have now heard each other's stories. We have been affected. Yet the institutions we represent keep on hating, keep on murdering. Can what happens this weekend produce anything more than a beautiful experience for the few of us who have gathered? Is there any way for the systems themselves to change, any way to break the cycle?"
The rabbi had circled back to the summary question of the weekend: "Can people with fundamentally different truth claims live together without killing each other?" That, sadly, is a question that cannot be answered by one weekend in New Orleans.
Have something to add about this? See something we missed? Share your feedback here.
Our digital archives are a work in progress. Let us know if corrections need to be made.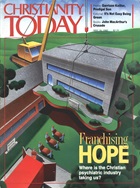 This article is from the May 18 1992 issue.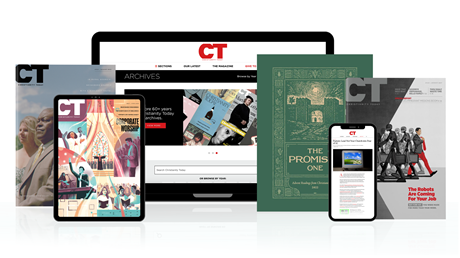 Subscribe to Christianity Today and get access to this article plus 65+ years of archives.
Home delivery of CT magazine
Complete access to articles on ChristianityToday.com
Over 120 years of magazine archives plus full access to all of CT's online archives
Subscribe Now
Abraham, Jesus, and Muhammad in New Orleans
Abraham, Jesus, and Muhammad in New Orleans