Many of CT Senior Writer Tim Stafford's early images of mental hospitals came from his wife Popie's experience in East Africa. Between 1978 and 1982, the Staffords lived in Kenya where Tim worked under the auspices of Youth for Christ to found and then edit a Christian magazine for youth. Popie, who held a master's degree in psychology, was teaching counseling classes to pastors. In her spare time, she volunteered, helping to start a counseling center and linking up with a Catholic priest and a nun who ministered to patients at a local mental hospital.
The patients at that institution were often undermedicated and otherwise undersupplied. The hardships combined with their disorders to produce classic psychotic behavior. Popie told her husband of women who would grab at her as she walked down the hallways, people who thought they were someone or somewhere else.
American psychiatric wards are different, Tim knew. But the contrasts to his mental images from Kenya were striking. "I wasn't prepared for how ordinary they seemed," Tim says. "You really can't tell the staff from the patients. There is no bizarre behavior or bizarre ideation. There are deep-seated issues, yes; but it is simply a calm place you can go to work on issues without interruption—a kind of indoor summer camp for people with serious problems."
No longer nervous about psychiatric units, Tim says he would "be more scared walking the halls of many city high schools than visiting these units." From the business success experienced by the new Christian-operated in-patient units, it seems that many American evangelicals also are no longer worried about what they might find inside a psych unit—indeed, no longer fear the stigma once associated with psychiatry. Beginning on page 22, you can read about how these clinicians market—and deliver—hope to discouraged and disturbed believers.
DAVID NEFF, Managing Editor
Cover painting by Paul Turnbaugh.
From Hatred to Love
As one who has lived in Israel and is a beneficiary of William Blackstone's legacy, I read with interest CT's March 9 cover story, "Christian Zionism." Are believers called to "love Israel?" If that is meant to imply "uncritical support of the secular state," no compelling scriptural reasons can be adduced. We have every reason (including God's avowal of "everlasting love" in Jer. 31, and gratitude for our spiritual heritage) to affirm our love for the Jewish people, in their homeland or the diaspora.
Ultimately, the land is God's. He turned the title deed over to Jacob's seed, with residency (not ownership) contingent on obedience. Certainly Christians care about righteous government. Where on earth is it to be found? I don't protest Israel's being held to a "higher standard." Rather, we are all accountable to the "highest standard": God's. Falling short of that is sin.
The hope for Israel, and the world, is the Messiah. As hostilities escalate, we pray for the unity of believers in Yeshua—Jews, Arabs, all nationalities—that they may all boldly proclaim and demonstrate the reality of the message that changes hatred to love.
Wesley N. Taber, General Director
American Messianic Fellowship
Lansing, Ill.
God's promise to Abraham has been fulfilled; how many more times do Christian Zionists require that God make good on his promises?
I just returned from a Christian-led pilgrimage to the Land of the Holy One. I saw nice new housing for young yuppie Jews being built on illegally and forcibly confiscated Palestinian lands and was tempted to erect a sign: "Americans—your tax dollars at work." Newly arrived Russian Jews are being housed in older housing confiscated from their Palestinian owners. The Israeli government seemingly is bent on replacing Palestinian blue-collar workers with the newly arrived Russian Jews. The formerly oppressed have now become the oppressors.
Merle C. Hansen
Captain, U.S. Navy (Ret.)
Surry, N.H.
While some so-called Christians would endorse abuses on the grounds that Israel has a "right" to the land in which other people dwell, the values taught by the New Testament indicate to me that human beings are more important than real estate.
Jeff Sawyer
Midlothian, Va.
How tragic that so many believe and teach that God has planned to restore national Israel, rebuild the temple, and reinstitute animal sacrifices. On the principle that the New Testament epistles contain all the doctrines of the Christian faith, we should question the authenticity of such teaching.
George M. Bowman
Operation Balance
Cambridge, Ont., Canada
As a Jewish Christian involved in Jewish ministry and church outreach for many years, I have found that the issue of Christian support for Israel, whether as a land or a people, must be at its foundation a passionate love for the God of Israel. Anything less is likely to provoke Israel to jealousy, resulting in both peoples falling short of the fullness of blessing to be had only when all Israel is saved.
Sandra Batdick
Anaheim Hills, Calif.
Ken Sidey's view is one-sided. Israel, while surrounded on all sides by enemies ideologically committed to her destruction, and having an internal population dedicated to the same cause, has acted with remarkable restraint in the handling of her Arab population. CT readers deserve a better education on this situation than Sidey gave them. Heaven only knows where attitudes like the ones expressed in this article will carry our nation.
Bruce Cohen
Messianic Jewish Alliance of America
Wynnewood, Penn.
Almost Like Not Being There
The church-growth people have been bandying about a new word: anonymity. At first I thought it was the name of one of the early church fathers. Instead, it seems to be the new idea that visitors (or "the unchurched," as we call them before we "church" them) don't want to be recognized in the worship service. They presumably decline to stand, raise hands (there's a concept that's always causing trouble), speak, or be spoken to. Blundering ecclesiastical types like myself are enjoined to be cautious about every worship move. One false step could well send The Unchurched scurrying back into the Forest of Unchurchedness like frightened deer.
At one time I had thought "The Friendly Church" was a great slogan. Now we're thinking of going with "Sneak in for an inconspicuous time of worship. Or if you don't want to, that's okay, too. Forget we said anything. We're not trying to be pushy."
Instead of visitor registration cards to fill out, our furtive friends will find sunglasses and fake mustaches and beards in the pew racks. A very gentle, low-pressure brochure will be handed out in a brown paper bag. And if you visit Sunday school, you will be assigned a name tag: your choice of John Smith or Jane Doe.
So come, Unchurched! A Sunday with us will be almost like not being here. Your visit will be kept in the strictest confidence, and no salesman will call. Fair warning, however: If you leave your headlights on in the parking lot, you're on your own. I'm quoting, of course, from the writings of Incognito, one of my favorite early church fathers.
EUTYCHUS
Dangerous anti-Semitism
Richard Pierard has done us a service by pointing out that traditional Christianity exhibits a dangerous anti-Semitic tendency ["It Happened," guest editorial, Mar. 9]. Why are believers so uncritically accepting of leadership even when it displays an obvious bias against the Jews? Political figures can achieve prominence in America even when their judgment is so warped that they are unable to appreciate the full horrors of the Nazi regime. Religious figures also enjoy enormous prestige among the faithful.
Have we forgotten that Jesus was a Jew and that theology is just now beginning to understand how far we have lost sight of the Jewish presuppositions that underlie Jesus' gospel of the kingdom?
Anthony F. Buzzard
Oregon, Ill.
Many attacks against Holocaust Revisionism have appeared in recent years, but few are as error-ridden and unfair as the editorial by Richard Pierard. According to Pierard, Revisionists claim only a "few thousand" prisoners died in the German concentration camps. Not true. For example, German camp records cited by French professor Robert Faurisson indicate at least 70,000 died in Auschwitz alone. And I have written that at least 20,000 and probably about 33,000 people died in Buchenwald.
Pierard says Revisionists falsely claim that "pictures of … emaciated inmates are fabrications." But no serious Revisionist disputes the authenticity of these photographs. It should be noted that the prisoners in these photos were victims not of an extermination program, but of disease and malnutrition brought by the chaos of the final months of the war. Former inmates and American and British officials who helped liberate the camps have confirmed this. Indeed, if those prisoners had been targeted for extermination, they would have long since been dead.
Pierard says it is a Revisionist lie that "cyanide gas was used for delousing and fumigation in order to check the spread of typhus." But serious researchers can confirm that this statement is true. Anti-Revisionist researcher Jean-Claude Pressac, for one, acknowledges that cyanide gas—in the form of Zyklon B—was used at Auschwitz and elsewhere for this purpose.
Those unable to win an argument with the facts characteristically resort to name-calling; Pierard glibly maligns Holocaust Revisionists as deceitful "shadowy creatures," evil perpetrators of "the ultimate Big Lie," and so forth.
What Revisionist historians write must be judged by the eternal standard of truth, not on the basis of allegedly sinister motives. Contrary to Pierard's assertion that Holocaust Revisionists are "not in their right mind," many of us have come to accept the Revisionist view only after considerable thought, study, and soul-searching. It was not until 1988 that British historian David Irving was ready to state there was no German program to exterminate Europe's Jews. He reached this conclusion only after years of careful evaluation of the available evidence.
Pierard seeks to discredit "Holocaust denial" as little more than the evil cause of hateful anti-Semites and "the extreme Right." In fact, those unable to accept the orthodox Holocaust story represent every political view and ethnic-religious group.
The generally acknowledged founder of Holocaust Revisionism, Paul Rassinier, was a French leftist and himself a wartime inmate of the Dora and Buchenwald camps. A few prominent Revisionists have been Jewish.
Pierard's charge that Revisionists are motivated by "the intention to deny Jews the right to a land of their own" is presumptuous and silly. I know of no Revisionist scholars who hold this view. I, for one, have no objection to a secure and prosperous Jewish state.
To insist the response to Revisionism is a test of "the very credibility of our faith" is a strange view. Christians are, however, obliged to respect the truth and avoid bearing false witness.
Arguments about history—even about a chapter as politicized and emotion-laden as the wartime treatment of Europe's Jews—should be conducted in a spirit of civility, open-mindedness, and mutual respect.
Mark Weber, Editor
Institute for Historical Review Costa Mesa, Calif.
Watch for more discussion of this topic in future Letters sections.
—Eds.
Right on target
Timothy George was right on target ["The Southern Baptist Wars," Mar. 9], The moderates are using a smoke screen when they talk about the problem being a political struggle for control of the convention. It is a theological problem, pure and simple. How we view the Scriptures is terribly important since that view affects all other aspects of the Christian faith.
Edwin F. Miner
St. Louis, Mo.
How sad that the Southern Baptist Church has reached the state it has. This was once the church that took as its battle cry: "For freedom Christ has set us free!" [Gal. 5:1]. I believe the SBC is in a position similar to that of the Roman Catholic Church in 1514. SBC theology is rigid and contradictory. It cannot stand close examination, so the leadership forbids questions or discussion. What the SBC needs is a reformation that will recover the gospel for the people.
Patricia Pabst
Del Norte, Colo.
Authoritative anecdotes?
Did I miss someting? I read Grant Wacker's favorable review of Philip Greven's book Spare the Child [Books, March 9]. Not once did he squarely address the issue every Bible-oriented Christian would raise first: The book's thesis—that children should not be spanked—is directly opposed to at least the face value of the biblical passages explicitly referring to spanking. I understand the most obvious interpretation is not always the correct one. But is the obvious to be dismissed without serious discussion? Are CT readers now assumed to grant historical anecdotes more authority than Scripture?
John Edmund Kaiser, Senior Pastor
Four Oaks Community Church
Tallahassee, Fla.
The statement that "the evidence against evangelical Christians is both compelling and chilling," with regard to using heavy-handed corporal punishment, is no more credible than using the actions of a few leaders/televangelists to support the view that evangelicals promote adultery, fornication, tax evasion, and fraud.
William B. Leak
Barrington, N.H.
Have something to add about this? See something we missed? Share your feedback here.
Our digital archives are a work in progress. Let us know if corrections need to be made.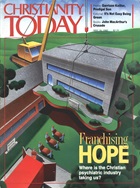 This article is from the May 18 1992 issue.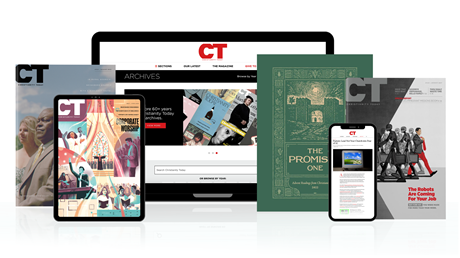 Subscribe to Christianity Today and get access to this article plus 65+ years of archives.
Home delivery of CT magazine
Complete access to articles on ChristianityToday.com
Over 120 years of magazine archives plus full access to all of CT's online archives
Subscribe Now
"Summer Camp" for Troubled Adults
"Summer Camp" for Troubled Adults