Debate over the morality of fetal tissue and organ transplants has moved from laboratories to legislatures.
She was named Theresa Ann Campo Pearson, but in the nine brief days of her life this spring, the nation came to know her simply as "Baby Theresa." Born with a condition called anencephaly, she had no skull above the forehead, no upper brain, and no chance of living more than a few days.
Baby Theresa's parents wanted her organs donated to save the lives of other critically ill children. But if doctors were to wait until Baby Theresa's brain stem finally stopped working her heart and lungs, her organs would deteriorate too badly to be transplanted. So Baby Theresa's parents petitioned the courts to allow her vital organs to be taken before she died, hastening her impending death.
But two Florida courts denied the request, ruling that because Theresa's brain stem was still functioning, she did not meet existing state requirements that a patient be "brain dead" before organs are removed. On March 30, before the Florida Supreme Court could rule on the case, Baby Theresa died.
In the wake of her death, the national debate she ignited continues. Would taking her organs have amounted to a gift of life for another child, bringing good out of a tragic situation? Or would it be murderous "baby harvesting," a grisly example of the end justifying the means?
Less than a week after Baby Theresa died, similar issues were raised in Congress as the Senate considered whether to lift a ban on federally funded medical research using fetal tissues obtained from induced abortions. In defending the ban, Health and Human Services Assistant Secretary James Mason spoke of the current situation in Europe, where he said medical researchers are extracting fetal brain cells while fetuses are still alive. "It actually becomes the means of abortion," he told a special congressional briefing.
Some senators, led by Orrin Hatch (R-Utah), supported the administration's ban, arguing that the use of tissue is an unethical procedure that sacrifices one life for another. But other senators, including abortion opponent Mark Hatfield (R-Oreg.), argued in favor of the procedure because of its potential for treating a host of diseases, such as Alzheimer's, Parkinson's, and diabetes. "I strongly believe that allowing fetal-tissue research is a prolife position," the evangelical senator said.
As biomedical research pushes deeper into unexplored territory between life and death, the accompanying moral implications are becoming increasingly complex. Perhaps a none is more contentious than the transplant of organs and tissues from unborn babies and anencephalic infants. Here concerns about abortion, euthanasia, infanticide, and the definition of personhood intersect. And as discussion has moved from the laboratory to the legislature, evangelical ethicists and scientists are calling the Christian community to greater involvement. "It is critically important that Christians are in the forefront in these areas," says Robert Orr, chairman of the Christian Medical and Dental Society's Ethics Commission (CMDS). But the possibility of presenting a unified Christian front seems remote, as evangelicals appear more and more divided on such medical ethical issues.
Counting The Votes
Long a controversial issue (CT, Nov. 19, 1990, p. 24), fetal-tissue research has already been a key legislative issue on the national level this year. Last month the Senate voted overwhelmingly to lift the ban imposed by the Reagan administration in 1988 and continued by President Bush. The House took similar action last July. So the measure now goes to the President, who is expected to hand down a veto within the next few weeks. Until now, Congress has been unable to muster the votes to override any of Bush's 27 vetoes. However, many observers say this could be the veto that will not stand.
Legislation aimed at anencephalic transplants has seen less action but appears to be gaining momentum. Bills have already been introduced in several states that would declare anencephalic babies "brain absent" and allow their organs to be taken for transplant. None has yet progressed very far in the legislative process, but following the Baby Theresa case, one state lawmaker in Florida vowed an aggressive push to pass a measure this year.
As these issues have entered the political arena, so too have Christian voices. But their lack of agreement points to the complex nature of the debate. For example, supporting Hatfield's position in favor of fetal-tissue transplants is Southern Baptist minister Guy Walden, whose son Nathan received a transplant of fetal cells obtained from an ectopic pregnancy. The transplant, which was done in 1990, shows promise in treating Nathan for the enzyme deficiency that killed two of his siblings.
During congressional testimony, Walden referred to the creation of Adam and Eve: "Not only does God approve of [tissue transplant], but he himself performed the first one." Walden said he personally opposes abortion, but as long as the procedure is legal, using the tissue to "help these affected children in progressive diseases … is the most prolife thing we can do."
Walden's stand, however, runs counter to the leadership of his denomination, which is calling on Southern Baptists to support the ban. "Christians should support efforts to discover more alternatives to the use of human fetal tissue from aborted babies," urges Ben Mitchell, director of biomedical and life issues at the Christian Life Commission. The CMDS has also come out against the use of electively aborted fetuses for research or transplantation, although in an official statement, the organization said it does not oppose "the use of the tissue of spontaneously aborted, nonviable fetuses."
Headfirst Into The Gene Pool
In the brave new world envisioned by some medical researchers, debates over fetal tissue and organ transplants may be moot. Rather than treating a disease, doctors will preempt it by changing the genes that cause it. While widespread use of gene therapy is still a long way off, technological discoveries in the field are advancing at an incredible—some would say reckless—pace.
Currently, more than 2,000 patent applications for human genes are pending at the U.S. Patent Office, as well as more than 150 applications for genetically engineered animals, including several that contain human genes. The $3 billion Human Genome Project of the National Institutes of Health hopes to complete the identification of the remaining 50,000 human genes over the next 15 years.
Last month, as Congress wrestled with the ethical implications of fetal-tissue research, Sen. Mark Hatfield (R-Oreg.) injected the issue of genetics into the debate by introducing an amendment that called for a three-year ban on genetic patents so that moral issues may be explored. "For the past 3,000 years, a majority of people have considered that human beings and human life were sacred. But suddenly, almost overnight, this view is changing."
While acknowledging the "dazzling" potential of these new biotechnologies, Hatfield called on Congress to take an active role in overseeing the ethical implications. "I believe the blurring of God's work with man's work is tremendously dangerous," the evangelical senator said. After a flurry of behind-the-scenes negotiations, Hatfield agreed to withdraw his amendment in exchange for commitments from two Senate committees to hold hearings on these concerns within the next few months.
Evangelical geneticist Elving Anderson of the University of Minnesota praised Hatfield for raising such concerns and urged Christians to get involved in the public-policy hearings. Noting that such moral discussions have already been taking place within the scientific community, Anderson said an evangelical perspective could offer some unique points to the public discussion. Christians must balance the desire to avoid evil with the obligation to do good, he said, while emphasizing that God is the ultimate creator and sustainer of life.
Encouraging Abortion
Prolife groups have actively supported the ban, fearing that if fetal-tissue use becomes routine it will encourage abortion. They argue that by making women feel they are doing good for someone else, the emotional stigma connected with abortion will be reduced. And they foresee a day when women may be paid to conceive and then abort in order to provide fetal tissue.
In addition, prolife advocates question the need for fetal tissue. During congressional debate, the House Prolife Caucus released a letter signed by 24 physicians and scientists supporting the ban. The letter listed several reasons and stated that "the therapeutic value of tissue from induced abortions has been greatly exaggerated by some involved in the debate."
Many abortion opponents consider the end-the-ban positions taken by some of their usual allies in Congress and in the evangelical community as serious defections from the prolife cause. In an internal memo circulated to key supporters last month, the National Right to Life Committee (NRLC) urged an intensive, targeted lobbying effort to continue the ban. "Even firmly prolife Senators should not be taken for granted," the memo said.
Because the issue is still rather new, prolife political activists have been less organized against what they call the "harvesting" of anencephalic infants for organs. But opposition is coming together. The NRLC has long opposed artificially prolonging the lives of anencephalic infants for organ donation. During the Baby Theresa case, the organization also stated its opposition to include the removal of vital organs while anencephalic infants are still alive.
Among evangelicals, however, there is more potential for disagreement as the complexity of the issues presents a range of possible stands. Some evangelicals believe it may be ethical to prolong the baby's life for organ donation (CT, March 18, 1988, p. 14), and others indicate they could even be willing to see the organs taken while the child is still alive, since there is no potential for sustainable life. Some Christians raise the question of whether an anencephalic has a soul, but others insist that these infants, like all humans, are created in the image of God. They also raise concerns that by redefining life to accommodate cases such as Baby Theresa, other critically ill or injured people will be placed at risk of having their organs removed before death.
The CMDS has not yet taken a position on the issue, but Orr says he expects that the society's ethics commission may develop a statement at its next meeting in the fall. "It is a very important issue, not only for the anencephalic individuals, but also for many others in our society who might be affected by policy decisions in this area."
Dialogue Needed
Wheaton College (Ill.) ethics professor David Fletcher says he is less concerned by the lack of agreement among some evangelicals than he is by the fact that there has been so little substantive discussion on these issues within the Christian community. "The average pastor, let alone the average layperson, probably hasn't given that much thought to this," he says. Fletcher and others are calling for more concerted dialogue about bioethics among Christians. "I'd like to see a more open-ended approach to these issues, where people feel they can take different points of view and argue them out within the Christian context," Fletcher says. "My feeling is that, on the abortion issue, there is a tendency to identify one position as the evangelical position."
According to the CMDS's Orr, who is also clinical codirector of the Center for Christian Bioethics at Loma Linda University Medical Center in California, it is only after Christians have thrashed out these areas in a scriptural context that they will be able to engage the standard, secular ethical positions. And that, he says, is vitally important as society shapes its future. "These issues involve matters of life and death, human self-determination, the sovereignty of God, and the sanctity of human life, and our voice needs to be heard."
By Kim A. Lawton.
Have something to add about this? See something we missed? Share your feedback here.
Our digital archives are a work in progress. Let us know if corrections need to be made.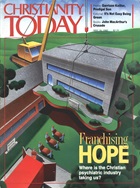 This article is from the May 18 1992 issue.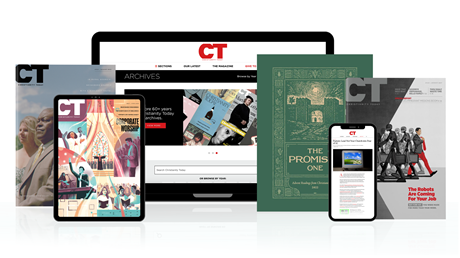 Subscribe to Christianity Today and get access to this article plus 65+ years of archives.
Home delivery of CT magazine
Complete access to articles on ChristianityToday.com
Over 120 years of magazine archives plus full access to all of CT's online archives
Subscribe Now
Medical Ethics: Curing or Killing?
Medical Ethics: Curing or Killing?