Marianne Williamson was raised a conservative Jew; she is a survivor of the hedonistic sixties and seventies and the psychotherapy and 12-step programs of the eighties.
Now, after appearances on the TV talk-show circuit, Williamson is an increasingly popular spiritual guru for the nineties. In fact, Christian bookstore owners report that seemingly well-intentioned Christians have been seeking to buy her book, obviously unaware that Williamson's pop metaphysics is devoid of Christian principles. According to Williamson, there are no moral absolutes, and human moral judgments spring from an unbridled ego.
"It wouldn't surprise me if doctrinally naïve Christians bought her book and were harmed by it," said Paul Carden, a researcher for Christian Research Institute, an evangelical cult-watching group.
Williamson, 39, has lectured and counseled Hollywood stars for nine years. But her TV appearances have put her book, A Return to Love: Reflections on a Course in Miracles, atop the New York Times best-seller list. It has racked up sales of more than 700,000 copies, placing Williamson's photo on the covers of both People magazine and New Age Journal.
Williamson credits Oprah Winfrey and a more metaphysically inclined public with her success. "People coming from a traditional religious viewpoint are ready for more sophisticated metaphysics and a more evolved understanding," she says.
Williamson's book and lectures are based on A Course in Miracles, an increasingly popular metaphysical book claiming to be the channeled writings of Jesus, which Williamson began reading in 1977.
More than 800,000 people have bought copies of the 1,188-page Course, which offers God without guilt, says that love is real and the physical world is illusory, and teaches that inner peace comes from a reoriented view of reality.
Around 1,500 U.S. study groups meet every week to discuss the Course, which attempts to translate fundamental Christian concepts into an Eastern religious world view. The book has influenced psychiatrist Gerald Jampolsky, who in 1975 founded the Center for Attitudinal Healing in Tiburon, California. Now there are 84 attitudinal healing centers across the nation.
Williamson may be popular with unchurched baby boomers, but she does not earn friends among wary traditionalists when she says marriages that end in divorce—as hers did—may be more successful and beneficial than long-lived unions of "two emotional invalids joined at the hip."
Likewise, Williamson says religions that make moral judgments are wrong. "Any path that judges people—no matter how much it proclaims the love of God—A Course in Miracles would say that to the extent it judges people, this religion has nothing to do with God."
Williamson will not say the Course is right and other "paths" are wrong. She merely says it works for her. "The Course isn't seeking converts, and neither am I," she says. "It is my primary spiritual path, and it speaks to me. I know that there are other people who feel the same, and there are people who don't feel that way. Glory, hallelujah! This is America."
By Steve Rabey in Colorado Springs.
North America
'New' Orthodox Attract Evangelicals
It has been five years since a group of 2,000 evangelical Protestants in 17 congregations, headed by former Campus Crusade for Christ staff member Peter Gillquist, entered the Antiochian Orthodox Christian Archdiocese of North America. Since then, 15 more congregations have been added. And the new Orthodox are now proselytizing their evangelical friends, with notable success.
"There are so many inquiries, I don't have the time to scratch up new contacts," says Gillquist, now chairman of the archdiocese's Department of Missions and Evangelism. "Evangelicals have a growing awareness of reductionism—what's been left out—and a true hunger for worship. They need something more."
That "something more" is tradition, which the Orthodox claim they have handed down in pure form from the early church. One prominent evangelical spokesman, Franky Schaeffer, son of the late evangelical Presbyterian author Francis Schaeffer, joined the Greek Orthodox Church in December 1990 for that reason.
"I no longer see myself or my subjective personal interpretation of the Bible as my sole source of faith," Schaeffer said in a recent issue of the evangelical Antiochian magazine Again. "As an Orthodox Christian, I look to the Church and Holy Tradition as the source of truth, the source of teaching about how to become more like Christ, which is what it means to be—rather than to only become—a Christian."
Evangelical converts to Orthodoxy say that being a Christian is a process through which one becomes (through sacraments such as baptism), rather than a decision one makes (through a personal commitment to Christ).
Thomas Oden, professor of systematic theology at Drew University, points out that the transition from American evangelicalism to ethnically saturated Antiochian Orthodoxy nevertheless "requires a decisive choice." Says Oden, "The language of crisis and decision still permeates the transaction."
Learning Liturgy
"Why are Protestant schools producing Orthodox clergy?" asked the September 1991 issue of Again magazine. It answered its question with a series of articles written by evangelical Orthodox clergy who once attended Oral Roberts University, Columbia Bible College, Westminster Theological Seminary, Western Conservative Baptist Seminary, Biola University, Asbury Theological Seminary, Luther Rice Seminary, Trinity Evangelical Divinity School, General Theological Seminary, and Zion Bible College.
"There's a lot of overlay between the raw, hard doctrine of Orthodoxy and your typical committed evangelical," Gillquist says. "The Trinity, the Resurrection, the Second Coming, it's all there. The differences come up in the liturgy. Orthodoxy comes as a shock to people used to a free-flowing service. So we try to teach liturgy."
More user-friendly liturgy has been put to use in the 32 self-described evangelical parishes that belong to the archdiocese's subgroup: the Antiochian Evangelical Orthodox Mission. The biggest concentration of parishes is on the West Coast; the fewest are in the northeast, a stronghold of traditional Orthodoxy. They depart from Orthodox custom in small variances—for instance, by singing Scripture choruses during Communion and by participating more in the music of the liturgy. In traditional Orthodox parishes, a choir chants all the responses.
Gillquist reports that the largest group of inquirers are Episcopalians, fleeing the liberal leanings of that denomination. "When [Assistant Bishop of Massachusetts] Barbara Harris was consecrated [in 1989], my phone rang off the hook," Gillquist says. "For a lot of Episcopalians, that was the last straw. People like Barbara Harris and Bishop John Spong are the best evangelists Orthodoxy has right now."
The collapse of communism has also brought increased interest in Orthodoxy. As evangelical groups have moved into Eastern Europe, they have been forced to take the Orthodox church into account, Gillquist says. If they are going to work there, he adds, "they will have to work under the auspices of the Orthodox."
The question Gillquist is most often asked is whether evangelicals can be content in a largely immigrant church. The Antiochians, for example, are mostly Palestinians, Syrians, Lebanese, and Egyptians. "I say, yes, they can make it," Gillquist says. "If 2,000 Campus Crusade and Billy Graham types can make it, anyone can."
By Julia Duin.
Have something to add about this? See something we missed? Share your feedback here.
Our digital archives are a work in progress. Let us know if corrections need to be made.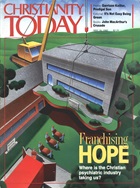 This article is from the May 18 1992 issue.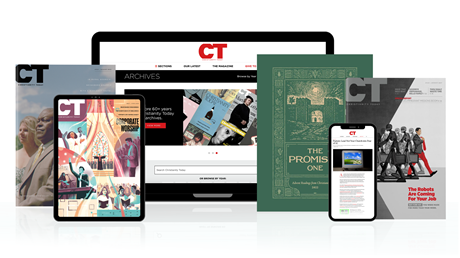 Subscribe to Christianity Today and get access to this article plus 65+ years of archives.
Home delivery of CT magazine
Complete access to articles on ChristianityToday.com
Over 120 years of magazine archives plus full access to all of CT's online archives
Subscribe Now
New Age: New Book No "Course in Miracles"
New Age: New Book No "Course in Miracles"