Since charges surfaced in July that Mike Warnke's ministry was built largely on false claims about his past, Warnke has repeatedly denied CHRISTIANITY TODAY an interview. But recently Warnke talked freely with independent syndicated journalist Perucci Ferraiuolo. That interview forms the substance of this story.
No sooner was the ink dry on the Cornerstone magazine article that dealt him a heavy professional and personal blow (CT, Aug. 17, 1992, p. 50), and on the Lexington Herald-Leader story that augmented his financial anguish at the hands of the IRS (CT, Oct.26, 1992, p. 67), than Mike Warnke began a counterattack, saying his ministry is in desperate financial straits.
In an exclusive interview obtained by CHRISTIANITY TODAY shortly after the charges were levied, Warnke claimed that those attacking him, including Cornerstone, are actually members of a Satanist cult seeking to destroy his ministry. And his former (third) wife and business partner, Rose Warnke, lashed out at Word, Inc., which has published 13 audio and two video recordings by Warnke.
"We're being attacked by Satan," said Warnke, "and I really feel that, in order to combat what he's doing, we just can't sit back and wait for the final blow. I'm going to fight back on this whole thing, and when the truth comes out, heads are going to roll."
Yet Warnke now admits that at least one claim made in the Cornerstone article—that he did not lead a Satanist group of 1,500—is substantially true.
Warnke was charged in July by Cornerstone with fabricating his Satanist past, including claims in his 1973 best-seller, The Satan Seller, that during his college years he was in bad health from drugs and alcohol, had long hair, and led a large Satanist group. Cornerstone produced former friends of Warnke, written records, and photos that consistently countered Warnke's assertions.
Cornerstone also reported that Warnke has had several adulterous relationships.
An ensuing set of stories in the Lexington (Ky.) Herald-Leader revealed that Warnke's tax-exempt status was revoked by the IRS last fall, and that Warnke, Rose, her brother Neale, and Neale's daughter were paid nearly $1 million in yearly salaries by the ministry.
Mike Warnke, Rose, and his present (fourth) wife, Sue, said in the recent interview that Warnke Ministries has now positioned itself for the mother of all battles. "Our ministry is being destroyed, and we're not going to just sit here and take it," Rose said. "Where we usually see four or five thousand people at our concerts, only about 90 to 100 show up now. We're losing everything."
Gearing Up Or Down?
During the interview, Warnke said he plans to counter "by expanding the ministry." Said Warnke, "We're going to gear up, not gear down."
"We're going to build a new counseling wing at the ministry," Rose added, "and more phones to help more people 24 hours per day and go on with business as usual. I feel that's the only way to answer what's happening now."
But Warnke did not sound like someone planning to expand a ministry when he spoke recently to a Kalamazoo, Michigan, audience. According to an article in the Kalamazoo Gazette, Warnke, talking to an audience of a few hundred, stated that he and his ministry expected to be out of business by the end of October.
And Warnke made a plea. According to the Gazette, Warnke said that more than needing money for his ministry, he actually needed money for himself and his family. He claimed that he was virtually bankrupt.
Warnke blames Cornerstone and their parent ministry, Jesus People USA, for his dwindling audiences, which Warnke Ministries asserts once topped 13,000 in 1991 at Tacoma, Washington.
Rose, Warnke alleges there is a conspiracy afoot. "These people have our concert itinerary and are following us all over the place. They show up with their magazine and give it out to radio and TV before the concert, and then no one shows up. These people hand out the Cornerstone story to everyone who shows up for our show. Even the few that show up have a negative attitude toward us."
Dawn Herrin, editor of Cornerstone magazine, says there is no collusion on their part. "We don't have the money to follow this guy all over the country," Herrin said from Cornerstone's editorial offices in Chicago. "But we constantly get requests for the magazine by a lot of concerned Christians, and we do send them the copies they request."
A Counterconspiracy?
Upset at the effect the negative claims seem to be having on Warnke's work, Warnke Ministries has leveled its own assault with allegations against Cornerstone and several other nationally known Christian organizations.
Rose and Mike Warnke emphatically said in their interview that Cornerstone magazine is part of an extremely powerful and influential satanic cult, as are Christian Research Institute (CRI) in Southern California and authors Bob and Gretchen Passantino and their Costa Mesa, California—based ministry, Answers in Action.
"These three are all in it together," stressed Rose. "Cornerstone, CRI, and the Passantinos are all part of the same evil cult, and there's someone very powerful backing them up. They've got a lot of money on their side and are extremely dangerous."
When asked for substantive verification of these assertions, Mike Warnke said it was forthcoming. "We've hired our own investigators," declared the comedian. "And, we're going to exposé Cornerstone and CRI for who they really are."
"As a matter of fact," Rose told the journalist conducting the interview, "If you write a story exposing them with the information we already have against them, Cornerstone will find out where you are and kill you. Are you willing to take that risk?"
Cornerstone senior editor Jon Trott, who cowrote the magazine's investigative article, laughed about the allegations. "To say we're going to kill someone over a story or anything else is preposterous. This is just Mike being Mike … one heck-of-a storyteller."
CRI Vice-president Bob Lyle likened Warnke's allegations to similar ones he has received from other publications, who have falsely accused CRI of "being on the Vatican's payroll. For Warnke to accuse us of being a satanic cult is basically the same thing. There's a lot of satanic panic going around, and if we don't agree with Warnke, then we're a satanic cult. The thought is absurd."
Bob and Gretchen Passantino, long-time writers, authors, and contributors to both Cornerstone and CRI, were startled by the Warnkes' accusations. "It seems that if we were in this well-financed cult we'd be reaping tons of money," said Gretchen. The Passantinos are committed to living a simple lifestyle. Bob Passantino echoed his wife's words, adding, "Warnke's claims are the last gasps of a desperate man."
Rose Warnke also said that two other Christian organizations, Word, Inc., and CCM magazine, have conspired against the ministry by secretly agreeing not to give Mike the publicity he warrants. Mike Warnke said that CCM, contemporary Christian music's flagship publication, has not done an article on him in years, and that it is the fault of Word for not promoting him enough. Rose mirrored Mike's sentiments. "They [Word] have never been supportive of our ministry, and Roland Lundy [Word's president] has stabbed us in the back."
"Word met with Mike in Estes Park when this whole Cornerstone thing came out," she continued. "The only thing that was decided upon was that retailers could return our product without any penalty to them, and that was it."
Word spokesperson Kelly Tolson denied all of the remarks by Warnke Ministries. "It seems funny that since there was this conspiracy to keep Mike out of CCM magazine that CCM did a cover story on him in May of 1991. Also, CCM has made numerous attempts to do another story on him, but he won't do it.
"As far as the meeting in Estes Park, we outlined everything to Mike that we wanted to do, including suspending sales and distribution of his product until further notice. Also, Mike knew about all of this before we ever told anyone else."
But Is It All True?
Warnke repeatedly has denied interviews to many publications concerning the claims against him. But in this recently obtained interview, Warnke admitted that some of the charges against him are essentially true.
Concerning the IRS revoking the ministry's tax-exempt status, Rose Warnke complained, "We set up our ministry as a tax-exempt, nonprofit organization, much the same as the Smithsonian did. The IRS isn't closing them down, and we don't understand why they're taking away our nonprofit status. We are just like the Smithsonian."
Regarding Cornerstone's allegations, Mike and Rose Warnke admitted that at least one claim is true. According to Rose, there was never the 1,500-member Satanist group as Mike has always claimed. "To be accurate," she admitted, "there were only 13 people in the coven."
Where are these 13 Satanists now? "Eight are dead, and I have no idea where the other five are," said Mike. Rose quickly added that this has been a confusing point for years. "There were 1,500 people who knew about the coven and who supported it in one way or another, but the true coven only contained 13 members."
Mike spoke occasionally during the interview about his feelings. "With me, there's a real struggle between the flesh and the spirit," he said. "And, in the flesh, it would be very easy for me to fall into resentment, anger, and hatred. But, if I'm the person I maintain I am, then I'm not allowed that, even though that's what I feel. I'm hurt and annoyed.
"When all this came out, I answered all the allegations, and no one was satisfied. Now, the next time I respond, I'm going to level my big guns on everybody, and I'm not going to quit shooting until I blow them all out of the water. They're going to be very, very sorry."
By Perucci Ferraiuolo.
Have something to add about this? See something we missed? Share your feedback here.
Our digital archives are a work in progress. Let us know if corrections need to be made.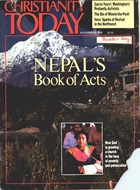 This article is from the November 9 1992 issue.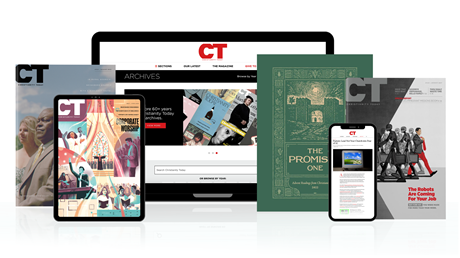 Annual & Monthly subscriptions available.
Print & Digital Issues of CT magazine
Complete access to every article on ChristianityToday.com
Unlimited access to 65+ years of CT's online archives
Member-only special issues
Subscribe
Warnke Calls Critics Satanists
Warnke Calls Critics Satanists