Shushhhhhh!
This is serious business.
Blonde-haired Brittany Hedin's pink, plastic visor shades her water color-blue eyes. Her Precious Moments cheeks are rouged with charm. But that can't hide the five-year-old's overt hankering to feel for the first time the heart-stopping tug of fish on hook.
With piscatorial pensiveness, Brittany's fingers clutch her rod. She squints. She fidgets. She wonders, What happens next?
Before the sun hits its crest, Jim Grassi's crew of fishing experts will help Brittany answer one of life's deepest questions.
And before the sun sets, Jim Grassi will catch some fish of his own. Grassi the expert and Brittany the novice share the same lofty goal.
But while Brittany probes the waters of a small pond outside of Oakland, Grassi will comb deeper, surrounding waters: the pool of humanity.
The founder and director of Moraga, California-based Let's Go Fishing ministries, Grassi and his volunteers hosted Brittany and about 50 others on an all-day fishing trip last June. Grassi's ministry specializes in family retreats where he and his staff teach Christians and non-Christians alike how to fish while they give them the gospel.
Grassi sees much of life in fishing terms.
In essence, he says, all Christians are called to "the ultimate fishing challenge," and he has written a pamphlet by that title. After all, he notes, Christ's top trainees were anglers.
"I see the fisherman as a disciple," says Grassi. "The rod and reel are the spiritual gifts, the equipment God gives his disciples. The line connecting the rod and reel to the lure is the Holy Spirit. The lures we use are really the various testimonies and experiences God has given each believer."
Then comes Grassi's clincher: "The fish that we are after is equivalent to the person who is lost—a person without Christ."
A former professional fisherman, Grassi also stars on a West Coast fishing show, lectures nationally at tackle and boat shows, periodically leads events with sports teams, including the Oakland A's, and is the executive director of the Fellowship of Christian Anglers Society (FOCAS), a relatively new group that links fishing ministries like his nationwide.
But most of the time his ministry involves his family: Louise, who helps organize and run retreats; and the twins, Dan and Tom, both music majors, who provide fishing expertise and lead songs during meetings. In fact, Grassi's most convincing argument for Christianity may be his family, which one Oakland-area pastor calls "the model."
Grassi knows about angling and about the needs of American families, says his fishing buddy Chuck Swindoll. "My long-time friend is a rare and authentic model of the message he presents," says Swindoll, the well-known pastor of First Evangelical Free Church of Fullerton, California.
That message in a nutshell: Life is made for God and family, for work yet also for leisure (especially fishing!), but definitely not for wasting.
All In A Day'S Work
"What a fish!" one young boy hollers across the pond, as his pal hauls in a monster, 10-pound catfish.
Soon, all around a murky-black pond the sounds of screaming children (and adults) spring up like kernels of popping corn. "It's the Loch Ness monster!" another child cries.
It is a Saturday morning, and Jim, Louise, and Dan, along with about 15 other volunteers, are hosting a mini-fishing retreat at a stocked pond. The night before, Jim had lectured a group of mostly fathers and their children on basic fishing. Today they are honing their new skills.
"I learned a lot from that meeting last night," says corporate executive and novice fisherman Stuart Hedin, 43, who is keeping an eye on his daughter Brittany.
Since 7 A.M., Brittany has kept her eye on the pond. She has dangled her bait and peered at the water and believed with utter faith a fish would accommodate her.
"I've been real impressed with this organization," continues Hedin, who learned about Grassi's events from a friend. "Most people go fishing, and they want to catch fish. But these folks want to help you catch fish."
Indeed, Grassi loves to see others "wet a line." After all, for years he was a championship professional fisherman, claiming titles, trophies, and money all over the western United States while traveling the professional circuit. Grassi's feats gained him sponsorship by Zebco rods and reels, Ranger boats, Mercury motors, and other leaders in the multimillion-dollar industry.
But Grassi was more than just some do-nothin', always-gone-fishin' angler. Equipped with a master's degree in public administration, he also became recognized as one of California's top public administrators, serving as the deputy city manager and director of parks and recreation for an Oakland suburb.
If life was a tacklebox, Jim Grassi's was full.
It was, that is, until Grassi and Louise attended a conference where an up-and-coming Christian psychologist, lames Dobson, challenged him to reorient his priorities. "I was convicted in my own life," recalls the 48-year-old, "about the time I wasn't spending with my family." Shortly afterward, he says, "I changed my life. I dropped out of tournament fishing. I reorganized my hours at work. I didn't volunteer for everything."
By about 1979, with his pastor's encouragement, Grassi began looking for ways to put his fishing skills to work for God. But in 1981, he almost died of a brain tumor. After successful surgery, Grassi started his new ministry.
Convinced that people like himself needed to learn the art of leisure (he has taught college courses on the subject), Grassi began leading father-son retreats, where he taught novices to fish. But Grassi ended up doing more than helping people nab a trout; Grassi began a new fishing venture of his own. And his catch started changing. Grassi began to catch souls.
The Catch Of A Life
Brittany's ultimate fishing challenge is nigh, a couple of hours into Saturday morning's outing and after already snapping her line twice.
A mean-fighting sturgeon hits her hook with a vengeance, and it couldn't care less that its foe is a little girl.
"I can't bring it in!" the doll-like blonde exclaims, working her reel and straining her slim, white arms.
"Yeeeeeeeee!" she cries with innocent fury. She is Captain Ahab on the quest.
Ten minutes later, a 3.7-pound sturgeon rises up from the dreary depths and surrenders. "He looks great!" she says.
Another child notes: "This place is a magical place. All the fish come here!"
One of the premises of Grassi's ministry is that there are more fish on his retreats than may meet a child's eyes. While some non-Christians may not crack the door of a typical church, they attend his non threatening fishing events.
And while Grassi's events have now diversified to include whole families in all sorts of outdoor activities (a climate he believes promotes bonding), the gatherings still usually offer a chance to learn fishing.
"What we try to do is just to love people to death and serve them and meet their needs, and, hopefully, they'll say, This is the kind of Christianity I want to be a part of,' " says Grassi, who was ordained this year in the Evangelical Church Alliance, an independent, interdenominational licensing board and ministerial association.
At least half of Grassi's goal has been accomplished as the Saturday retreat edges toward the afternoon: Brittany and every other child has caught a fish.
Now, in the middle of the day, Grassi asks everyone to put up the fishing gear.
After a picnic, he gathers the tired but happy parents under a shade tree. Then, he starts casting for a few fish of his own.
Following his own pamphlet's advice, he takes his rod and reel (spiritual gifts), throws out the line (the Holy Spirit), and drops in some lures (gives the group his personal testimony). And he waits. At the end of his presentation, people fill out decision cards.
Riding home that evening, Grassi reviews the take: a lot of happy children, three first-time decisions for Christ, and some recommitments, too. His board of directors will counsel the converts to find a church.
The sun is dropping, and another day of angling is over. The Grassis, no doubt, are coveting some sleep. And if he needs some help dozing off, Jim Grassi can always count fish.
By Joe Maxwell at a pond near Oakland.
Have something to add about this? See something we missed? Share your feedback here.
Our digital archives are a work in progress. Let us know if corrections need to be made.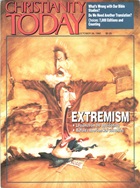 This article is from the October 26 1992 issue.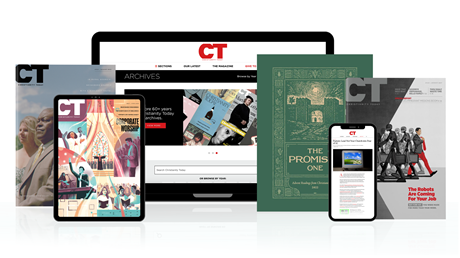 Subscribe to Christianity Today and get access to this article plus 65+ years of archives.
Home delivery of CT magazine
Complete access to articles on ChristianityToday.com
Over 120 years of magazine archives plus full access to all of CT's online archives
Subscribe Now
Evangelism by the Hook
Evangelism by the Hook