Messianic Jews in Great Britain are troubled by the growing frequency of critical reports in the nation's news media and by the London Underground's recent rapid withdrawal of 650 evangelistic posters they placed on its trains.
Evangelicals also are distressed that George Carey, the archbishop of Canterbury, declined to give his patronage earlier this year to the Anglican group Church's Ministry Among Jews (CMJ).
The 650 posters were placed in the Underground as paid advertisements by Jews for Jesus, said Jews for Jesus director Richard Harvey. One of the ads reads, "Jews for Jesus? Why not? After all, Jesus is for Jews." Another featured the word "Jews" in large type, and was surrounded by text encouraging readers to consider Jesus as Messiah.
The posters went up on August 3. By week's end, after protests from the Board of Deputies of British Jews and the Council of Christians and Jews in Great Britain, the Underground removed them. The posters' wording had been approved by Underground officials, and Jews for Jesus had made some revisions suggested by officials, Harvey said. Underground regulations prohibit offending religious and ethnic minorities.
"I find it very difficult to see what people found offensive about this," Harvey said, adding that they may not be finished with their ad campaign.
Harvey said the attendant publicity has caused more people to see and read about the ads. He said other media, such as local radio stations and newspapers, have asked that Jews for Jesus place ads with them.
Holocaust Claimed: Jew On Jew
These are also exciting, albeit tense, times for Robert Weissman, a London-based British missionary with the Christian Jew Foundation of San Antonio, Texas.
Weissman has watched in horror as British Broadcasting Corporation (BBC) reporters, newspaper writers, and rabbis have accused Jewish Christian missionaries of being responsible for Jewish suicides, of continuing the Holocaust and Stalin's pogroms, and of preying on psychologically vulnerable people.
Ironically, Weissman said, the attacks come from London's mainstream papers, such as the Times and the Independent, rather than from the sensationalist tabloids.
"Danger," reads a flier from Operation Judaism based in Birmingham, "missionaries at work!"
The pamphlet expresses concern that "the Decade of Evangelism," as proclaimed by the Anglican Church and many other churches, will make special targets of Jews. "The Nazis destroyed six million Jews," the pamphlet says. "We, who have survived, have a duty to protect our faith and our families."
Rabbi Arye Forta pulled no rhetorical punches when Jewish evangelists became more visible in the late 1980s. "In Jewish terms, organizations such as Jews for Jesus are a threat to be resisted with everything the Jewish community has got," Forta wrote in the Times.
More recently, Messianic Jews have been indirectly chided by the Council of Christians and Jews, which sees the Jews as God's people still. "Jews ask only to be left alone," council director Michael Latham wrote recently in the Times. "Surely Christians have more than enough to do bringing their Gospel to the unchurched millions without targeting an already redeemed people, in special covenant with God?"
Latham invoked maverick Anglican Bishop David Jenkins, who has publicly questioned the bodily resurrection of Christ: "A God who condemned non-Christians who had never heard the Gospel or who had adhered instead to their own way of worshipping Him would indeed be what Bishop Jenkins called a cultic idol."
Weissman has found the BBC and the Times reluctant to grant him time and space to rebut accusations made against Messianic Jewish ministries. He places primary blame on the Lubavitch community, an ultra-Orthodox group that believes the Messiah may be Chief Lubavitch Rabbi Menachem Schneerson of Brooklyn, New York.
"This has been a long-term campaign by the Lubavitch to discredit us," Weissman said. "Jewish missions interfere with the theology of the Lubavitch.
… The one thing the Lubavitch movement will not deal with is whether Jesus is the Messiah."
Harvey, on the other hand, downplays the community's importance. "I wouldn't say the Lubavitch are responsible—that would be paying them too much of a compliment.… I don't choose my enemies that quickly."
Carey Stands Aloof
Archbishop Carey withheld his patronage from the CMJ because he believes its work is "entirely dedicated towards another faith community." CMJ had enjoyed the patronage of previous archbishops of Canterbury for 150 years.
"I know this decision will come as a surprise to many people who recognize my commitment to evangelism. That commitment remains," Carey wrote to Joe Drummond, CMJ's general director.
"But, alongside my commitment to missions stands another commitment. It is to do all in my power to encourage trust and friendship between different faith communities in our land."
Weissman blasted the archbishop's decision, saying Carey has believed Lubavitch propaganda and has ignored New Testament admonitions to take the gospel to Jews first and others next.
"All of the Jewish missions here witness to everybody, not just to Jews," Weissman said.
Carey "is in a very difficult situation as an evangelical," Harvey said. "The Decade of Evangelism has now run for a couple of years. If we don't have good news for Jewish people, we don't have good news for anybody else."
By Doug LeBlanc.
Have something to add about this? See something we missed? Share your feedback here.
Our digital archives are a work in progress. Let us know if corrections need to be made.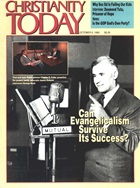 This article is from the October 5 1992 issue.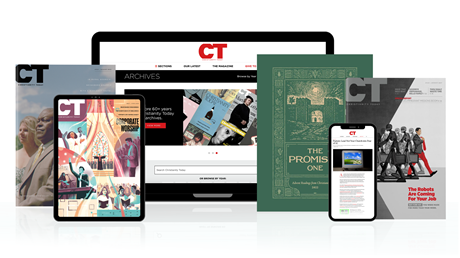 Annual & Monthly subscriptions available.
Print & Digital Issues of CT magazine
Complete access to every article on ChristianityToday.com
Unlimited access to 65+ years of CT's online archives
Member-only special issues
Subscribe
Christian Jews Blamed for 'New Holocaust'
Christian Jews Blamed for 'New Holocaust'