"I'm open and I'm teachable. There's no way I'm going to say to my critics, 'Who do you think you are?' At one time, I felt that way, but no more."
—Benny Hinn, in a statement to CHRISTIANITY TODAY last year
Television preacher Benny Hinn, whose sales in Christian bookstores in the last year-and-a-half have exceeded those of James Dobson and Charles Swindoll combined, told CT last September that he would submit to the counsel and constructive criticism of others (CT, Oct. 28, 1991, p. 44).
But Hinn's rhetoric since then has raised questions in some people's minds about his sincerity. For instance: "Now I'm pointing my finger with the mighty power of God on me.… You hear this. There are men and women in Southern California attacking me. I will tell you under the anointing now, you'll reap it in your children. You'll never win.… And your children will suffer. You're attacking me on the radio every night, you'll pay, and your children will. Hear this from the lips of God's servant. You are in danger. Repent, or God Almighty will move his hand.…"
That is what Hinn told an audience on August 7 at Melodyland Christian Center in Southern California.
In a recent interview with CT, Hinn, whose books Good Morning, Holy Spirit and The Anointing have sold 1.7 million copies combined, said he stands behind the Melodyland statement. "The Bible warns us clearly that we must not attack men of God no matter how sinful they may have become or wicked in our eyes," Hinn said.
Pastor of the 7,000-member Orlando (Florida) Christian Center, Hinn said there is nothing wrong with attacking his teachings. But in explaining his Melodyland tirade, he said he felt he was under attack personally, and he implied that he feared for his life.
Hinn acknowledged that the radio show he alluded to during the Melodyland talk was the Irvine, California-based broadcast of Christian Research Institute (CRI). CRI president Hank Hanegraaff said Hinn is the "number-one question" people ask on CRI's radio show, "The Bible Answer Man." But Hanegraaff denied the show has ever gone beyond challenging Hinn's teachings. He called Hinn's defense of the Melodyland statements "weak."
Hanegraaff takes Hinn to task in a forthcoming book in which he writes, "Hinn has not only bludgeoned Scripture, but has also left in his trail the broken lives of people who have unwittingly fallen for his seductive suggestions." The book further states, "Benny has a bad habit of making up fanciful stories. Whether he is referring to his family history or his rendezvous with the Holy Spirit, fantasy does not stack up with fact. Benny is a master at using his distortions to create an illusion of credibility."
Doublespeak Alleged
Representatives of CRI and other evangelical apologetics ministries say they have noticed a pattern of Hinn telling people behind the scenes that he has changed, but then going on as before. Said G. Richard Fisher, who writes for the newsletter of the St. Louis-based ministry Personal Freedom Outreach (PFO), "When Benny Hinn speaks, he speaks for effect. He tells people what he thinks they want to hear."
Indeed, for those who have been keeping an eye on him, Hinn has proven to be difficult to pin down. Not long after telling CT that the "faith message" (as articulated by such teachers as Kenneth Copeland) does not "add up," Hinn said that speaking out against Copeland was tantamount to "attacking the very presence of God." Also, though affirming the concept of a triune God, he continues to maintain that the Holy Spirit has a "spirit-body."
In last year's interview with CT, Hinn said he would no longer use the term revelation knowledge in reference to some of his teachings because of the implication that those teachings were directly from God and thus infallible.
While he has shunned the term revelation knowledge, just a few months ago on TV Hinn said that the Holy Spirit was—at that moment—teaching him that God originally designed women to give birth out of their sides.
In a recent conversation with Hinn, Hanegraaff questioned him about that episode. (Hinn had initiated the contact after learning that he was to be featured prominently in Hanegraaff's book.) According to Hanegraaff, Hinn several times denied to him having made the statement about women and birth. Hanegraaff said he finally told Hinn where he could find the disputed remark on the videotaped sermon. Hinn later acknowledged making the statement, calling it "dumb." Hanegraaff said that when he reminded Hinn that he had credited the Holy Spirit with the teaching, the evangelist chuckled and said he had actually picked up the teaching from the (1963) Dake's Annotated Reference Bible.
But those disturbed by Hinn's growing influence say this is no chuckling matter. They note that Hinn has achieved popularity largely through his oral and written accounts of frequent, intense, and direct interaction with the supernatural. Said PFO executive director Kurt Goedelman, "If you read The Anointing, you get the idea that the Holy Spirit floods through Benny every day. Take out the supernatural, and that book won't sell much."
Beyond Theology
The criticism being leveled by Hinn's opponents has extended well beyond theology to include challenges to Hinn's fund-raising techniques and even to his claims about his past.
PFO's Goedelman and Kentucky office director Paul Blizard attended a Wednesday-night service at Hinn's church on August 12. According to Goedelman, just prior to the offering, Hinn told a story about a man who had a vision that he had gone to heaven but was not permitted to see the Father. Hinn suggested that seeing the Father might be contingent on giving to the church. Hinn told CT the story had no connection to the offering, even though "it happened at the same time I was taking the offering."
Critics have also questioned Hinn's account of his testimony. Hinn says he was miraculously cured of stuttering, but PFO claims it has talked to several people from Hinn's youth who do not recall him stuttering. And in an article in PFO's next newsletter, Fisher challenges Hinn's claim that his father was the mayor of Jaffa, Israel. Hinn acknowledges that his father did not have the title of mayor, but says he performed the functions of mayor. Fisher says Hinn's father, who is now deceased, was "a clerk in an Arab labor office."
In Good Morning, Holy Spirit, Hinn refers to his conversion during his senior year of high school. PFO's Goedelman says the 1972 yearbook at the high school Hinn attended has him pictured as an underclassman. Hinn said, "I never said I was a senior, period. Anywhere. It's not in my book. All I mention in my book is that I got saved in high school in February of 1972."
Critics say that though such details may seem insignificant individually, taken together they represent a challenge to Hinn's credibility. More than details about Hinn's past, critics say, they are concerned about the teachings that have made him popular, teachings they say are at best extrabiblical and at worst heretical. Hanegraaff said his forthcoming book, Christianity in Crisis, will prove conclusively that Hinn's teachings are heretical. Said Hanegraaff, "My hope and prayer is that Benny recognizes the errors of his ways and comes clean." Hinn admits to having made some "dumb statements." But he does not dispute his image as someone specially anointed of God. As for the claims about his past, said Hinn, "I can prove everything."
Noted charismatic theologian J. Rod-man Williams of Regent University, who participated in CT's interview of Hinn last September, said Hinn is prone to "extremism and exaggeration," and Hinn's exegesis is "frequently unsound and unbiblical." Williams has attended some of Hinn's services and notes that during the meetings, "psychological techniques are mixed in with the spiritual."
But Williams believes that "[Hinn] is a man God is using today," adding that he "knows many people who have been blessed by his ministry." Said Williams, "[Hinn] wants correction, but for some reason seems unable to accept it."
By Randy Frame.
Have something to add about this? See something we missed? Share your feedback here.
Our digital archives are a work in progress. Let us know if corrections need to be made.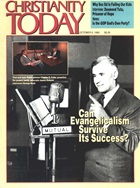 This article is from the October 5 1992 issue.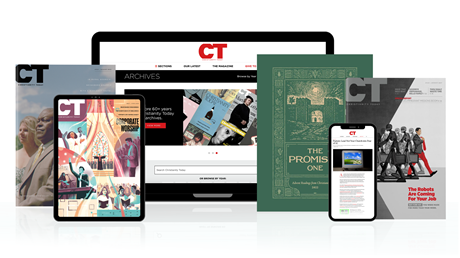 Annual & Monthly subscriptions available.
Print & Digital Issues of CT magazine
Complete access to every article on ChristianityToday.com
Unlimited access to 65+ years of CT's online archives
Member-only special issues
Subscribe
Same Old Benny Hinn, Critics Say
Same Old Benny Hinn, Critics Say