Toxic Pluralism
In the mainline seminaries, why is it okay to deny Christ's deity but wrong to call God "Father"?
Christians around the world will soon gather to celebrate Easter, exclaiming to one another the ancient greeting, "He is risen!"
But some will hear uncertain sounds on Easter Sunday. Instead of being assured that the tomb is empty, they will be urged to affirm the "idea of resurrection" or to believe that good will overcome evil.
That's not bad advice, but it falls short of the truth that sent those first disciples running breathlessly from the tomb. Easter celebrates an event, not a set of values. But to listen to voices from within mainline Protestant churches, one would think Easter is no more significant than Valentine's Day. It is this "theological virus" that has derailed most mainline Protestant seminaries and threatens to spread.
United Methodist professor Thomas Oden spent years in that wilderness of modernity in search of relevance, but he made his way home to the richness of classic orthodoxy (CT, Sept. 24, 1990, p. 28). While not entirely critical of his denomination's theological education, Oden does make this stinging indictment: "We are cursed with the cancerous growth of a toxic doctrinal pluralism that lacks attentiveness to the unity of the classical tradition."
An overstatement? Probably not. One sees this "toxic doctrinal pluralism" in theologian John Hick's claim that it is no longer necessary "to insist … upon the uniqueness and superiority of Christianity, and it may be possible to recognize the separate validity of the other great world religions." Christianity, he would say, is no more viable than, say, Hinduism or Islam. The common thread running through most of the new pluralistic theologies, says theologian Donald Bloesch, is the denial that the man Jesus Christ is very God himself—a denial of our Lord's deity.
What has happened to mainline theological education? Physicians could not be so reckless, or they would be slapped with medical malpractice suits. Well, maybe it is time for theological malpractice suits. Smile if you must, but those coming to worship in our churches deserve faithful preaching consistent with the biblical and apostolic tradition. What some are getting hardly resembles orthodoxy.
Consider the response Harvard professor Jon D. Levenson got when he asked a Christian professor from a prominent liberal seminary if any beliefs or practices were required of the faculty or students. "No," said the professor; then, as an afterthought, he added, "except the requirement to use inclusive language." Levenson, himself a Jew, was disturbed that in an institution dedicated to educating Christian ministers one "can deny with utter impunity that Jesus was born of a virgin or raised from the dead. But if one says that he was the son of God the father [emphasis supplied], one runs afoul of the institution's deepest commitments" (Christian Century, Feb. 5–12, 1992).
Christ's deity, maybe. Inclusive God-language, absolutely!
Trying to make a good story better
Evangelical pastors and theologians can learn from the mainline experience of placing relevance above truth. We must avoid the lure of novelty and soft sell, which, we are told, will make it easier for moderns to believe. Methods may change, but never the message.
Oden's experience reminds us we are called to be faithful stewards of a great and reliable theological heritage. We have truths to affirm and errors to avoid. We must not try to make these truths more appealing or user-friendly by watering them down. We must guard against trendy "theological bungee-jumping" that merely entertains the watching crowd.
The apostle Paul urges us to "Guard the good deposit that was entrusted to you" (2 Tim. 1:13). That may be done energetically and creatively, but always truthfully. Anything less is malpractice.
By James V. Heidinger II, editor and executive secretary of Good News, an evangelical renewal movement within the United Methodist Church. He is author of United Methodist Renewal: What Will it Take?
Welcoming The Sexually Tempted
This magazine recently spoke out against accepting homosexuals into the military, and I fully support that stance. The issue is not one of civil rights but of acceptance and endorsement of homosexual practice.
At the same time, we must not forget that the "homophobic gay-bashing" caricature of Christians the mass media delight in is not pure fiction. As we rightly hate the sin, we must be careful not to let that hate spill over onto the sinner.
On two recent occasions, I have heard young men who had come out of the gay lifestyle to follow Christ say they had experienced hatred and anger from Christians—even after becoming part of Christ's family. One man, who was dying of AIDS, spoke publicly about how he had found hope in Christ. And then he said a very revealing thing: "My homosexuality," he said, "was not about sex. It was about love. I never felt anybody loved me, and so I sought love in the wrong place."
Instead of finding love in the church, are the sexually tempted being jolted by judgment and being driven away?
There is something about Christians that can be very harsh. Yes, we must take a stand against pagan lust. But we can too easily become like the revivalist who preached that sinners were going to hell—and preached it like he was glad.
Paul, looking at the problem, said: "For all the law is fulfilled in one word … 'You shall love your neighbor as yourself.' But if you bite and devour one another, beware lest you be consumed by one another!"
Jesus said the world would know that we belonged to him, not by our doctrinal purity or our big churches or our evangelism programs or our political effectiveness, but by our love for one another. Paul wrote that if a brother or sister was snared in sin, we should restore that person with a spirit of gentleness. John said, "Beloved, let us love one another, for love is of God; and everyone who loves is born of God and knows God."
The body of Christ ought to be a soft place for the members of the body, but sometimes we forget how little we know about others. It was F. B. Meyer, I believe, who once said that when we see a brother or sister in sin, there are two things we do not know: First, we do not know how hard he or she tried not to sin. And second, we do not know the power of the forces that assailed him or her. We also do not know what we would have done in the same circumstances.
In the fierce debate about homosexuality, we must show Christian love even as we fight for biblical standards. And we must welcome into the family those Christians who struggle with their sexuality and their past. Jesus went to a lot of trouble to bring sinners to the throne of grace. If we forget how we got there, we will increasingly become narrow, negative, and critical of one another. We will take what God intended to be a place of softness and heavenly welcome, and make it into an outpost of hell on earth.
Consider the story about the three bragging little boys: One said his father owned a factory. Another said his father owned a farm. The third boy, a pastor's son, said, "That's nothing. My father owns hell."
"Oh, yeah," said one of the boys. "How can a man own hell?"
"Well," the pastor's son said, "my mother told my grandmother that the deacons of our church gave it to him last night."
Why do we laugh knowingly at that story?
We need to ask God to give us more grace to show compassion and love for those who don't know him, and for brothers and sisters in Christ who are having trouble with him. Then, perhaps, Christians will not express so much pain at the rejection and criticism they sometimes feel from the family.
By Stephen Brown, a CTi board member and founder of Key Life Network, Inc.
Repentance Before Renewal
Earlier this year, evangelist Billy Graham's headquarters was picketed and deluged with letters of protest because he accepted prochoice President Bill Clinton's invitation to pray at his inaugural.
Many noted the fact of Graham's prayer. But few noted its content. One who did pay attention to what Graham said was Anglican Bishop Michael Marshall. We present here his (condensed) observations as they appeared in the Church of England Newspaper:
"[I]f Clinton called for a season of renewal, Billy Graham did not lose the unique opportunity afforded by such a massive occasion to address the whole world and to call America, in front of that world, to repentance. For there can be no renewal without repentance.
"… Can you imagine the tired rhetoric of the fifties and sixties we would have been treated to, had any of the leaders of the mainstream churches been standing where Billy stood …? [But Billy] did not fail to remind the American people, whether they liked it or not, that they had 'gone astray' from the ways of God and were now 'reaping the whirlwind' of their errors—Clinton and Bush alike, with heads bowed, the while!
"But Billy did not leave it there. Rather he went on to remind the listening and viewing world that it is never too late to repent, to change our minds, our outlooks and our ways and return to the way of the Lord.…"
Bishop Michael is half of a two-person team spearheading an effort to renew commitment to evangelism in the Church of England. Like every good gospeler, he knows that repentance must always precede renewal. We want to thank Billy Graham for making that point—and Bishop Marshall for underscoring it.
Have something to add about this? See something we missed? Share your feedback here.
Our digital archives are a work in progress. Let us know if corrections need to be made.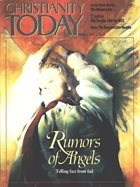 This article is from the April 5 1993 issue.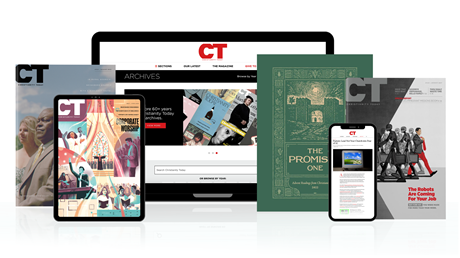 Annual & Monthly subscriptions available.
Print & Digital Issues of CT magazine
Complete access to every article on ChristianityToday.com
Unlimited access to 65+ years of CT's online archives
Member-only special issues
Subscribe
Toxic Pluralism
Toxic Pluralism