Ralph Reed, executive director of the Christian Coalition, and Kate Michelman, president of the National Abortion and Reproductive Rights Action League, do not agree on much. Yet their capsule analyses of last month's elections are identical: Democrats got hammered, and the Religious Right, spearheaded by the coalition, deserves much of the credit.
Indeed, few around the country would challenge this analysis. The Republicans took control of both houses of Congress for the first time in four decades. Not a single incumbent Republican senator, representative, or governor lost, while Democratic institutions such as New York's Gov. Mario Cuomo and House Speaker Tom Foley were ousted.
In state after state, candidates supported by the Religious Right emerged victorious. In Pennsylvania, conservative pro-life candidate Rick Santorum, 36, won in his Senate race against incumbent liberal Democrat Harris Wofford, 68. Re-elected candidates favored by politically conservative Christians included, in the House, Baptist pastor and Christian bookstore owner Ron Lewis (Ky.) and Gary Franks (Conn.), an African-American Republican. In the Senate, newcomers coasted to victory, including Spence Abraham (Mich.), Mike DeWine (Ohio), and John Ashcroft (Mo.), a former governor who is an outspoken Assemblies of God gospel singer.
Reed's organization distributed 33 million voter guides - nearly all at churches on the Sunday before the election. He believes the "conservative religious vote was decisive - the swing vote" in the Republican takeover.
According to the coalition's exit polls, 33 percent of those who voted were "born-again evangelicals," defined as people who attend church at least four times a month and profess to a personal conversion experience. This compares to 24 percent two years ago, 18 percent in 1988, and just 10 percent in the last midterm election, 1990.
Reed's claim that the Christian Right made the difference takes on credibility given surveys indicating that religious conservatives voted between 65 and 70 percent Republican and only about 25 percent Democratic.
In South Carolina, Republican David Beasley beat Democrat Nick Theodore in a close gubernatorial race, 50 to 48 percent. A born-again Christian, Beasley ran what he called a "pro-family" campaign, opposing abortion, homosexuals teaching in schools, lotteries, and seven other issues targeted by the Christian Coalition.
"Christians [in South Carolina] have a tendency to come out and vote in greater numbers than other groups, and I think that's one of the things that pushed us over the top," said Mark Chambers, Beasley's campaign manager.
One of the few outcomes that bordered on disappointment for candidates favorable to the Religious Right came in Virginia, where Oliver North lost in his Senate race to incumbent Democrat Charles Robb. Even at that, Reed cited exit polls indicating that only 8 percent voted against North because of his stands on the issues. A majority rejected him due to his role in the Iran-contra affair.
Even with a campaign war chest of $20 million, North won only 43 percent of the vote. Robb, who was plagued with his own personal scandals, received 46 percent, while independent Marshall Coleman received 11 percent.
BAD YEAR FOR INCUMBENTS
A strong distaste for the politics of big government characterized this year's election season, boding ill for Democratic incumbents. "I've never before felt this level of cynicism toward politics and government," says Sojourners magazine editor Jim Wallis, who spent much of the election season on a book tour around the country.
Such a mood was exemplified in Chicago, where Dan Rostenkowski, the powerful former House Ways and Means Committee chair under a 17-count criminal indictment, lost after 36 years in Congress. Many who voted for his Republican opponent, 32-year-old Michael Flanagan, probably did not know he is a pro-life Catholic.
Some Left-leaning spin doctors have suggested that had Republicans made up a congressional majority, they would have been thrown out this year. But, says Wallis, "the Democrats will miss the lesson if they don't see that this was a vote against them, against Clinton, against old liberal approaches, against big government in particular." Wallis, a social activist, added that, by and large, "Democrats won only where they were running against weird or weak candidates."
Some entrenched Democrats will return. In Massachusetts, Ted Kennedy won with a late surge over multimillionaire venture capitalist Mitt Romney, a Mormon. In California, seven-term incumbent congressman Vic Fazio, who earlier this year convened the Radical Right Task Force to counter the effects of the Christian Right, defeated Christian businessman Tim LeFever by a slender margin of 3,000 votes.
LOOKING TO '96:
While the Democratic party is licking its wounds, the Religious Right is licking its chops in anticipation of imposing yet another term limit, this one on the nation's leading Democrat: President Clinton.
In looking forward to the next presidential election, however, religious conservatives will face perhaps their biggest political test: a struggle for the soul of the Republican party.
Republicans agree widely with the principles expressed in Congressman Newt Gingrich's much-publicized Contract with America: Get tough on crime, cut taxes, and reduce government spending except for defense. However, other planks in the GOP platform - a pro-life stand on abortion, for example - may be in jeopardy.
On the GOP horizon are such potential presidential contenders as Sen. Arlen Specter of Pennsylvania and California Gov. Pete Wilson, two abortion-rights advocates who could gain votes by appealing to moderates.
Gary Bauer, president of the Family Research Council, has been in the political trenches in the family-values debate. Bauer observes, "Many 'big tent' Republicans maintain that they can combine liberal social policies with conservative economic policies and, by some sort of political 'averaging,' claim the mantle of moderate." If that's the direction Republicans go, Bauer says, they will merely "join yesterday's ranks of defeated Democrats."
At the same time, Bauer is urging legislative action on more than the family-values agenda. He supports quick congressional action on a balanced-budget amendment, term limits, and a line-item veto - all off-the-shelf Republican proposals.
For Reed's part, he is confident that the GOP's new identity is strongly conservative. "This was not just a victory for the Republican party," he says. "This was a landslide for a particular kind of Republican party: pro-life, pro-family, unapologetically positioned in support of religious conservative themes and values." Reed notes that the Senate has gained 8 pro-life Republicans, the House has gained 45 pro-life Republicans, and states have gained 8 pro-life governors.
Reed acknowledges that "the Supreme Court appointments of the Reagan-Bush era were a missed opportunity" in terms of overturning Roe v. Wade. He blames a Democratic Congress, not the former Presidents. As for the 1996 presidential race, Reed says he is satisfied that potential Republican candidates Bob Dole, Phil Gramm, and Jack Kemp are solidly in the pro-life camp.
DISSENTING VOICES:
While the Christian Right works to perfect its version of the Republican party, other evangelicals are expressing deep concern about the future of the country's two-party system. An estimated 25 percent of all Christians voted with the Democrats and constitute a significant group.
"I'm grateful for the stronger pro-life voice, and I hope they will successfully promote family values," says Evangelicals for Social Action president Ron Sider. "But I wonder if [Republicans] will live family values as well as preach them. I wonder if the Republican agenda will serve everybody or just white, middle-class constituencies."
Jim Skillen, executive director of the Center for Public Justice (CPJ), maintains that Republicans' insistence on increasing defense spending is misguided. "We are at a point in history where the kinds of battles the U.S. faces are not the kinds that require a push in defense spending," Skillen says. Citing the federal deficit as an example of such a battle, he added, "If we do face a military threat, we can recharge, but you don't just spend money to stay ahead."
Wallis is dismayed both with traditional liberal and proposed conservative responses to the problem of the poor. "Liberal solutions want to control the poor. Conservative solutions want to abandon the poor," he says. There are some Republicans who do not just toe the party line, Wallis says. "At least Jack Kemp talks about racism as if it's real. He talks about poor people as if they exist. By and large, his Republican colleagues don't."
ADVICE FOR THE RIGHT
Even though the Christian Right has not asked for any advice, some within the evangelical camp are offering it anyway. Despite Reed's interpretation of North's defeat, the CPJ's Skillen maintains that Christians should be careful "not to wrap the American flag and the Cross together."
Skillen believes conservative Christians should realize that "we have to make some distinctions" between what the Bible truly teaches and legitimate differences of opinion on political matters.
Christian Legal Society attorney Gail Jansen believes the Christian Right is "fast becoming just another special-interest group with its own list of litmus-test issues." She adds, "The Christian political perspective has to be much more than issue-oriented. We need to identify political principles of justice that apply to the broad spectrum of society."
Wallis says, "If there is any religion left in the Religious Right, they must resist and refuse this Republican agenda of social abandonment of the poor, which is morally unacceptable."
This year a new organization, the Interfaith Alliance, formed, hoping to be a counterweight to the power of the Religious Right. Prior to the elections, the alliance, a national organization of religious leaders representing mostly mainline denominations, alleged that the Christian Coalition voter guides were "shamelessly slanted."
TIME FOR NEW MODELS?
CLS's Jansen believes that many Christian voters are frustrated at having to choose between two political parties that emphasize two different visions, both of which have appealing components. She says Democrats offer a social conscience but little else, while Republicans are more open to "Christian values in the political realm."
"Our two-party system as currently constructed does not give people enough options," Jansen says. "I sense that many people are casting about for a new model, one that can produce candidates who are concerned about the poor and about balancing the budget."
In a similar vein, Wallis maintains that Republicans and Democrats each speak to a part of a biblical vision for society.
"Conservatives talk about cultural breakdown in terms of the decline of family and moral values," Wallis says. "Liberals talk about oppression, which is a biblical word. There is a relationship between the two, and Christians ought to be speaking to both."
Wallis calls for "community-based solutions" to local problems, with leadership that is tested and trusted. He adds, "What we're facing is a spiritual, not just a political, crisis. Evangelicals ought to be leading a public discussion about new approaches to politics that would help us find workable solutions at the local level to our deepest problems."
THE REFERENDUM ROUTE
Across the country, the results of ballot initiatives were not consistently conservative or liberal.
In Oregon, voters narrowly adopted a referendum to allow physician-assisted suicide. Under the measure, doctors would be permitted to prescribe suicide pills for patients with less than six months to live. If such patients are mentally in good health, they would need a second opinion and must make three requests for the pills. A coalition of religious and medical groups are expected to test the measure in court.
In Florida, voters turned down casino gambling, 62 to 38 percent. Casino supporters poured $12 million into their effort, outspending opponents by more than 10 to 1.
In California, voters passed Proposition 187 by a 1.4 million-vote margin, signifying that even many political liberals want to cut off benefits to illegal immigrants. Proposition 187 would deny undocumented immigrants access to state services, except emergency medical care.
Voters in Wyoming, which has the lowest abortion rate in the nation, rejected the only abortion vote on statewide ballots this year. The measure would have limited abortion to cases of rape, incest, or to save the mother's life.
Our digital archives are a work in progress. Let us know if corrections need to be made.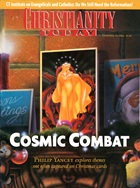 This article is from the December 12 1994 issue.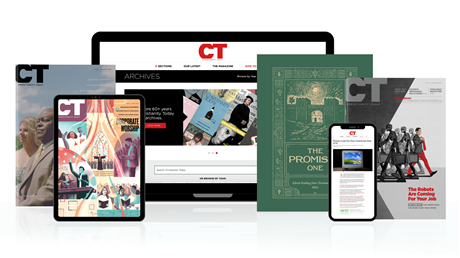 Find hope and historical insight. For a limited time, explore 60+ years of CT archives for free!
Daily devotions from Timothy Dalrymple during this pandemic.
Hundreds of theology and spiritual formation classics from Philip Yancey, Elisabeth Elliot, John Stott, and more.
Home delivery of new issues in print with access to all past issues online.
Join now and get print issues access to archive PDFs.
Conservatives Gain Upper Hand
Conservatives Gain Upper Hand