The Magazine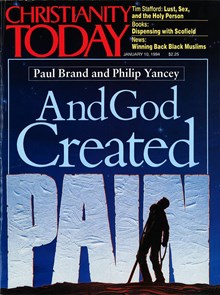 Read CT online anywhere you go.
Subscribers get full print and digital access, including:
10 award-winning print issues
PDFs of each issue
Full web access to ChristianityToday.com
60+ years of magazine archives
The CT Archives are a rich treasure of biblical wisdom and insight from our past. Some things we would say differently today, and some stances we've changed. But overall, we're amazed at how relevant so much of this content is. We trust that you'll find it a helpful resource. - Mark Galli, editor-in-chief
Stealing God's Stuff & Controlling Human Life
Christians must help bridge the growing gap between biotechnology and bioethics.
And God Created Pain
A world-famous surgeon's appreciation for the gift nobody wants.
Also in this Issue:
African Americans: Churches Wary of Inner-City Islamic Inroads
Letters to the Editor
Racial Healing in the Land of Lynching
The Manuscript in the Closet
Speaking out: Free Jim Bakker Now
Meeting Suburbia's Hidden Needs
Stealing God's Stuff
Getting Serious about Lustin in an Age of Smirks
Will There Be Baseball in Heaven?
Classic & Contemporary Excerpts from January 10, 1994
Faculty Complaint Clouds Regent Law Acccreditation
News from the North American Scene: January 10, 1994
Episcopal Church: Homosexual Ordinations Cause Parish to Leave
Free Albania Rejects Deep Atheistic Past
Chicago Declaration: Evangelicals Urge Social Renewal
Cuba: Castro's Island Domain Sees Christian Renewal
Scholars Scrutinize Popular Dake's Bible
Orthodox Church: Leaders Ending 1,500 Years of Official Schism
World Scene: January 10, 1994
Congress Restricts Dissent Tactics of Pro-life Activists
Books
Art Attack in Cobb County