Tentmaking—doing missionary ministry while working in a "nonreligious" occupation—has been billed as the magic bullet of Western missions in the past decade. Self-supporting tentmakers, taking a cue from the tentmaking apostle Paul (Acts 18:3), could enter countries closed to traditional missionaries, particularly in the Muslim world. At the same time, they could bypass the difficult, time-consuming, and uncertain process of raising financial support from reluctant or overcommitted churches and individuals.
Yet too often the magic bullet has misfired, sometimes hitting devoted supporters of the approach squarely in the foot. Some tentmakers have been wracked with guilt because of their double identity, or sent home broken and defeated because of a lack of training in spiritual or cross-cultural ministry or an inability to balance the demands of their secular job with their spiritual ministry.
Despite the setbacks, the movement is gaining a maturity that promises to enhance its effectiveness and allow tentmaking to fulfill some of its promises and complement the older, more established missions movement.
"Ten years ago, tentmaking was a novelty," says Ted Yamamori, president of Food for the Hungry, a relief-and-development agency in Scottsdale, Arizona. "Nowadays it's more organized, and networking is going on worldwide."
Last year, 70 strategists from 17 nations met in Thailand to form the Tentmakers International Exchange (TIE), which had been planned since the Lausanne II missions conference in Manila in 1989.
"There is a strong and growing interest in tentmaking," says William Taylor of Austin, Texas, head of the missions commission of World Evangelical Fellowship (WEF), an international umbrella organization representing national evangelical groups. "The most common version in the West is the engineer or teacher serving in a restricted—access country."
The Filipino Missionary Association is using another model: training 2,000 evangelical contract workers as tentmaking missionaries. "This is a truly strategic and brave force that is particularly impacting the Muslim Arab nations," Taylor says.
LIVING WITH RISKS: Christians are taking risks in tentmaking roles. While employed for two and a half years by the National Conservatory of Music in Tetuan, Morocco, Salvadoran orchestra conductor Gilberto Orellana helped convert 14 Moroccan Muslims to Christ. Then Orellana was jailed, convicted of proselytizing, and sentenced to a year in prison before being expelled in January.
In 1993, a New Zealander and three Americans working for an export-management company—and serving as tentmakers for the Mesa, Arizona-based Frontiers—were imprisoned in Cairo and later deported for proselytizing.
Perhaps responding to the ethical quandaries of tentmakers who use the strategy merely as a means to enter otherwise closed countries, leaders of Intent, composed of 50 U.S. agencies in the tie network, advocate a broader understanding of the tentmaker role. Gary Ginter, a member of Intent's board, prefers the term "kingdom professional" to "tentmaker."
"Tentmaking has come to be thought of primarily as a financial strategy, and we don't think that it is," Ginter says. "The issue is much more one of the people of God using the gifts of God … for the works of God."
Intent, formerly the U.S. Association of Tentmakers, based in Colorado Springs, has organized several conferences to spread its message and enhance the networking of tentmaker-minded mission leaders, churches, and strategists.
TIME IS AT HAND: "Within the next ten or fifteen years, the greatest percentage of missionaries will be going out in this way," says Carol Davis, Intent's interim director. "But there are very few agencies that are really open. Most of them have tried it and feel it doesn't work."
Interest in tentmaking by U.S. Protestant agencies, although minor when compared to the traditional support-raising missionary, continues to grow. According to the Missions Advanced Research and Communication Center in Monrovia, California, there were 1,200 tentmakers in 1992, up from 873 four years earlier. In the same time, the number of traditional cross-cultural missionaries plunged from 50,550 to 41,142.
Yamamori, author of a 1993 book on the need for humanitarian tentmakers, Penetrating Missions' Final Frontiers, says the recent interest in the "10/40 Window" "has really accentuated the need for tentmaking." The 10/40 Window is a geographical area from 10 degrees to 40 degrees north of the equator, in which most of the world's non-Christians and poor people live. Intensive efforts are focusing on missions, evangelism, and prayer support (CT, Oct. 2, 1995, p. 106).
While the relatively few agencies that use tentmaking tend to view it as a supplemental rather than a primary strategy, openness to working with organizations such as Intent is on the rise.
"Frankly, as an organization, we keep trying to say, 'What's our niche?' " says Dave Brown of the Evangelical Alliance Mission in Wheaton, Illinois. "We're going to have to increasingly say, 'How can we partner? How can we set up these networks and work together?' "
Brown says many in the missions community still view tentmaking as "a financial ploy of people who don't have the guts to do deputation." They are also rightly concerned, he says, with "the skeletons lying out in the desert of people who have gone out there and didn't know what they were doing and weren't connected with anybody."
Some of the strongest interest in the strategy comes from churches seeking to equip their laity for world missions in cost-effective and creative ways. To help them avoid some common pitfalls, WEF in 1993 published a manual for churches, "Working Your Way to the Nations: A Guide to Effective Tentmaking."
Successful tentmaking models are plentiful, even from established Christian organizations that make no secret of their presence in sensitive countries. Since 1954, the United Mission to Nepal has provided a plethora of Christian humanitarian services in the poor, largely Hindu country, with the government's blessing. InterServe, founded in 1852 and based in Upper Darby, Pennsylvania, has shifted from being a traditional mission to a tentmaking agency. Its unapologetically Christian workers use their "secularly marketable skills" in medicine, publishing, engineering, and the like in communities that need them, earning respect and the opportunity to share their faith further.
InterServe director Ralph Eckhardt says, "Their responsibility is simply to witness, by word and deed, to people who have never been introduced to the gospel message before."
TOOL OF THE FUTURE: Tentmaking remains an effective strategy of accessing countries that are otherwise closed to traditional missions and evangelism.
"It will get more and more difficult to get traditional missionary visas," says Fred Gregory, former president of the Seattle-based World Concern. "We need to find other ways to contribute to the cause of the kingdom."
Driving the change, Gregory says, are the spiritually mature churches overseas that require fewer preachers, teachers, and administrators but still appreciate help in areas such as agriculture, engineering, and information technology.
The opportunities for tentmakers never have been greater, according to Intent's Ginter, as modernity and capitalism increasingly homogenize world cultures.
"One of the silver linings of modernity is that it allows us an incredible range of ways to respond to cultures we would otherwise be quite blocked out of," Ginter says. "Tentmaking is a supplemental strategy. It's by no means a panacea, but it is part of what I think God will use for the next 50 years."
Have something to add about this? See something we missed? Share your feedback here.
Our digital archives are a work in progress. Let us know if corrections need to be made.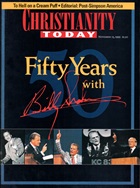 This article is from the November 13 1995 issue.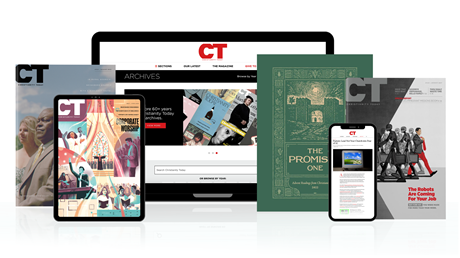 Subscribe to Christianity Today and get access to this article plus 65+ years of archives.
Home delivery of CT magazine
Complete access to articles on ChristianityToday.com
Over 120 years of magazine archives plus full access to all of CT's online archives
Subscribe Now
Tentmaking Movement Puts Down Stakes
Tentmaking Movement Puts Down Stakes