You won't find Pucallpa, Peru—a jungle town on the Ucayali River—on the jet set's list of top-ten tourist attractions. Yet Pucallpa is the hub of evangelical missionary activity in the Peruvian Amazon. It is a jungle base for such major agencies as the Wycliffe Bible Translators—related Summer Institute of Linguistics (SIL), the South American Mission, and the Swiss Indian Mission.
What they do in Pucallpa is coordinate jungle missions. Hearing those words, most Americans visualize deadly snakes, lurking dangers, and a fair-skinned missionary neck-deep in boiling water. Yet, while there are still snakes and dangers, jungle missions have become a lot more complicated since the pith-helmet days. I traveled there to update our stereotypes: what are jungle missions really like?
My host was a long-time friend, Roger Marquez, a native from the Peruvian Shipibo tribe, and a jungle missionary. Roger and his wife, Rebeca, serve as missionaries to the Shipibo church under a Christian and Missionary Alliance congregation in Lima. After the 50-minute flight from Lima to Pucallpa, photographer Samuel Nieva and I spotted Roger just outside the airport terminal. He greeted us, apologizing that he needed to hurry back to the annual assembly of the Association of Shipibo-Conibo Evangelical Churches. Roger quickly loaded us into a "motokar," a three-wheeled motorcycle pulling a canopied carrier with room to seat three (thin) adults. "Motokars are a lot cooler than a car this time of year," Roger said, as the hot tropical air whipped in our faces in the rutted street from the airport.
The Shipibo-Conibo church association assembly was in full swing. About 80 church leaders from up and down the Ucayali River (which feeds the Amazon) sat on backless benches, fanning themselves while some nodded off in the afternoon heat. Newly elected association president Bernardo Vasquez said that his main goal was to involve Shipibo churches in missionary outreach. Roughly 100 Shipibo villages with 15,000 Shipibos are found up and down the Ucayali from Pucallpa, and Shipibo evangelists have preached the gospel in every one of them. Vasquez's comments overturned any notion that only Westerners were doing mission work in the jungle.
"We are finally getting over our complex of being looked down upon. The Shipibos have awakened to the fact that we are also children of God, and that we can also do things," said Rafael Ahuanari, a young Shipibo pastor.
Peke-pekes and the beach boys
The meeting would take awhile, so Samuel and I stepped out for a look around. We walked several blocks to a park overlooking the Ucayali River. Down by the riverbank, several large passenger boats were docked. Five days and 500 miles downriver lay Iquitos, Peru's major port on the Amazon, that amazing river stretching 4,000 miles from its source at 18,363 feet above sea level on Peru's Nevado Mismi mountain to its mouth in Belem, Brazil. The passenger boats dwarfed rows of dugout canoes and narrow boats rigged with small motors. Locals dubbed these craft peke-pekes, for the sputtering sound of the motors.
As Samuel and I walked at river's edge, a riverbank saloon blasted music from the Beach Boys. Coal-black buzzards hopped on piles of trash and dead fish, while men received cargo and passengers in their peke-pekes. Merchants hawked plastic gasoline tanks, replacement sandal thongs, and other jungle necessities.
In the park, we found an open-air evangelistic meeting in full swing. A dozen young people stood in a semicircle, zealously singing choruses. The oldest member, probably the pastor, stood in the middle, keeping time with his palms, eyes closed, body swaying.
One by one, the believers stepped forward to testify. "You see me here now," a teenage girl shouted, "and you might think I've always been a good, sweet girl. But I was once a rebellious child. I was rebellious. Hallelujah! I went to discotheques. I went to parties. But then I met the Lord!" This was the evangelistic zeal that explains why Latin American evangelical churches are growing.
The words echoed in the quiet plaza as a small audience gazed tolerantly. A woman nursed her baby. Sweethearts held hands. And vendors sold Peruvian-brand soft drinks from ice-filled coolers.
On the surface, Pucallpa residents looked like one happy family. But, in fact, local Amazon natives and Spanish nationals—the mestizos, as natives call them—share no great mutual affinity. The distrust, dislike, and antagonism trace back to the old history of mestizo dominance, if not exploitation, of the natives.
Over supper later that night, Roger and Rebeca described their own missionary calling to the Peruvian Amazon. Rebeca came from a comfortable, middle-class family in Lima, and Roger from a Shipibo jungle community on the upper Ucayali. By many Peruvians' standards, they were not an appropriate match. "I saw a lot of racism," Rebeca said.
When Rebeca turned ten, her father gave her a shrunken head from Jbaro Indians in Ecuador. "Why did they have to shrink a person's head to the size of an orange?" she wondered. "When I grow up, I'm going to go talk to them," she decided. After Rebeca gave her life to Christ at age 16, she immediately thought, "Now I know what I'm going to say to the indigenous people: I'm going to tell them about Christ."
In 1979, she visited Pucallpa and SIL's jungle center. Where were all the Peruvians? she wondered. The missionaries were all foreigners. She returned to Lima committed to become a missionary in the jungle.
Roger (Suynihue in Shipibo, meaning Straight Hair) accepted the Lord at the age of ten through the influence of missionaries and later studied at two Bible institutes. When he was a newborn, his mother had tried to bury him alive—a way of eliminating unwanted children. A local curaca (chief) took Roger from the ground to save his life.
I first met him ten years ago while he was living in Lima. There he launched a ministry to native students attending university in the capital city—a very different kind of "jungle" from the Amazon. Roger started a Christian dormitory in a small, rented house just off Lima's congested and chaotic Dos de Mayo plaza. Roger had seen native Christians come to Lima to study, only to fall flat on their backs spiritually. He helped young native believers adjust to urban life, master Spanish, and get through their studies without losing their faith.
Roger was happy to be back on his own jungle turf. He and Rebeca told me about their dream of starting a jungle missions training center in their home.
Snake Stories
After a good night's sleep at the Marquezes, we awoke to low, rumbling thunder. Since river travel did not seem wise, we decided to visit SIL's jungle base on Lake Yarinacocha, about a 15-minute ride from town. The Yarinacocha center includes modest homes for linguists not among the tribes, a school for missionary kids, air-conditioned and computer-equipped offices for translation work, and a small airport operation for flights into the jungle. By government contract, the center and facilities will revert to the Peruvian government and/or military when SIL leaves the country.
As the rains pounded overhead, director Wayne Howlett gave me some background on the history of SIL in Peru. The revered "Uncle Cam" himself, Wycliffe founder William Cameron Townsend, pioneered the Peruvian work in 1946 and stayed 17 years until moving on to Colombia in 1963. Peru was SIL's second mission field, after Mexico.
During its heyday, SIL had several hundred workers in Peru's Amazon jungle. Linguists reduced native languages to writing, did translations of the New Testament, trained bilingual teachers and literacy workers, and helped pave the way for much that is happening in jungle missions today. They foresee the imminent completion of their jungle work.
So far, the linguists have finished New Testaments in 21 jungle languages, with another eight to ten groups having only portions of the New Testament. "That brings us down to about ten New Testaments left to finish here in the jungle," said Howlett.
He explained some of the dilemmas of translation work. For instance, a translation project may be terminated if it is determined a native group has shifted to using the Spanish language. Or, "if a group gets down to 25 speakers or fewer, continuing the complete program is neither feasible nor good stewardship," Howlett said.
Before SIL leaves the jungle, it wants to make sure it has not missed any hidden groups. SIL's director of jungle programs, David Archibald, who joined our discussion, noted, "We have isolated nine groups that have not had any contact with civilization, to the best of our knowledge. We're trying to establish peaceful contact with one of these groups."
Amazon church leaders and missionaries knew about "power encounters" and satanic opposition long before the subject came into vogue in the States. "One thing we've noticed here," Archibald continued, "is that when translations go into final revision, the translators often get sick. Cancer seems to be fairly common. Chronic fatigue syndrome was very prevalent here with linguists going into the final translation revision stage."
In addition, most native groups have deep roots in spiritism and animism. According to Roger, one of the great temptations for Shipibo believers is going back to the curanderos, or spiritual healers.
Archibald introduced missionary linguist Wes Thiesen, a veteran of 44 years among the Bora people. With a self-conscious chuckle, Thiesen told us his "snake story" from his second year among the Boras. Some children ran excitedly to his house one day, crying, "Do you want to see a big snake?" The young missionary grabbed his camera and followed the boys for nearly an hour down the trail until they encountered a 20-foot-long anaconda sunning itself.
This is a real trophy, Thiesen thought, envisioning the snakeskin on his wall. He asked to borrow a boy's shotgun, but the boy refused. Thiesen noticed that no one seemed too anxious to shoot the serpent. Finally, one boy offered to get his dad's old shotgun.
Thiesen shot and then skinned the snake. When the linguist got home, the chief paid him a visit: "What kind of a crazy man are you—killing that snake?" the Bora chief demanded. The spirit of the snake would surely attack and kill him, he said. Village kids came every day to check Thiesen's health. Two weeks later he developed a painful case of pleurisy.
"I didn't know what caused it, but they knew exactly. As I lay in my hammock each night, they would come over and check on me, and I would teach them from the Bible. I had enough Bora vocabulary to tell them Jesus would take care of me and that I would be OK."
When Thiesen recovered, the Boras were amazed. "We feel this was one of the reasons the first Boras came to the Lord," he said. "They thought if Jesus could protect me from the spirit of the boa, Christianity was something worthwhile."
Upriver Edification
Besides engaging in spiritual warfare, Amazon natives also struggle merely to survive. About 280,000 of Peru's 24 million people are Amazon natives who are getting crowded out by colonists from the mountain highlands and other areas. Lumber and oil companies, terrorists, drug traffickers, and tourists penetrate even the most remote jungle regions.
Steve Moore of SIL fears that the Latin American trend toward competitive, fend-for-yourself economies could put native groups at an even greater disadvantage. "It's hard for them to get their products to market," he told me. "They do not have the advantage of knowing Spanish sufficiently to enter into this competition. Transportation and communication are difficult."
Attacks from the Maoist terrorist group Shining Path have also impeded the work. One of the Amazon groups affected most was the Ashaninkas. SIL's Jim Daggett recalled the day one of the best Ashaninka bilingual teachers visited his office. " 'I'm going to be killed,' the man flatly stated. 'Shining Path is going to kill me.'
"Sure enough," Daggett said, "the year after he talked to me, Shining Path terrorists brutally assassinated him. He was tortured."
Paul Friesen, a Mennonite Brethren missionary serving with the Swiss Indian mission, has spent 34 years among the Ashaninkas. They had the misfortune of living in the line of the Shining Path eastern escape route from their terrorist stronghold in mountainous Ayacucho State. Friesen had helped organize relief efforts among Ashaninka refugees. The violence, which limited his travel into the area, "basically deepened the evangelicals' Christian commitment. We've never really heard of Ashaninka evangelicals who denied the faith to join Shining Path. Some were willing to die for their faith." (Shining Path activity has since been greatly reduced due to a government crackdown.) He continued, "The Catholics did their work among the Ashaninkas in the Spanish language, and it never took. When the gospel came to the Ashaninkas in their own language in the 1950s, they immediately accepted it as their own. They've done 99.9 percent of their own evangelization."
The next day the weather cleared enough for Roger to take me up the Ucayali in a peke-peke. We traveled two hours to a clearing half as big as a football field. Amidst the tall grass and dense undergrowth were ten thatched-roof Shipibo homes on stilts. Only birds broke the jungle silence.
Roger motioned to the huts. "Now, the houses are smaller, because good lumber is getting scarce. The leaves for the roofs are harder to find, too. There used to be more fish, and the hunting was better. People were better nourished. And there were no mestizos, just Shipibos. But with more people here, the basic raw materials are harder to find."
We learned that most men from the village were gone cutting timber; trees are felled, then floated downriver for sale in Pucallpa. Yet Roger gathered a dozen or so people for an impromptu worship service on the bamboo floor of one of the homes. Internal and moral problems had debilitated the once-active congregation.
Roger gave a brief meditation from Romans 8. After we sang choruses, a young man playing the guitar asked to speak. He said there used to be an active youth group at the village, "but many of the youth have gone back into the world," he said, starting to weep. "I often cry about that."
Another man then spoke up, confessing to moral failures and asking to repent: "I'm going to reconcile myself with the Lord. I'm going to get right with God and start over." Before the meeting ended, another man requested prayer because his wife had left him.
Heading downriver back to Pucallpa, Roger felt God had sent us to the village that day. "Many times, the church leaders forget about visiting the small communities. God used us today to get some of these fallen leaders back on their feet spiritually."
Suddenly our peke-peke halted. The rotors of the boat motor had gotten hung up in some weeds. "The church has been like that," Rebeca said. "Things go along fine, and then we get bogged down." She sensed a kind of spiritual oppression, hanging "like fog, a low cloud" and impeding church growth and strength. Yet she and Roger were optimistic about their ministry to train and encourage leaders.
The first one in the pot
Just like the Shipibo students in Lima, Amazon tribes are doing a balancing act between centuries-old customs and encroaching Westernization. Certain anthropologists, scholars, and opponents of Christianity sometimes blast the missionaries as "changing" the culture of the native groups. To be sure, some missionaries have made cultural gaffes. But native groups in the Amazon will make contact with Western culture eventually. And certainly it is better for them to meet Christ-bearing missionaries before they encounter the often-greedy oil and lumber companies, drug traffickers, or land-grabbers.
Jungle missions rarely involve personal glory. The work is filled with mundane tasks accomplished under difficult conditions and far from the public eye. Yet the jungle is filled with spiritual heroes. A Shipibo told me his uncle died from a poisonous snakebite while going to preach at an unreached village. The five U.S. missionaries killed by Ecuadorian Waorani (Aucas) in the 1950s made more headlines, but this Shipibo evangelist was just as much a martyr.
After all is said and written, even the most hardened critic would have trouble discounting the impact of Christianity in the Peruvian Amazon. Christianity has changed hearts and attitudes. Since embracing faith in Christ, "the Ashaninka men are more tender with their wives and children," says Paul Friesen. "Also, there is a consciousness of sin, not perfection. The Word of God has convicted them."
The gospel has also opened new horizons on the world and education. Inevitably, schools and literacy have followed the missionaries and the gospel. Evangelicals in the jungle (and Latin America in general) have learned leadership skills through their church responsibilities and often end up becoming community leaders as well.
All this happened among people who were previously "fearful, aggressive, illiterate, and animistic and whose only contacts with outsiders were marked by violence," an SIL official wrote, describing one jungle group, the Matses, transformed by Christianity.
Now that is what jungle missions are really like: God blessing human efforts and transforming lives. Native believers have problems like Christians anywhere else, but they, more than most, can appreciate the difference between "before" and "after" Christ.
An anthropologist recently visited the Bora people and started criticizing the Christian missionaries, SIL's Wes Thiesen told me. "Christianity is for the white man," the anthropologist said. "You people should go back to your old religion and your old ways."
An indignant Bora church leader, remembering the old days, eyed the anthropologist. "Yes, and if we did, you'd be the first one in the pot."
*************************
John Maust is the director of training at Media Associates International in Bloomingdale, Illinois. He previously served as editor for the Latin America Evangelist.
Have something to add about this? See something we missed? Share your feedback here.
Our digital archives are a work in progress. Let us know if corrections need to be made.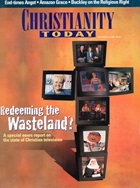 This article is from the October 2 1995 issue.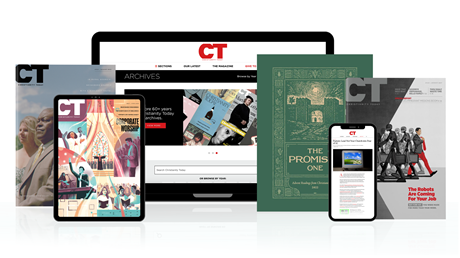 Annual & Monthly subscriptions available.
Print & Digital Issues of CT magazine
Complete access to every article on ChristianityToday.com
Unlimited access to 65+ years of CT's online archives
Member-only special issues
Subscribe
Amazon Grace
Amazon Grace