In a day when the conservative point of view has been labeled as both the bane of an intolerant society and the boon of America's cultural rebirth, William F. Buckley, Jr.—the "patron saint of conservatism," as his biographer, John Judis, calls him—offers a measured assessment of some of today's most challenging social and moral issues.
Renowned for founding the conservative journal National Review, Buckley, 69, is the recipient of countless awards, including the prestigious Presidential Medal of Freedom. As the author of numerous books and plays, the host of the PBS series Firing Line, a distinguished thinker and lecturer, and a gifted harpsichordist, Buckley has earned a reputation as a true Renaissance man. But often lost in his elaborate vita is the fact that Buckley's work is informed by a strong Christian faith. In his memorable book "God and Man at Yale" (1951), Buckley reflected on the challenges of taking his Catholic faith into the secular arena.
Last spring, CT advisory editor Michael Cromartie visited Buckley at his New York office, where the two discussed the role of Christians in America's pressing, at times heated, debates about morality and civil responsibility. Buckley also shares some glimpses into his forthcoming book on Christianity.
THERE IS A LOT BEING WRITTEN NOW ABOUT THE GROWING INFLUENCE OF RELIGIOUS CONSERVATIVES IN POLITICS. WHAT IS YOUR ASSESSMENT OF THIS NEW DEVELOPMENT?
What we see here is a mobilization of people who are properly horrified by what they see going on in Hollywood, in the growth of single-parent families, and so forth. They've figured out that our foundations need restoring, and I have never doubted that those foundations are religious. So this is how they reach the general public, as religious people rather than as political people. Their affinity is much closer to conservatives than to liberals for the obvious philosophical reasons.
I'm not frightened by it. But I think it's important to keep the matters discrete and to know when you are talking about one thing and when you are talking about something else.
WHAT WARNINGS WOULD YOU HAVE FOR THE LEADERS OF THE CHRISTIAN COALITION AND OTHER EVANGELICAL ORGANIZATIONS AND INDIVIDUALS SPEAKING OUT ON SOCIAL ISSUES?
What frightens people most about the Religious Right is the rhetoric that is sometimes used. There ought to be some thought given, for example, as to how you formulate your antihomosexual position: it should be more pastoral than vitriolic.
Now, I haven't entirely figured out a way to do it, and I haven't given it as much thought as I should have. But I have found myself consciously, in the last several years, avoiding just plain old-fashioned gay bashing. In the first place, it is unchristian, and in the second place, it just doesn't work. It doesn't persuade anybody of anything.
SO YOUR MAIN ADVICE TO THE CHRISTIAN RIGHT WOULD BE: "WATCH YOUR RHETORIC"?
It is not my main advice, but it is advice. I had Jerry Falwell on my program some years ago, and I tried to get him to say something offensive. But he was just so amiable and so accommodating. I remember writing soon afterward that, assuming his Moral Majority was able to apply their entire program as he envisioned it, the only inconvenience would be that some people would have to buy Sunday's whiskey on Saturday. Everything that Falwell then and [Pat] Robertson now would like to have happen was happening when I was going to school, and we didn't think of ourselves as living under a tyrannical regime.
THE CHRISTIAN RIGHT, THEN, WOULD DO WELL TO LEARN HOW TO USE RHETORIC IN A WAY THAT IS CHRISTIAN AND APPEALS TO A PUBLIC THAT DOESN'T BELIEVE IN CHRISTIAN THEOLOGY?
When Christ said, Go to the world and preach the gospel—especially given his own performance—he put a very high cost not on sacrificing principle, but on tuning your instrument in such a way as to arrest attention and persuade. If, at the end of a broadcast by Pat Robertson, fewer people are disposed to Christianity than were before he came on (I'm not saying that is the case), then that would be awful if that were so.
CONCERNING THE ABORTION DEBATE, HOW DO YOU REPLY TO LIBERTARIANS WHO VIEW THE WOMAN'S RIGHT TO CHOOSE ABORTION AS A FORM OF BIRTH CONTROL A MATTER OF PERSONAL LIBERTY?
If there is another party involved, then the woman's right is limited. Otherwise, why not practice infanticide? At some point, the Fifth and the Fourteenth Amendments protect, and the question is at what point do they protect.
Whatever you want to say about the anti-abortionists, you have got to at least say this: Theirs is the most disinterested act of humanitarian concern since the Emancipation Proclamation. They are not talking about protecting their own child, they are talking about protecting children.
THE SHOOTINGS AT ABORTION CLINICS HAVE CREATED MUCH CONCERN BOTH WITHIN AND WITHOUT THE PRO-LIFE MOVEMENT. WHAT ARE YOUR THOUGHTS ON THESE CONTROVERSIAL OCCURRENCES?
It's wrong, of course, because Christian doctrine simply does not permit us, except in self-defense, to kill anybody unless you are a conscript in an authentically organized army. That would seem to me all the point you need to make.
The notion that by killing an abortionist you are sparing a child is empirically wrong, because a person can always go to another abortionist. If you say that maybe we can scare off enough abortionists so that fewer people will do it-well, in the first place you can't answer the moral objection. And in the second place, it's going to be impossible to judge that question empirically, because we are never going to end up killing enough abortionists to make it that hazardous an occupation.
YOU BELIEVE THAT THERE IS A PLACE FOR RELIGIOUS CONVICTION TO INFORM POLICIES. WHAT PRINCIPLES SHOULD GUIDE CHRISTIAN ACTIVISTS AS THEY TRY TO INFLUENCE LEGISLATION?
Thomas Aquinas once was asked, "If the public view was that a famine was imminent, would you be justified in charging injurious prices for your grain, knowing that a relief wagon of grain was coming?" Thomas said yes, you would, but it would be wrong. A Christian would not do that.
Certain things which the market authorizes simply in terms of law are unchristian and ought not to be done. The big issue today has to do with the fidelity of marriages. The tendency now to leave your wife because you have an infatuation with a younger woman of tenderer flesh is an enormous temptation. It's carnal, and it's also easy to justify with all the solipsistic reasoning that we hear today. That is about the gravest offense that a human being can commit, to throw away a wife.
AND YOU WOULD WANT THE STATE TO TRY TO MAKE DIVORCES OF CONVENIENCE MORE DIFFICULT?
Well, I don't believe in a theocratic state. But as was said in The Federalist Papers, unless we create a virtuous society, it's not a society that's going to endure. So the right things should be encouraged and the wrong things discouraged. Today, roughly speaking, there is zero taboo against fornication. Without saying that you want to brand people with a scarlet letter, something in between those two extremes would appear to be appropriate.
Ingrid Bergman was invited by Ed Sullivan to appear on his program around 1958 when she was living with an Italian film producer. She had left her husband and had a child. Before she actually went on the show, there was such a public clamor that he couldn't have her on. Can you imagine? Today every time Elizabeth Taylor gets married, it's seen as sort of a national holiday. The difference in the public reaction toward Ingrid Bergman then and Elizabeth Taylor now is solid sociological data of enormous consequence.
YOU ARE CURRENTLY WRITING A BOOK ON CHRISTIANITY. TELL US ABOUT IT.
Yes. I started it two years ago. I decided that there was so much to be read in preparation that I would abandon it. But then I got tempted back. I have written about half of it. What I don't have is a story line. That will come, I hope and pray.
SO IS THERE NO GENERAL THESIS?
Well, yes, it's pro-God. I suppose if I apostatized halfway through the book, that would make it a bestseller.
IS THIS A PHILOSOPHICAL LOOK AT CHRISTIANITY?
The publisher wants—and quite correctly—an entirely personal book. They don't want another book on theology, and I'm not qualified to write it anyway. They want to know why I am a Christian, without reciting all of the Thomistic proofs for God's existence.
SO IT WILL BE A JOURNAL OF YOUR OWN SPIRITUAL JOURNEY?
That's what they want. I'm an ardent fan of Charles Colson's book "Kingdoms in Conflict," where he lapses into fiction every now and then. I thought it was a great book and skillfully done. I nominated it in one of my columns for book of the year. I just can't think of any fiction that I could stick into mine.
WHAT WILL YOU ATTEMPT TO ADDRESS IN THE BOOK?
One of our problems today is that many of us don't talk to each other.
I wrote a little piece in the American Heritage Dictionary's hundredth-anniversary edition a few months ago in which I said that the secularization of society is the biggest historical event in modern times. One of the reasons that we don't have these theological/cultural debates is because the other side feels they have won so triumphantly that they don't need to talk about religion any more.
YOU ONCE DESCRIBED YOURSELF AS A PHILOSOPHICAL PESSIMIST WHO REMAINED A TEMPERAMENTAL OPTIMIST. DO YOU STILL FEEL THAT WAY?
I remember that someone once said that the trouble with socialism is socialism, and the trouble with capitalism is capitalists. I've talked in general about the theme that there is every objective reason to think that things are going to go bad, like Whittaker Chambers thinking that he was joining the losing side. But temperamentally, I think the notion of disaster is very sinful.
IS YOUR TEMPERAMENTAL OPTIMISM ROOTED IN A CHRISTIAN THEOLOGICAL VIEWPOINT OF GOD'S SOVEREIGNTY OVER THE WORLD?
God has a role which you can't predict, to begin with. Plus, one likes to think that the sheer enterprise of right-thinking people will at least cause things to survive. I was 18 years old when the atom bomb went off, and I was 65 years old when the Berlin Wall came down. My entire adult lifetime was during the Cold War. When you consider that this is what 250 million people in the Iron Curtain countries and Russia endured throughout their entire lifetime, it is very hard to say that God cleared his throat early on in this contest. On the other hand, we did finally win.
*************************
By Michael Cromartie, senior fellow and director of the Evangelical Studies Project at the Ethics and Public Policy Center in Washington, D.C.
ctcurrmrw5TB0365920
Have something to add about this? See something we missed? Share your feedback here.
Our digital archives are a work in progress. Let us know if corrections need to be made.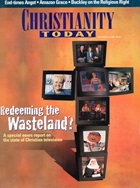 This article is from the October 2 1995 issue.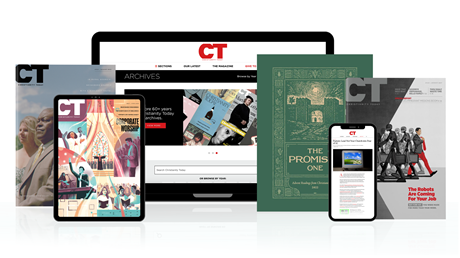 Annual & Monthly subscriptions available.
Print & Digital Issues of CT magazine
Complete access to every article on ChristianityToday.com
Unlimited access to 65+ years of CT's online archives
Member-only special issues
Subscribe
CONVERSATIONS: W Buckley: Listening to Mr. Right
CONVERSATIONS: W Buckley: Listening to Mr. Right