The largest single fundraising event Regent University has ever hosted was also its most risky: a "roast" for the sixty-sixth birthday of the school's chancellor, Pat Robertson.
Netting $300,000 for the Virginia Beach university, the March 23 roast in Los Angeles was attended by more than 800 guests, including boxer George Foreman, actors Rosey Grier, Mickey Rooney, Dean Jones, Jane Russell, and Pat Boone, and supermodel Kim Alexis.
The roast was hosted by talk-show host Larry King--a choice, according to Regent's student newspaper, that many students opposed. King was the school's third choice, after Rush Limbaugh and Kathy Lee Gifford were unavailable.
From the opening blessing, given by Rabbi Daniel Lapin, the roast drew upon the unexpected.
In addition to videotaped outtakes from Robertson's 700 Club, taped messages were sent from virtue pundit Bill Bennett, Gifford, pastor Jerry Falwell, and talk-show host Limbaugh, who delivered a list of reasons Robertson is not seeking the presidency in 1996. They included:
"Pat won't do it because he can't be president for life.
"He was looking for something in the way of a monarchy.
"He talks about the end of the world a little too much. People like more optimism.
"As president, you cannot tell the Supreme Court to 'lose the wussy gowns.'
"Bob Dole is just too darn charismatic.
"He'd have to join the Trilateral Commission and then accuse himself of being part of the New World Order.
"He sees no point to the presidential debates when he knows all the right answers."
Regent's president, Terry Lindvall, says the roast "was a daring and risky adventure, as humor is delicately dangerous and my position, therefore, precarious; but it proved to be a splendid opportunity to honor our chancellor with laughter."
The money raised at the event will be used to provide scholarships for Regent students.
Our digital archives are a work in progress. Let us know if corrections need to be made.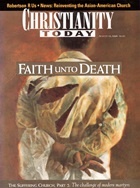 This article is from the August 12 1996 issue.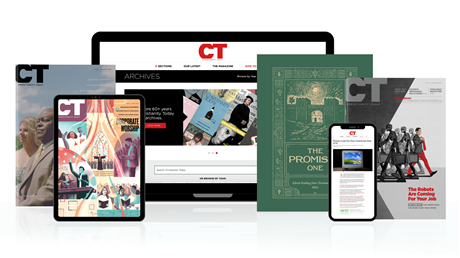 Find hope and historical insight. For a limited time, explore 60+ years of CT archives for free!
Daily devotions from Timothy Dalrymple during this pandemic.
Hundreds of theology and spiritual formation classics from Philip Yancey, Elisabeth Elliot, John Stott, and more.
Thought journalism that inspires you to think more deeply about your faith.
SIDEBAR: Robertson Gets Roasted
SIDEBAR: Robertson Gets Roasted