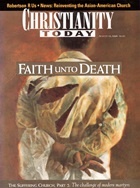 This article is from the August 12 1996 issue. Subscribers can read all of CT's digital archives.
"Companions for the Soul: A Yearlong Journey of Miracles, Prayers, and Epiphanies," edited by Robert Hudson and Shelley Townsend-Hudson (Zondervan, 392pp.; $17.99, hardcover). Reviewed by Diane Komp, professor of pediatrics at Yale University School of Medicine and author of "Breakfast for the Heart: Meditations to Nourish Your Soul."
Saints come in all stripes," remark Robert Hudson and Shelley Townsend-Hudson in their preface to "Companions for the Soul" as they prepare to dish up the Venerable Bede and Dwight L. Moody on the same plate. As the Hudsons note, some of the famous divines they quote would not have agreed in their lifetimes to stand together shoulder to shoulder. Happily for us, Celtic saints and gospel-song writers share pages in an elegant devotional book that delivers on the editors' promise to provide a "breathtaking variety of spiritual expression."
The Hudsons introduce us to their collection with an early twentieth-century speech to pastors by W. W. Staley at "A Seaside Chautauqua and School of Methods": "A mighty host surrounds me in my library. . . . They speak to me; they kindle the fires of my imagination; they quicken my faith, humble my pride, rebuke my wrong-doing and wrong-thinking, warn me against sin, and point my soul to the living Christ." So it is with this anthology. Some of the readings included in this Evangelical Christian Publishers Association Gold Medallion finalist are old friends--John Wesley, for instance, and his case of holy heartburn--but others are new treasures, such as this quote from one of my physician heroes, Sir William Osler: "Begin the day with Christ and prayer--you need no other. Creedless, with it you have religion; creed-stuffed, it will leaven any theological dough ...
1
BOOKS: Good Company