WHEN GOOD BUSINESS IS BAD BUSINESS
The church appears to be adopting the principles and practices of big business and finding these practices very effective.
Now there is nothing wrong with good business. Bad business is certainly not desirable for the church. Wise pastors and church officers will do everything they can, with care, to apply those principles and practices which maximize the effectiveness of their churches, however small or large they may be. Bigness is not evil, and smallness is not a virtue. But the question is, When do these principles and practices cease being tools for the church, when do they dominate its life to the extent that they become its master?
Richard C. Halverson, 1916-1995; from
"The Living Body" (1994)
A NEW YEAR'S CHALLENGE
It is a mistake to be always turning back to recover the past. The law for Christian living is not backward, but forward; not for experiences that lie behind, but for doing the will of God, which is always ahead and beckoning us to follow. Leave the things that are behind, and reach forward to those that are before, for on each new height to which we attain, there are the appropriate joys that befit the new experience. Don't fret because life's joys are fled. There are more in front. Look up, press forward, the best is yet to be!
F. B. Meyer in
"Our Daily Walk"
BUT THE GREATEST OF THESE...
If love is the soul of Christian existence, it must be at the heart of every other Christian virtue. Thus, for example, justice without love is legalism; faith without love is ideology; hope without love is self-centeredness; forgiveness without love is self-abasement; fortitude without love is recklessness; generosity without love is extravagance; care without love is mere duty; fidelity without love is servitude. Every virtue is an expression of love. No virtue is really a virtue unless it is permeated, or informed, by love
(1 Corinthians 13).
Richard P. McBrien in
"Catholicism"
IDOLATORS
I believe a very large majority of churchgoers are merely unthinking, slumbering worshipers of an unknown God.
Charles H. Spurgeon in
"Metropolitan Tabernacle Pulpit," Vol. 11
DRAWN TO GOD
There is within us all a magnetic draw to seek God's presence in a more exclusive way, focusing on divine attention rather than our own egocentric list of dos. If we do not follow that prompting, we end up fragmenting ourselves from our potential as disciples. And we fragment God, expecting the Spirit's love only in spite of ourselves.
Mary C. Miller in
the "Covenant Companion" (April 1994)
NOT STRANGE BEDFELLOWS
Many "sophisticated" political and social commentators complain that issues like school prayer are "distractions" having nothing to do with today's most pressing issues. What they fail to recognize is that a people's faith is intertwined with the issues of the day.
William J. Bennett in
the "Tampa Tribune" (Nov. 8, 1992)
A RESPECTFUL WITNESS
Civility, which I take to be a strong virtue and not simply wimpishness, requires that we not try to cram our beliefs down anybody's throats, whether we be Christian or non-Christian or even anti-Christian. But that we all try to articulate as persuasively as we can, what it is that we believe, of course in the hope that others will be persuaded.
Richard John Neuhaus in
Rutherford" magazine (Feb. 1993)
NEVER ALONE
Happy and strong and brave shall we be--able to endure all things, and to do all things--if we believe that every day, every hour, every moment of our life is in God's hands.
Henry van Dyke in
"The Upward Path"
GOD IS HERE
An atheist and a Christian were engaged in an intense public debate. On the blackboard behind the podium the atheist printed in large capital letters, "God is nowhere." When the Christian rose to offer his rebuttal, he rubbed out the "w" at the beginning of "where" and added that letter to the preceding word no. Then the statement read, "God is now here." That is a true statement. God is. Now. Here.
Vernon Grounds in
"Commitment"
Have something to add about this? See something we missed? Share your feedback here.
Our digital archives are a work in progress. Let us know if corrections need to be made.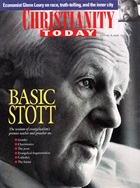 This article is from the January 8 1996 issue.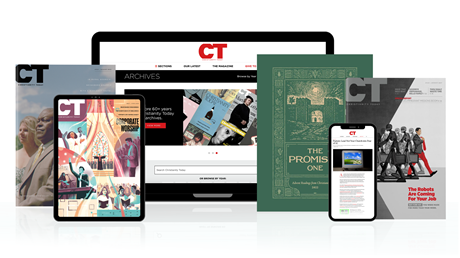 Annual & Monthly subscriptions available.
Print & Digital Issues of CT magazine
Complete access to every article on ChristianityToday.com
Unlimited access to 65+ years of CT's online archives
Member-only special issues
Subscribe
Classic & Contemporary Excerpts from January 08, 1996
Classic & Contemporary Excerpts from January 08, 1996