Most people do not usually find Jesus in a Harvard University lecture hall. But Tricia Lyons became intrigued by an "Is God Dead at Harvard?" poster on campus during her sophomore year and attended a lecture by apologist Ravi Zacharias. She emerged a changed woman. "It was a complete road-to-Damascus experience for me," she says.
Students in today's universities are accustomed to difficult questions. But a growing number of universities are hosting an apologetic Christian outreach program with a much different flavor, asking perhaps the hardest questions of all: Does truth exist? And is it worth seeking?
This program, called the Veritas Forum after the Latin word for truth found on Harvard's seal, is built around an intensive period of on-campus events, discussions, and lectures. The goal is to target "the thinking seeker or skeptic, to help them see the presuppositions behind their beliefs," according to Kelly Monroe, Baptist chaplain of the Harvard-Radcliffe United Ministry and cofounder of the Veritas Forum. "We want people to see the beauty of truth in the person of Jesus Christ and his relevance to all of life."
Birthed by Monroe and friends at Harvard University in 1992, a dozen Veritas Forums have taken place across the country, with 25,000 people attending. Another 15 forums are planned this year.
The transmigration from Harvard resulted in large part from the support of cofounder Jerry Mercer, a Columbus, Ohio, businessperson whose New Creations Foundation gives money toward the first forum a school holds. "The church needs to stop hiding from rigorous questions," he says. "The Veritas Forum is trying to destroy the false paradigm that you have to shatter your brain to follow Jesus."
TAILORED TO SCHOOL NEEDS: While certain speakers such as Zacharias, sociologist Os Guinness, law professor Phillip Johnson, and philosopher Eleanor Stump have made repeat appearances, the actual presentation differs from school to school. Monroe notes that the mission statement of the Veritas Forum is "intentionally vague." She says, "Wherever the Veritas Forum is, we want it to represent a co-mission of Christian and kindred spirits" that contextualizes its presentation based on the history and heritage of the school.
For example, Harvard's 1994 forum featured an "alternative historical tour" of the school, designed to enlighten listeners about the original Christian purposes of the institution. On the other end of the programmatic spectrum, nearly 1,000 people gathered to hear Johnson discuss his case against naturalism at the University of Michigan's forum in Ann Arbor. "Often, our outreach misses the faculty and the graduate students," says Charles Roeper, a field director with Campus Crusade for Christ's Christian Leadership Ministry and codirector of the Veritas Forum at the University of Michigan. "For this audience, I thought integrating faith and scientific disciplines was a great idea."
Between one-fifth and one-half of forum attendees are unchurched students, faculty, or community residents. Bob Fryling, of InterVarsity Christian Fellowship, says that "if you want a huge attendance, you plan a concert and talk about sex. But the Veritas Forum will attract those who are interested in truth. It may be a smaller minority, but those people will be a galvanizing force on campus."
In addition to raising the credibility of Christian witness on campus, forum organizers single out another significant byproduct of hosting such an event: the gelling of the Christian community, which must come together to organize and raise funds to host a forum on campus. In some cases, this proves to be the most painstaking part of the process.
Mercer hopes that these partnerships and the growing visibility of Christians on campuses will not cease after the meetings end. "I don't think of the Veritas Forum as a one-time event," he says. "I think of it as a way to systematically change the campus." He is also planning a one-week summer "Veritas Institute" for Christian faculty and professionals.
THE TIME IS NOW: While some Christians advocate withdrawing from the "battleground" of the modern secular university, Guinness believes now is the best time for students to be challenged with the truth claims of Jesus Christ. "There is no strong post-Christian rival to the gospel. This is the greatest evangelistic opportunity the church has had in 500 years," he says. "Sometimes, Christians are too preoccupied with perceived persecutions."
Harry Stout, professor of church history at Yale University, agrees. "Some evangelicals have a tendency to focus only on the negative on our secular campuses, to create an embattled rhetoric of 'us against them,' which is unfortunate, and in the long run, unproductive."
In the meantime, some students who attend Veritas Forum events continue to further the cause of Christian truth. Lyons, for example, is now a graduate student in theology at Harvard Divinity School; she plans to get her doctorate in theology and teach at the university level. As a result of her Veritas Forum experience, she says, "I want to communicate to others that you don't have to be crazy to be a Christian intellectual."
Have something to add about this? See something we missed? Share your feedback here.
Our digital archives are a work in progress. Let us know if corrections need to be made.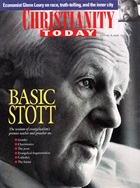 This article is from the January 8 1996 issue.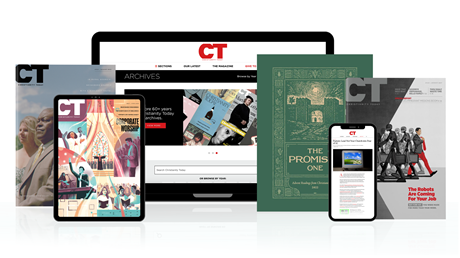 Subscribe to Christianity Today and get access to this article plus 65+ years of archives.
Home delivery of CT magazine
Complete access to articles on ChristianityToday.com
Over 120 years of magazine archives plus full access to all of CT's online archives
Subscribe Now
Truth Makes a Comeback in University Settings
Truth Makes a Comeback in University Settings