After a year long effort to convince Congress that a constitutional amendment is the only way to end government discrimination against religion, conservative groups are now arguing among themselves which of the two religious-equality amendments proposed by House Republicans is better.
The first is a 45-word amendment introduced November 15 by Henry J. Hyde, a Catholic from Illinois who chairs the House Judiciary Committee. It would protect religious expression in public schools and other venues from government interference by providing the courts with an authoritative interpretation of the First Amendment's Establishment Clause, which says "Congress shall make no law respecting an establishment of religion."
Hyde's amendment would not change fundamental principles of constitutional law, says Michael McConnell, a church-state scholar at the University of Chicago who helped draft the religious-protection language in Hyde's amendment. "It [describes] what those principles are and makes clear that the Establishment Clause should no longer be misused as a basis for hostility against religion."
At present, McConnell contends, "Government officials are under the impression that discrimination against religious speech is not only constitutionally permissible, but required."
Steven McFarland, director of the Annandale, Virginia-based Christian Legal Society's Center for Law and Religious Freedom, says, "The Supreme Court has frequently cloaked discrimination in the guise of neutrality." McFarland's organization is one of about a dozen groups that participated in drafting the language that Hyde used in his amendment. "A mere statute cannot correct constitutional misinterpretations," McFarland says. "Only an amendment can head off decades of additional discrimination and costly lawsuits."
A BROADER PROPOSAL: The more far-reaching version of a religious equality amendment, introduced November 21 by Ernest Istook, a Mormon from Oklahoma, would allow student-sponsored prayer in public schools and permit local communities to determine their own religious practices, such as whether to set up religious displays during religious holidays.
Istook says the Hyde amendment is inadequate because it does not address school prayer as his does. But McFarland says Istook's 63-word amendment "allows the government too much involvement in religion."
Forest Montgomery, counsel to the National Association of Evangelicals, which also participated in drafting language in Hyde's amendment, says the crux of the problem with Istook's amendment is that it does not prevent courts from construing the Establishment Clause as a method of requiring discrimination against people because of religious expression.
Only one of the two amendments proposed will emerge from Hyde's committee, probably late next month. Observers are predicting the Hyde version will prevail. Although Hyde's bill has only 10 cosponsors, compared to 106 for Istook, it has the support of all but one Republican of the panel's Subcommittee on the Constitution.
CHURCH-STATE WATCHERS: But many organizations object to any version of a religious-equality amendment. Both amendments are "atrocious," according to Joseph Conn, spokesperson for Americans United for Separation of Church and State in Washington, D.C. Conn argues that the Hyde amendment would allow the government to promote religion through a "benefits provision" that requires it to finance religious institutions whenever it finances secular institutions.
The Istook amendment, Conn contends, is an attempt to appeal the First Amendment's Establishment Clause, which smacks of a "majority rule" that would exclude members of religious minorities.
J. Brent Walker, general counsel of the Baptist Joint Committee, objects to a religious-equality amendment because he says it would permit, if not require, government financing of religion. "When religion bellies up to the public trough, it becomes lazy and dependent," Walker says.
Opponents of an amendment argue it is unnecessary. The Supreme Court ruled in religion's favor in all three of the church-state cases it heard last term, and President Clinton's July directive calling for the elimination of "religion-free zones" at the nation's 15,000 public school districts may hinder efforts to move either religious-equality amendment out of committee.
UPHILL BATTLE: Even if one of the amendments survives out of committee, it would be a long road before becoming law, requiring two-thirds approval of both chambers of Congress and ratification by the legislatures of three-quarters (38) of the states within seven years.
"I believe the amendment will do a great deal of good for our national discussion even if never ratified," McConnell says. "The question members of Congress should consider is whether an official proposal of an amendment or of a statute embodying similar principles would not help to bring about change in this area more rapidly than would happen otherwise."
Have something to add about this? See something we missed? Share your feedback here.
Our digital archives are a work in progress. Let us know if corrections need to be made.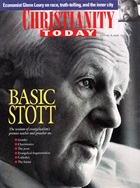 This article is from the January 8 1996 issue.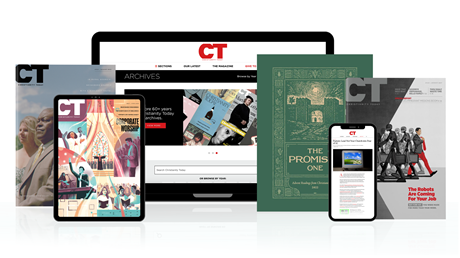 Subscribe to Christianity Today and get access to this article plus 65+ years of archives.
Home delivery of CT magazine
Complete access to articles on ChristianityToday.com
Over 120 years of magazine archives plus full access to all of CT's online archives
Subscribe Now
Religious Freedom Amendment Has Many Hurdles to Clear
Religious Freedom Amendment Has Many Hurdles to Clear