YOU'VE SEEN A GREAT DEAL OF POVERTY AROUND THE WORLD. DO YOU PERCEIVE A DIFFERENCE BETWEEN THE CHRISTIANITY OF THE POOR AND THE CHRISTIANITY OF THE RICH?
Yes, I do. In the Old Testament, there is a fundamental association between material and spiritual poverty. Often, you are not sure what is meant by "the poor." But they tend to be those who are materially poor and who on account of that poverty need to put their trust in God with a greater strength than if they were rich and so self-dependent.
My own understanding is that in the Sermon on the Mount, which may have involved a concentrated period of instruction, Jesus said both "Blessed are you poor" (Luke) and "Blessed are the poor in spirit" (Matthew). I think there is a blessedness attaching to both. The kingdom of God is a blessing to the materially poor because it affirms their dignity and relieves their poverty; it is also a blessing, a free gift, to the spiritually poor. So, there is a sense in which poverty is an aid to faith and riches are a barrier to faith.
I want to add that all these terms--simplicity, contentment, generosity, and wealth--are comparative. There is no absolute simplicity or poverty. My little kitchen not only has running water but constant hot water. That would be regarded as the height of luxury in some parts of the world, yet we don't regard it as that, and comparatively speaking, in this country it isn't. We need to feel the challenge of Jesus to us in the light of our own situation and circumstances.
Is God's kingdom a blessing to the poor even if they do not recognize that they are poor in spirit?
No, I think the two blessings go together.
DO THE POOR TEND TO SEE THEMSELVES AS POOR IN SPIRIT?
Some do. Their material poverty helps them to see their need of Christ. Others, however, become bitter and can't listen to the gospel. What is the African phrase? "An empty belly has no ears." When they're that poor, they can't respond to the gospel. It's like the Israelites when Moses told them about the exodus: "They did not listen to him because of their cruel bondage."
WOULD YOU AGREE WITH LIBERATION THEOLOGIANS WHEN THEY SAY THAT THE SCRIPTURES WERE WRITTEN AGAINST A BACKGROUND OF POVERTY AND ARE MOST TRULY UNDERSTOOD WHEN THEY ARE READ WITH THE EYES OF THE POOR?
I'm very keen on cross-cultural Bible-study groups. We can help each other listen to the Word of God, but I don't think it is true to say that the poor necessarily have greater insights. We all come to Scripture with our presuppositions and our cultural defenses, and these may be very different from one another's. The liberation theologian and the Marxist also have their cultural defenses.
What we need to do in cross-cultural Bible-study groups is to cry to God to use each other in breaking through these defenses.
THE CHARISMATIC MOVEMENT
CAN WE TURN TO THE CHARISMATIC MOVEMENT? HOW HAVE YOUR VIEWS CHANGED SINCE "BAPTISM AND FULLNESS?"
"Baptism and Fullness" was the second edition; the first was "The Baptism and Fullness of the Holy Spirit." I practically rewrote the book, principally because I felt I had been less than generous in my evaluation of the movement. I wanted to put on record that I had no doubt that God had blessed the charismatic movement to both individuals and local churches. It would be quite impossible and improper to deny that.
I do believe in the Holy Spirit! The Christian life is inconceivable without the Holy Spirit. The Christian faith and life depend entirely upon the Holy Spirit: the Spirit convicts us of sin, opens our eyes to see the truth as it is in Jesus, causes the New Birth to take place, bears witness with our spirit that we are the children of God, transforms us into the image of Christ, is the earnest of our final inheritance, and so on. Every stage and every part of the Christian life is impossible without the Holy Spirit.
So I believe in the Spirit; but I still believe that some of the distinctive doctrines of charismatic Christians are not as honoring to the Spirit as they think they are, and are in fact mistaken.
What I find difficult is the stereotyping of Christian experience, that everybody has to go through the same two hoops. I don't see that in the New Testament. I see the emphasis on the New Birth; and the New Testament bends over backwards in its attempt to find adequate phraseology to define the New Birth. It speaks not only of rebirth but of re-creation and resurrection, and nothing could be greater than that. It seems to me we are bound to go askew if we put any subsequent experience on a level higher than the original one.
As for the gifts, I simply think that many charismatics focus on the wrong ones. There are at least 20 gifts identified in the New Testament, and these lists are so random that there are probably many more that were not included. But the Pentecostal still concentrates on the three supernatural gifts of healing, prophecy, and tongues.
The most important gift today, measured by Paul's principle that we should excel in those that build up the church, is teaching. Nothing builds up the church like the truth, and we desperately need more Christian teachers all over the world. I often say to my charismatic friends, "If only you would concentrate on praying that God would give teachers to the church who could lead all these new converts into maturity in Christ, it would be more profitable."
COULD THE DEVELOPMENT OF THE MOVEMENT BRING ABOUT AN EXISTENTIAL FORM OF CHRISTIANITY? JUST AS LIBERALS READ SCRIPTURE IN THE LIGHT OF ITS RELEVANCE TO CULTURE, COULD THE CHARISMATICS READ IT IN THE LIGHT OF ITS RELEVANCE TO EXPERIENCE?
I think that's well put, and I want to endorse it. I wish I'd thought of it first!
Mind you, I don't want to denigrate experience. I don't want charismatics to say of me, as they often do, "He's a dry old stick." Because I'm not, actually. I'm a much more emotional person than people realize. I thank God that he hasn't made me a fish, cold and slippery. I'm very thankful to be a human being, with all the emotional passion and fervor, as well as intellectual concern, which that entails.
I do believe in emotion; I do believe in experience. The Christianity of the New Testament is undoubtedly an experiential faith, in which deep feelings are involved. But I want to combine clear thinking with deep feelings.
I find that mind and emotion are kept together very much in the New Testament. I have always loved, for example, the Emmaus walk: "Did not our hearts burn within us when he opened to us the Scriptures?" It was through their mind that their heart began to burn. We have to recognize the important place of experience, but our experience does have to be checked all the time against biblical teachings. Otherwise, it will become an ungodly and non-Christian existentialism.
HAVE YOU YOURSELF HAD EXPERIENCES OF GOD THAT COULD BE CALLED "CHARISMATIC"?
I want to say yes to the first part of the sentence and no to the second. Certainly God has given me in his goodness some profound spiritual experiences, both when I've been alone and even more in public worship, when tears have come to my eyes, when I've perceived something of his glory.
I can remember one particular occasion when we were singing, "At the name of Jesus every knee shall bow." I did really break down, because I saw again the supreme exaltation of Jesus to the right hand of the Father. I have had other profound experiences that have moved me to the core of my being. But I wouldn't say that any of them has been a traditional charismatic experience such as speaking in tongues. And they have not been disassociated from the mind. In 1 Corinthians 14 Paul is all the time saying, "You mustn't let these experiences bypass your mind." The mind is involved, though the experience goes beyond it.
But I know what Paul meant in Romans 5 about the love of God being shed abroad in our hearts. I also know what he meant in Romans 8 about the Spirit bearing witness with our spirit that we are the children of God.
THE TORONTO BLESSING
What do you make of the Toronto Blessing?
I never want to criticize anything which people claim has been a blessing to them in terms of a greater awareness of the reality of God, or a profounder joy, or an overwhelming love for God and for others, or a fresh zeal in evangelism. It's not for me to doubt any of these things.
My major questions concern three areas. First, it is a self-consciously anti-intellectual movement. I listened on tape to the first person who brought the Toronto Blessing to Britain. This person said: "Don't analyze, don't ask questions. Simply receive." I think that is both foolish and dangerous. We must never forget that the Holy Spirit is the Spirit of truth.
Secondly, I cannot possibly come to terms with those animal noises, and it grieves me very much that--as far as I know--no charismatic leaders have publicly disassociated themselves from them, as they should. The whole Bible tells us that we are different from the animal creation; it rebukes us when we behave like animals and calls us to be distinct. Nebuchadnezzar's animal behavior was under the judgment, not the blessing, of God.
My third problem concerns all the falling. Even charismatic leaders have pointed this out, that on the few occasions in the Bible when people have fallen over, they have all fallen forwards on their faces, and they have all done so after they have been granted a vision of the majesty, holiness, and glory of God. In the Toronto experience, however, people fall backwards without any previous vision of God.
Those three things trouble me.
ANTI-INTELLECTUALISM
EVANGELICALS, TOO, HAVE BEEN ACCUSED OF ANTI-INTELLECTUALISM IN TWO NEW BOOKS: MARK NOLL'S "THE SCANDAL OF THE EVANGELICAL MIND" AND OS GUINNESS'S "FIT BODIES, FAT MINDS." THIS TREND SEEMS TO BE MORE PERVASIVE THAN JUST AN EXISTENTIAL OR EXPERIENTIAL FORM OF THE FAITH.
I agree. It has been characteristic of much evangelicalism (but even more of Pentecostalism). There are notable exceptions, and thank God for them.
I think we need to encourage each other in the proper use of the mind. Preachers are still the key people; the church is always a reflection of the preaching it receives. It is not an exaggeration to say that the low standards of Christian living throughout the world are due more than anything else to the low standards of Christian preaching and teaching.
If we can recover true expository preaching as being not only exegesis but an exposition and application of the Word of God, then congregations will learn it from us preachers and go and do the same thing themselves. We need to help our congregations to grasp and use the hermeneutical principles that we are using ourselves. We need to be so careful in the development of our evangelical hermeneutic that the congregation says, "Yes, I see it. That is what the text means, and it couldn't mean anything else."
The worst kind of preaching allows people to say, "Well, I'm sorry, I don't agree with you. I think you're twisting the Scripture."
WOMEN'S ROLES
YOU SEEM TO ME TO HAVE CHANGED YOUR POSITION ON GENDER. CERTAINLY, YOUR LATER WRITINGS PRESENT A DIFFERENT VIEW OF THE STATUS AND ROLE OF WOMEN. WHAT HAS BROUGHT THIS ABOUT?
What has helped me most in struggling with this issue is a growing understanding of the need for "cultural transposition." This is based on the recognition that although biblical truth is eternal and normative in its substance, it is often expressed in changeable cultural terms.
The Lausanne Covenant described Scripture as "without error in all that it affirms." Our duty is to determine what it does affirm--that is, what God is teaching, promising, or commanding in any given passage. When we have identified this, we have the further task of reclothing this unchanging revelation in appropriate modern cultural dress. The purpose is not to dodge awkward teachings of Scripture, still less to foster disobedience, but to make our obedience contemporary.
If we apply this principle to the role of women, it seems clear to me that masculine "headship" (which I believe refers to responsibility rather than authority) is a permanent and universal truth, because Paul roots it in Creation. And what Creation has established, no culture is able to destroy. We have no liberty to disagree with the apostle Paul.
But we still need to ask, "What are the appropriate cultural expressions of this in the church today?" For one thing, we may drop the wearing of veils. Is it possible, then, that the requirement of silence is similarly a first-century cultural application which is not necessarily applicable today?
This, if I remember rightly, was the position we adopted at the National Evangelical Anglican Congress in 1977. We expressed the view that a woman could be ordained and so could teach men, but that an appropriate contemporary expression of masculine headship would be for her to belong to a local pastoral team, of which a man would be the head.
I still hold this view, although, of course, I know it has been overtaken by history.
THE FUTURE
YOU HAVE SAID THAT CHRISTIANS ARE OPTIMISTS BUT NOT UTOPIANS. ARE YOU OPTIMISTIC ABOUT THE CHURCH? DO YOU FEEL THAT THE NEXT GENERATION OF LEADERS IS ADEQUATELY EQUIPPED?
Yes, I must reply in the affirmative. Elderly people always have difficulty recognizing the gifts of the young, or younger, but surely, as I look around, there are men and women of most remarkable gifts that God is raising up.
Yet we are not utopians. We cannot build the kingdom of God on earth. We are waiting for the new heaven and the new earth, which will be the home of righteousness and peace.
But meanwhile, I'm an optimist, because I don't think pessimism and faith are easy bedfellows. I believe that God is at work in the world; I believe that the gospel is the power of God unto salvation to every believer; and I believe that the church can be salt and light in the community. Both salt and light are influential commodities: they change the environment in which they are placed.
WHAT ADVICE WOULD YOU GIVE TO THE NEW GENERATION OF THE CHURCH'S LEADERS?
I'd want to say so many things. But my main exhortation would be this: Don't neglect your critical faculties. Remember that God is a rational God, who has made us in his own image. God invites and expects us to explore his double revelation, in nature and Scripture, with the minds he has given us, and to go on in the development of a Christian mind to apply his marvelous revealed truth to every aspect of the modern and the postmodern world.
Copyright © 1995 Christianity Today, Inc./CHRISTIANITY TODAY Magazine
ctcurrmrj6T124c612g
Have something to add about this? See something we missed? Share your feedback here.
Our digital archives are a work in progress. Let us know if corrections need to be made.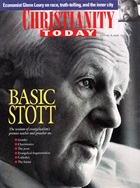 This article is from the January 8 1996 issue.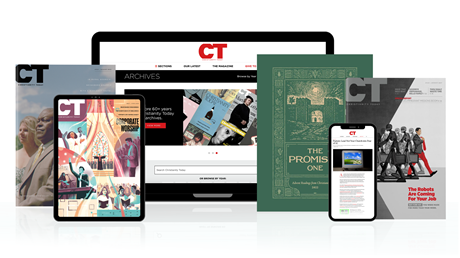 Subscribe to Christianity Today and get access to this article plus 65+ years of archives.
Home delivery of CT magazine
Complete access to articles on ChristianityToday.com
Over 120 years of magazine archives plus full access to all of CT's online archives
Subscribe Now
Basic Stott, Part 3
Basic Stott, Part 3