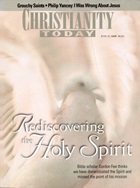 This article is from the June 17 1996 issue. Subscribers can read all of CT's digital archives.
She asks: "If we accept a right to abortion, why not a right to die?"
At a law school lecture on assisted suicide, a lady in blue raised a troubling question: If Americans accept a right to abortion, she asked, why not a right to die? If the law allows a woman to avoid the trauma of pregnancy and childbirth, why not allow a sick person to avoid the trauma of terminal illness?
That lecture was eight years ago, but the same question has just ignited a flaming legal controversy. Two federal courts--the Ninth and Second Circuit Courts of Appeals--recently ruled that patients do have a right to die, and even a right to ask someone else to help them. Assisted suicide is now the law of the land in 12 states. Almost certainly, these cases will reach the Supreme Court, where one of the deciding votes will be cast by the lady in blue--Ruth Bader Ginsburg.
But more shocking is the legal reasoning used by the courts, which opens the floodgates not only to assisted suicide but also to euthanasia and sanctioning same-sex marriages. The legal principle that made it all possible was enunciated in the Supreme Court's 1992 ruling in Planned Parenthood v. Casey. A few months ago in this space, I dissected that significant ruling (CT, April 29, 1996, p. 64), warning that it could be used to strike down a considerable amount of socially conservative legislation. Little did I dream how quickly my forebodings would become reality. Before that column could be printed, the consequences I warned about began to unfold.
In Casey, as you may remember, the Supreme Court included abortion as a liberty expressly protected by the Fourteenth Amendment--defining liberty as citizens' right to make up their own minds on "intimate and personal choices" that are ...
1
Our digital archives are a work in progress. Let us know if corrections need to be made.
COLSON: Lady with a Blue Dress On
COLSON: Lady with a Blue Dress On