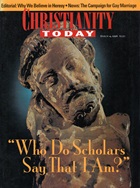 This article is from the March 4 1996 issue. Subscribers can read all of CT's digital archives.
HOLD ALL THINGS LIGHTLY
In the judgment of the true Christian, credit and reputation stand on ground not very different from riches. He should not prize them too highly or desire and pursue them with too much concern. However, when the hand of Providence gives them to him, he is to accept them with thankfulness and use them with moderation. He should be able to relinquish them, if it becomes necessary, without murmur.
HARD TIMES FOR YANKEE VIRTUES
The Yankee Christian virtues . . . have not been disqualified or proved inadequate; they have simply lost currency, which is to say they are no longer clearly understood and have fallen out of style.
EXPERIENCE--NOT LANGUAGE
Christianity is not, and never has been, about finding the right combination of words! It is about encountering the living and loving God.
OUR HUMAN PREDICAMENT
The lives of too many Christians are best described in these lines by the English poet William Wordsworth:
The world is too much with us; late and soon,
Getting and spending, we lay waste our powers:
Little we see in Nature that is ours;
We have given our hearts away, a sordid boon!
We might not capitalize and idolize nature as this early nineteenth-century Romantic did. We might have a more biblical understanding of "the world." Yet the predicament is the same.
REAL GREATNESS
Greatness in the kingdom of God is measured in terms of obedience.
NO HIERARCHY IN DIVERSITY
We would all find more serenity in life if we could . . . be done with comparisons and envy. God made us diverse, and, in God's eyes at least, our diversity lacks hierarchy. As a friend says in her song "Weave," God makes of us a "symphony": different instruments playing in harmony. Each part matters, but only if it's played according to its calling ...
1
Our digital archives are a work in progress. Let us know if corrections need to be made.
Classic & Contemporary Excerpts from March 04, 1996
Classic & Contemporary Excerpts from March 04, 1996