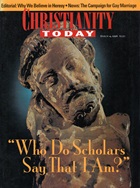 This article is from the March 4 1996 issue. Subscribers can read all of CT's digital archives.
The young, illegal immigrant is hardly the poster child of the anti-immigrant lobby. "If they try to send me back, I'll kill myself," vows Luan Ying Wang, who fled China not for economic opportunity nor even for the usual political reasons.
Luan Ying Wang escaped because she had one too many children. Government officials, upholding China's one-child policy, labeled her an "excess birth guerrilla" and already had ordered her to undergo more than one forced abortion. Since her escape, she has been languishing in jail as a political hot potato in the United States.
Wang could not pay the exorbitant fine that Chinese officials demanded in payment for the crime of having two children. In desperation, she left her children with relatives and fled, booking passage on a freighter run by "snakeheads," members of smuggling rings who charge as much as $30,000--most of it required once they have arrived in the United States--to transport Chinese emigrants clandestinely to other countries.
The Golden Venture, the rusting ship where Wang wound up, left carrying 282 Chinese nationals. Like Wang, most were fleeing harsh population control policies. Tong Wai Zhang, for example, had been expelled from government service when he and his wife refused to abort her second child. After the birth, officials ordered the Tongs to pay a $4,000 fine. When Tong told authorities he did not have the money, he learned that he and his wife would be sent to a labor camp for three years. They then decided he should flee.
Golden Venture passenger Guo Zhen Hue, also targeted by the government because his wife had two children, says, "After the birth of our first child, my wife was required to use birth control, to report to a health center monthly, and to submit ...
1
Our digital archives are a work in progress. Let us know if corrections need to be made.
Illegal Chinese Immigrants Caught in Political Web
Illegal Chinese Immigrants Caught in Political Web