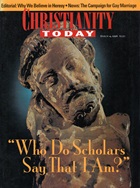 This article is from the March 4 1996 issue. Subscribers can read all of CT's digital archives.
Psychologists have long recognized the pain and emptiness some parents feel for years after aborting a child. Now there is a place to express that grief.
The National Memorial for the Unborn, a granite 50-foot wide, 6-foot high wall, was dedicated January 21 in Chattanooga. The wall contains more than 300 bronze plaques on a "wall of names" of aborted children from 43 states.
"The memorial is to provide a place of emotional healing where mothers and families of aborted children may grieve that loss," says spokesperson Patricia Lindley. "Thousands more names are expected from parents of aborted babies who have since wished they could undo the past."
The wall is connected to AAA Women's Services, a crisis pregnancy center (CPC). Pro-lifers bought the building--an abortion facility where 35,000 babies had been aborted in 18 years--in 1993 (CT, Oct. 4, 1993, p. 66). The abortion facility has been remodeled into the CPC. The remodeling and wall construction has cost $200,000, which is being financed through donations.
Typically, a plaque contains the name of the unborn baby, date of the abortion, and a Scripture verse. One of those with a plaque on the wall is Linda Keener, the director of AAA Women's Services who, as an 18-year-old in 1977, had a saline abortion while 20 weeks pregnant.
"I wanted to let the world know that David Blake was created in the image of God, and that he has value and worth in his sight," Keener says. "I'm looking forward to being reunited with him."
Vicki Butters, a volunteer at the CPC, has erected two plaques memorializing the children she aborted before her marriage 21 years ago.
"For a long time I couldn't tell them how sorry I was," Butters says. "They should have as much dignity as anyone else."
1
Our digital archives are a work in progress. Let us know if corrections need to be made.
Pro-lifers Dedicate 'Unborn' Memorial
Pro-lifers Dedicate 'Unborn' Memorial