Russian-American Christian University (RACU), Russia's first bona fide Christian liberal arts university, will begin a full-time bachelor's degree program in September. RACU, based in Moscow, plans to launch undergraduate programs in business, economics, and social work, as well as a yearlong English-language institute.
According to RACU president John Bernbaum, the concept of a private Christian liberal arts university never existed in the country--until now. Previously, the secular educational system has produced specialists primarily to meet economic needs.
"Russia wants new educational models," Bernbaum says. Christian liberal arts at racu will include a broad curriculum, plus marketable skills and Christian values, designed to make graduates better citizens. Fifty students are expected in the fall, with an additional 50 students in following years.
Alexander Abramov, president of the Moscow Institute for Development of Educational Systems, says he believes that Christian values are the key to Russia's future because the country's troubles are moral rather than political or economic.
"I myself am not a Christian, but I understand the values and believe in the principles," Abramov says. He admits that the nation's volatile political and social climate makes developing the university difficult. And no one can predict what will happen after next month's presidential elections. "But I think it is important to develop this idea."
The principal facilities of the school will be leased from Russian Peoples' Friendship University, which in the past served as the primary training ground for Marxism. Construction of a new headquarters building with two classrooms, two offices, a computer lab, library, and cafeteria will be finished this summer. Four other evangelical organizations will share the building.
LITTLE EDUCATIONal BACKGROUND: Christians seldom enrolled in higher education in Russia before the 1990s because they were persecuted for their faith. "They were marginalized, put on the fringe," Bernbaum says. Because Christians have been prevented from attending universities, an anti-intellectual attitude now often exists in the church. "Believers can't engage people in the community in meaningful dialogue," Bernbaum says. "RACU can help."
Stanley Clark, RACU vice president and academic dean, says Christians still are hindered from attending universities because they often lack contacts and finances. "The roadblocks are still enormous if you don't have money and influence," he says.
Students attending RACU will pay tuition at a subsidized rate, with financially needy students able to receive scholarships covering 50 percent.
The business and social-work programs were developed in consultation with Russian and American partners. The social-work degree must be developed from the ground up because the profession itself is in its embryonic stages in Russia.
AMERICAN INPUT: RACU will work in partnership with ten American Christian schools, including Wheaton College in Illinois, Gordon College in Massachusetts, Geneva College in Pennsylvania, and Calvin College in Michigan. The partner schools provide financial support, short-term faculty, and academic advice.
RACU will have a full-time faculty and administrators who must be evangelical Christians adhering to the World Evangelical Fellowship statement of faith. Initially, two-thirds will be North American faculty or expatriates living in Moscow, while one-third will be Russians. Eventually the majority will be Russian professors.
While RACU is open to cooperating with the Orthodox Church, the dominant faith in Russia, "We must preserve our evangelical heritage," Bernbaum says. "We have worked to build healthy relationships with Orthodox leaders open to joint work."
The seeds of RACU were planted in 1990, when a delegation of 16 Russian educators visited Washington, D.C. A month later, an exchange delegation arrived in Moscow from the United States, and the Coalition for Christian Colleges and Universities (CCCU) was invited to establish a school in Moscow.
The Billy Graham Center in Wheaton, Illinois, hosted a conference in 1993 on Christian higher education in the former Soviet Union. Later that year the idea of a Christian liberal arts college was tested in Moscow and received positive response from Russian Christian leaders and secular educators. RACU formally opened in July 1995 with a one-month intensive English-language institute.
While the CCCU served as the catalyst for the project, it no longer runs RACU. CCCU leaders decided last year that establishing a university did not fit the organization's mission statement.
Bernbaum, however, sensed a clear calling to proceed with the project. "I can't walk away," he says. So he left the CCCU after 19 years, including the last 10 as vice president for international programs.
Bernbaum hopes to have an impact on the Russian educational community beyond one university. Part of the long-range goal is to develop a network of Christian colleges across Russia that would incorporate Christian values in education.
"There is a lot of work to do in Moscow first," Clark says. "We must develop a quality university with a reputation for excellence." Clark says RACU wants to function as a servant organization in the culture by meeting social needs. Already RACU is working with local government officials to develop a voluntary community service program.
Our digital archives are a work in progress. Let us know if corrections need to be made.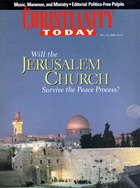 This article is from the May 20 1996 issue.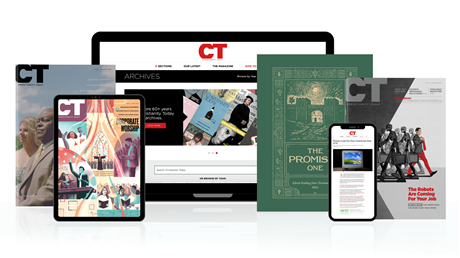 Find hope and historical insight. For a limited time, explore 60+ years of CT archives for free!
Daily devotions from Timothy Dalrymple during this pandemic.
Hundreds of theology and spiritual formation classics from Philip Yancey, Elisabeth Elliot, John Stott, and more.
Thought journalism that inspires you to think more deeply about your faith.
Christian Liberal Arts Program Blossoms in Moscow
Christian Liberal Arts Program Blossoms in Moscow