Cal DeWitt in 1977 sat alone in his office at Calvin College reading the Gospel of John. He had read John 3:16 countless times in his Christian life, but this time he noticed something different in the well-known passage, "God so loved the world."
"That day, it bowled me over," DeWitt recalls. Noticing the Greek word cosmos (world in English), DeWitt was deeply moved by the idea that Christ's death had eternal implications not only for the rebellious human race, but for the cosmos, all of creation, as well. That day was a turning point in DeWitt's understanding of biblical mandates for care of God's creation and stewardship of the earth.
DeWitt has gone on to become a leading light in the contemporary movement among evangelicals toward environmental awareness and activism. In recent years, that movement has blossomed in size and influence. It also has drawn its share of criticism from within evangelical ranks.
BIRTH OF A MOVEMENT: For nearly two decades, DeWitt has been pressing church leaders to affirm the church's role in caring for the environment.
In 1979, he became director of the Mancelona, Michigan-based Au Sable Institute, which had been reorganized around the goal of environmental stewardship. Au Sable sponsored yearly forums, where a few dozen evangelical leaders gathered to focus on the Bible and creation. "Nobody was raising any green flags," DeWitt recalls. "We were just rediscovering the Creator. Many of us knew that the Scriptures had a lot to say about the Creation, but we began to realize that some of the key things were central texts of evangelical Christianity."
The words of some hymns DeWitt had sung all his life began to sound odd, he says, citing, "This world is not my home, I'm just a-passin' through" as an example. "I can't sing that anymore," says DeWitt, "because I believe that God sees this earth as a valuable home for us, a home that he graciously provides and waters."
When those leaders who had gathered at Au Sable returned to their churches, Christian colleges, and parachurch groups, they continued the reflection and started new discussions, thereby planting some of the seeds of the contemporary evangelical environmental movement. "The Au Sable Institute has probably been the single most powerful force in bringing Christians together on these issues," says Fred Van Dyke, a biology professor at Northwestern College in Orange City, Iowa.
For his part, DeWitt is hesitant to call it a movement. "It's deeper than that. I see it more as a revival, because people are finding new life in their faith as they encounter God in all his fullness."
Whether a movement or a revival, something is definitely happening. "There's a major groundswell being felt within the evangelical church," says Joseph Sheldon, professor of environmental science at Messiah College in Grantham, Pennsylvania, where 44 students are majoring in the subject. "More and more people are realizing that their theology is not entirely limited to humanity, but that God is concerned about the creation."
This groundswell can be documented in many ways, including by the increase in evangelical organizations dedicated to creation care. The Evangelical Environmental Network (EEN), Christians for Environmental Stewardship, the Christian Environment Project, and the Christian Society of the Green Cross are among the Christian organizations that have formed within the past three years (see "Evangelical Environmentalism Comes of Age," p. 84). "For many years, we felt very lonely," says Scott Sabin, executive director of the San Diego-based Floresta, founded in 1984. "But that's all changed."
Even organizations not known primarily for an emphasis on creation stewardship, such as InterVarsity Christian Fellowship (IVCF), are taking a look at environmental issues. Staff workers are being trained and encouraged to engage chapter members in projects to protect and preserve the environment. Terry Morrison, IVCF's director of faculty ministries, says, "We're trying to get our people to think in terms of creation care at all levels of our ministry."
Evangelical relief-and-development organizations have in recent years become more intentionally environmentally aware. Last year's annual gathering of the Association of Evangelical Relief and Development Organizations (AERDO) included a major emphasis on environmental stewardship. "I became an environmentalist while I was working with World Vision trying to alleviate poverty," says AERDO board member Paul Thompson. "You can't alleviate poverty without addressing issues of environmental degradation." Thompson cites, for example, the relationship throughout much of the Third World between deforestation and the resulting inability of the land to retain ground water and to produce food people need to survive.
HIGHER EDUCATION: One of the strongest indicators of a grassroots movement among evangelicals toward an environmental focus can be found at Christian colleges.
At least two dozen Coalition for Christian Colleges and Universities (CCCU) schools now offer environmental science majors, and most of those programs are less than five years old. At one of the forerunners—Taylor University in Upland, Indiana—students may choose from among six subspecialties under the environmental science category, including biology, chemistry, economics, and environmental management.
At Au Sable, environmental science majors from 100 colleges and universities take highly specialized courses. "We view it as an extension of Messiah College," Sheldon says. "It gives us—and other coalition schools—a program that approaches the strength of what you'd find at a major university."
According to DeWitt, the creation- care revival on Christian college campuses goes beyond course offerings and majors. "It's penetrating the entire curriculum, and it's influencing everything from the way cafeterias are run to the way the grounds are kept."
Twenty CCCU member institutions are participating in the two-year Global Stewardship Initiative, financed by a Pew Charitable Trusts grant. The program focuses on the interrelated areas of environmental degradation, resource consumption, and population growth.
Not only has it increased the number of environmental courses being offered at Christian schools, it has also facilitated networking among like-minded Christian scholars, many of whom have embarked on joint publishing efforts.
SLEEPING WITH THE ENEMY? The movement's popularity, however, has not shielded it from the concerns of some Christian leaders. Critics claim the movement has failed to maintain enough distance from a secular environmental movement laden with humanistic and pantheistic views.
"Caring for Creation" kits distributed to churches by EEN, however, address such commonly asked questions such as "Isn't concern for the environment a part of New Age Religion?" and "Why should we be anxious about environmental problems when God is in control?" Among the respondents are World Vision President Robert Seiple and Regent College theologian J. I. Packer.
The key to remaining distinct from secular environmentalists, according to EEN Director Stan LeQuire, is to focus on Scripture. Such a commitment has led evangelicals to part paths with secular counterparts at some points. Extreme advocacy for animal rights, for example, is not common among evangelicals. LeQuire stresses that human beings are the "crowning achievement" of God's creation.
Also, although evangelical environmentalists in general consider world population growth an important concern, they have consistently held to a pro-life stance.
"Sometimes we hear of people who have found relevance in their Christian faith as a result of what the Bible says about creation care," LeQuire says. "We find that very rewarding."
Some of the divisions between evangelical environmentalists and their critics can be traced to different scriptural interpretations. E. Calvin Beisner, associate professor of interdisciplinary studies at Covenant College in Lookout Mountain, Georgia, claims that Christian environmentalists have "almost completely neglected" the biblical doctrine of the Curse, resulting from the fall of humankind in Genesis 3.
Beisner says that because of the Curse, "We cannot expect to find nature untouched by human hands as in and of itself good or even neutral. We ought instead to find it under the Curse and in need of redemptive transformation."
Northwestern College's Van Dyke, however, says, "The earth is under a curse because of human disobedience toward God. We find nowhere in the Bible where God tells us that matter is inherently sinful."
DIVIDED OVER METHODOLOGY: The differences between these two perspectives goes beyond Scripture to public policy and scientific analysis.
For instance, EEN participated in a major campaign that included radio spots in 18 states supporting the 23-year-old Endangered Species Act (ESA), which had come under attack earlier this year in Congress.
Peter Illyn, executive director of Christians for Environmental Stewardship, defended ESA during the Republican National Convention at the invitation of Republicans for Environmental Protection. "God created the different species and called them good," Illyn says. "When species go extinct, we're bouncing checks in the trust fund that God called us to manage."
Wheaton (Ill.) College environmental economist P. J. Hill in principle supports protection of endangered species, but he maintains that ESA discriminates against humans who own property where such species are located. "The cost of saving endangered species should fall on all of us, not just on those on whose land the endangered species dwell," Hill says.
Richard Land, president of the Southern Baptist Christian Life Commission, considers the ESA "an unmitigated disaster," adding that the act "has done much to ruin individual human lives and to trample upon basic property rights."
Hill applauds evangelical environmentalists for spurring more thought about environmental issues. But he believes many in the movement are too quick to reach questionable conclusions. "Implicit in a lot of the writings is that modern capitalism will necessarily cause the earth to run out of resources. I dispute that presumption."
He maintains that environmental concerns must be weighed against other important principles. "In my work in institutional design, I try to figure out how to construct environmental programs that get results, but in the least expensive and fairest ways," Hill says. "A lot of people in the Christian environmental movement fail to recognize the complexity of these issues."
CRISIS OR NOT? Environmental activists, both Christian and secular, have been labeled as reactionaries who overstate environmental problems.
Geochemist Edwin Olson, retired professor at Whitworth College in Spokane, Washington, comments, "People figure if they can tick off a dozen problems, you've got a crisis. But when you begin to look at each one separately, you find that some aren't as big as we thought, and some may not be problems at all."
Beisner, too, maintains that environmentalists have a crisis mentality. "The potential risks involved in increasing atmospheric carbon dioxide get major play," he says. "The potential benefits get no mention at all." Beisner cites research establishing that increased carbon dioxide levels result in increased crop yields. In theory, "it may produce global warming, but it has also contributed to efforts to feed more people at lower prices."
Northwestern College's Van Dyke acknowledges a relationship between carbon dioxide and increased photosynthesis. But he adds, "The effects that go with it will have long-term negative consequences, including an overall warming effect and the shifting of agricultural zones."
Messiah College's Sheldon observes that the environmental movement's critics often are not experts in a natural science. Sheldon says that most natural scientists, including Christians, strongly agree that the earth's global environmental problems are real and must be addressed.
Ray Grizzle, associate professor of environmental science at Taylor University, maintains that Christians' criticism of the environmental movement is based at least partly on a disdain for science, a disdain he says could have disastrous consequences.
"There has been some hype by environmentalists," Grizzle notes, saying that some scientists have a vested interest in inflating dangers in order to get a paper published or to obtain funding for a research project.
Nevertheless, he believes that the scientific community's warnings of possible environmental disaster are too serious to ignore.
"A lot of people are looking for conclusive proof," Grizzle says. "But this is not like going into a laboratory and manipulating data. The experiment is with the earth, and it's a one-time experiment. I'm concerned that when the ozone is depleted and we're all dying of skin cancer, people will say, 'Well, I guess you proved it. We were wrong.' "
Sheldon's prescription for change starts with a new way of thinking, beginning with the assertion that the earth's resources are limited. "We must realize that we can't have ever-increasing growth in a finite system," Sheldon says.
Sheldon calls for intensive efforts to find alternative fuels for automobiles, greater energy-efficiency requirements for appliances and new homes, and more recycling.
"We don't need to give up all our comforts," he says. "The standard of living in the United States is not that much different from Canada and Europe, and yet the negative impact on the environment in the U.S. is much higher."
According to EEN's LeQuire, the ultimate issue is not science or economics. "Our emphasis is biblical," he says. "The Bible has a lot to say about how we should be living with regard to the creation. All the warnings from scientists could be proven wrong tomorrow, and we would go right on doing what we're doing."
Have something to add about this? See something we missed? Share your feedback here.
Our digital archives are a work in progress. Let us know if corrections need to be made.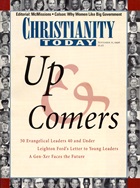 This article is from the November 11 1996 issue.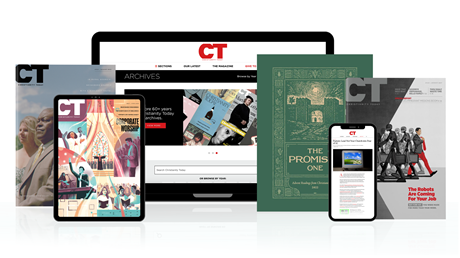 Subscribe to Christianity Today and get access to this article plus 65+ years of archives.
Home delivery of CT magazine
Complete access to articles on ChristianityToday.com
Over 120 years of magazine archives plus full access to all of CT's online archives
Subscribe Now
Greening of the Gospel?
Greening of the Gospel?