Edward Slaughter and Rick Bennett, both youth pastors in Memphis, determined that not enough was being done among teens to erase racial discrimination and prejudice.
"The kids of this generation are being indoctrinated with racism all over again," said Bennett of the largely white Christ the Rock Church.
Slaughter, from the predominantly African-American Breath of Life Christian Center, along with Bennett and others have formed a new interracial network of youth pastors. Slaughter says focusing on overcoming racial divisions through church-based outreach is a "good investment in our youth." Both Slaughter and Bennett agree that government-mandated integration of schools and housing has done little to solve racism. Their new network designs programs—from lock-ins to work projects—to maximize the intermingling of black and white youth.
These efforts to dissolve racial barriers among youth were celebrated as a fresh example of racial reconciliation at the second Memphis meeting of the Pentecostal Charismatic Churches of North America (PCCNA) in October.
BEYOND 'FEEL-GOOD': Pentecostals have been groping their way through the thicket of racial issues in the two years since the interracial association formed (CT, Dec. 12, 1994, p. 58). However, one message rang clear at this year's gathering: It is time to move forward with the program.
And, according to Ithiel Clemmons, PCCNA chair, "The program is, number one, to put in place in every city that we can a reconciliation group that does more than simply have worship services together." Clemmons said church leaders must get beyond "feel-good" meetings to wrestling with the underlying issues of racism.
"There is need for teams of blacks and whites to go into prisons and to try not just simply to have services, but find a way to rehabilitate these persons and deal with the deep anger that is there," Clemmons said.
Racism continues to divide American society sharply, according to a report released last month by the U.S. Commission on Civil Rights. The report, in part prompted by the burnings of black churches during the past two years and based on hearings in six southern states, found that in many areas racial segregation remains unabated, encompassing everything from banking, to public swimming pools, to churches.
Clemmons, a Church of God in Christ bishop from Brooklyn, New York, said the "ideology" of racial integration as envisioned by civil-rights legislation and government regulations has failed.
"Integration [is] simply about assimilation into the majority culture. [It] accepts uncritically ways of being in the world without adequate reference to our commitment to Christ."
STAINED-GLASS CEILING: The PCCNA meeting, billed as the Memphis Miracle Revisited, added the decline of women in pastoral ministry as an agenda concern.
Cheryl Sanders, a pastor and Howard University professor, said, "It is of the nature of paganism to hate foreign people and despise women, but the spirit of the gospel is exactly the opposite." She said gender segregation in the church arose alongside racial segregation, mirroring "mainstream practices."
The decline in the number of women pastors, termed the "stained-glass ceiling" (CT, May 16, 1994, p. 52), has proven difficult to surmount. Sheri Benvenuti, a professor at the Assemblies of God-related Southern California College, said, "Today I can't look across my desk at a young female about to graduate with her degree in pastoral ministry and confidently say to her that there will be a position open to her in a local church."
As a woman and an African American, Barbara Amos said she has felt the sting of racial and gender discrimination. Amos, a bishop in the Mount Sinai Holy Church of America, said, "I always know when there has been true reconciliation. [It is] when an old system and an old structure has been dismantled and you restructure the power." She said such changes must start at the top.
LEADING EDGE? Focusing on Pentecostals worldwide, Vinson Synan, divinity school dean at Regent University, said about 11.5 million Pentecostals are now denominationally represented in the PCCNA. Synan said the latest reports indicate that, of the 1.9 billion Christians worldwide, 485 million are Pentecostal-charismatic believers.
He said Pentecostals are "way ahead of most churches" in reconciling their racial differences. "We laid down our old organization, buried it, and started again with a totally color-blind organization." Now Pentecostals are looking at "practical things."
Tongues of Fire author Harvey Cox, a professor at Harvard Divinity School, told Christianity Today that Pentecostal leaders are recovering a social dimension to their ministry. "It's a whole new ball game for them." According to Cox, many Pentecostals believe "the color line has been erased in the blood of the Lamb." Pentecostal historians, Cox said, are looking back and seeing that "speaking in tongues is one of the [spiritual] gifts, but the other gift is the breakdown of racism-blacks and whites worshiping together." He said they hope to recover this historic commitment to interracial ministry. Cox said Pentecostals have the potential to be the "leading edge of desperately needed racial change in our society."
In spite of the recognized importance of racial reconciliation, PCCNA chair Clemmons admits some African-American Pentecostals resist it. He said there can be a tendency "to send money, but not show up."
However, staying home is not an issue for youth pastors Bennett and Slaughter, based on recent successes. They are laying plans for their next interracial lock- in, an all-night-long youth party for about 400 at a local church. Bennett says that regardless of race, "when it comes to having fun and eating pizza, there's not a big rift."
Have something to add about this? See something we missed? Share your feedback here.
Our digital archives are a work in progress. Let us know if corrections need to be made.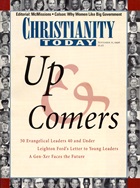 This article is from the November 11 1996 issue.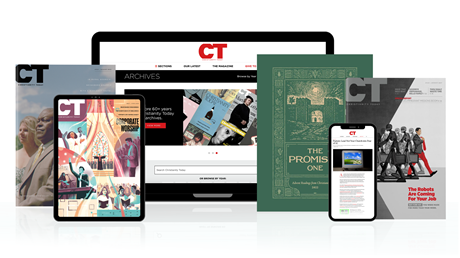 Annual & Monthly subscriptions available.
Print & Digital Issues of CT magazine
Complete access to every article on ChristianityToday.com
Unlimited access to 65+ years of CT's online archives
Member-only special issues
Subscribe
Pentecostals: Youth Leaders Launch Racial Reconciliation Network
Pentecostals: Youth Leaders Launch Racial Reconciliation Network