Evangelicals like their sermons tidy and their Bible studies messy. The typical evangelical sermon takes a text and tells the congregation what to believe and how to live.
But Bible studies, those family-room gatherings with six to eight people discussing a passage from an assortment of translations, are untidy times when authorial intent rarely intrudes and free association reigns supreme. That's not the way it's supposed to be, perhaps, but that's the way it is.
Bill Moyers, journalist and former Southern Baptist pastor, has now dressed up that untidy Bible study group for public television. This month, pbs stations across the nation have begun broadcasting a ten-part series of discussions of the stories of Genesis, discussions that could happen in any living room if you had access to the nation's most respected (and notorious) religion scholars, theologians, and novelists.
Moyers invited evangelicals, liberal Christians, Muslims, Jews, and even a few nonbelievers to engage the meaning of the stories of Cain and Abel, Noah and the Ark, the Call of Abraham, Joseph and Potiphar's Wife, and so forth. He had hoped to include some fundamentalists, he told ct, but the ones he talked to seemed so eager to defend their doctrine of Scripture that they couldn't focus on the meaning of the stories.
Those whom Moyers rated as evangelicals, however, were able to pitch right into the discussions. Three of them had Fuller Theological Seminary connections (ethicist Lew Smedes, New Testament professor Marianne Meye Thompson, and former Fuller faculty member-former Eastern College president—current World Vision board chair—current Presbyterian pastor Roberta Hestenes). The one non-Fuller evangelical was Eugene Rivers, pastor of the Azusa Christian Community in Boston's Dorchester neighborhood and fellow of the Center for the Study of Values in Public Life at Harvard Divinity School.
The nonevangelicals included scholars evangelicals love to read, such as Columbia Theological Seminary's Old Testament expert Walter Brueggemann, and tendentious liberals that evangelicals love to hate, such as Union Theological Seminary's Phyllis Trible, Princeton University's neognostic Elaine Pagels, and History of God author Karen Armstrong.
What kind of learning and enlightenment can take place in such an atmosphere?
Interreligious dialogue today is usually predicated on respect for each other's ideas—meaning no exclusive truth claims, no hegemonic rhetoric (as the phrase goes in some academic circles today), no insistence that my interpretation is better than yours, but mere respectful listening with occasional nods of appreciation. That kind of dialogue is perhaps useful in marriage counseling, but its presuppositions run counter to the grain of classic Christianity, whether Protestant, Catholic, or Orthodox. These historic Christian families agree that there is a truth about everything, and that all opinions are not created equal. So what good can come from dialoguing in the modern manner about the meaning of the Genesis stories?
That question is answered in the discussions themselves, as common ground is discovered and allies emerge in unexpected places. Smedes said he was amazed at the wonderful definition of grace made by Islamic legal scholar Azizah al-Hibri. "The relationship with God is not a relationship with an all-powerful patriarch, but with Someone Who loves us and has mercy upon us and talks to us," she said. "Every single chapter in the Qur'an begins with the words: 'God is all-merciful.' "
Likewise, this writer found himself cheering Islamic scholar Hossein Nasr as he insisted that tensions between biblical themes did not void their being the word of God.
IN THE BEGINNING
These staged-for-tv discussions had their own genesis eight years ago when Bill Moyers went to check out what he had heard was "the best conversation in town"—Rabbi Burton Vizotsky's monthly meetings in the basement of Jewish Theological Seminary at the corner of Broadway and 122nd Street. These meetings drew not only biblical scholars, but a film critic, a poet, a novelist, a screenwriter—the kinds of people who always want to know what a story means. This was the rabbi's attempt to do a modern midrash in a group setting, a running commentary on the biblical story, applying it to contemporary life.
Moyers and his wife, Judith, worked closely with Vizotsky in choosing and shaping the stories for the television series. Bill Moyers has both a professional and a personal relationship with Vizotsky: "Professionally, I see there a masterful teacher, who's young enough to mature into a scholar of some importance," Moyers says. "But personally, I see how he cares for the text and for the people who are studying the text. He's a devoted teacher" whose aim is "to get others to see what is there."
Moyers sees one very unusual aspect in Vizotsky's work: "He really cares about the communal reading of the Bible, and that's rare in our time." Vizotsky says that in this shared reading and rereading, "the Bible ceases to be just another book. … In a community of readers a conversation takes place … [and] creates an extra voice in the room, the sound of Reading the Book."
IN MOYERS'S WORDS
I asked Moyers how that "communal reading" was different from the more individualistic approach of his Baptist background:
"Oh, it is different: we had soul freedom, the conscience of the individual, the priesthood of the believer, and all that. We used to have Sword Drills when I was growing up in the Baptist Young People's Union. But it was the game that mattered and not the content. We read the verse, but we never then talked about it. I was a master at locating the verse, but I don't remember anything about the Bible from that era. We didn't do communal reading in the Baptist tradition.
"That's one reason that I did this series. I hope it promotes a fraternal reading, but I also hope that it encourages people to attempt to bring an ecumenical group together, so that we can hear what the other person believes without surrendering our own belief. The time may be right for this kind of discussion group. We're urging people to listen and understand, and to talk to each other without that kind of false protocol and superficial tact we sometimes pretend to have."
The participants in the televised discussions are very diverse. I asked Moyers how they were selected:
"We tried to make sure that theologically conservative as well as biblically liberal people were represented. Ultimately, we decided on the basis of our intuition of people's story-telling and participatory powers as well as their commitment to the idea of the discussion.
"Stories are the way the world learns. If I could do this series over, I'd have more people whose lives are not professionally framed by religion—people who love the Bible, love to read it, and who would talk about it in parables from their own lives."
The Bible stories, Moyers says, have thoroughly shaped him:
"My own story is more fully informed by the story of Cain and Abel than it is by the story of Noah, because I had a brother and we had difficulties. The whole relationship between my brother and me (he's now deceased) was an issue that I struggled with.
"The story of Jacob wrestling with the Other at night has come to mean so much more to me in the course of my 62 years. And the story of Joseph in exile. And the accounts of Jesus.
"If one operates within a faith tradition, as I do within the Christian tradition, those stories inform my life in a way that helps me to see more clearly and understand more deeply and believe more honestly."
While evangelicals approach the Genesis stories as revelation, more liberal Christians might see them merely as mirrors of our existence. Moyers sees them as both: "If the stories themselves did not contain a revelation of God, I think they would have gone the way of the stories of Gilgamesh and the Egyptian and Greek myths. But the Bible is the word of God; these stories are revelations.
"But these stories are also mirrors of our response to the experience of God. In objectively discovering a story, like Abraham's call, we are able to understand our own responses to God more clearly because there is both a precedent and an illumination. As I read the story, a voice speaks to me that does not speak when I read Shakespeare or Tolstoy. And that, I have to say, is the voice of God."
I asked Moyers why he chose some participants who don't represent classical Christianity, Judaism, or Islam. For example, one participant, Elaine Pagels, seems to promote the ancient Christian heresy of gnosticism.
"I chose her," he said, "because I know her and the experiences of her life, which have challenged her theology and her faith. I knew her husband who was killed in a fall in the Rockies a few years ago; then she lost a child. And I watched what happened to her through those life experiences. I was actually more interested in Elaine as a pilgrim than I was in Elaine as a scholar.
"And I was interested in Karen Armstrong because I had read her book A History of God when it came out. I was stunned to see that, without any publicity or any reviews, it got on to the New York Times best-seller list and stayed there for a year. And that said something to me about people's interest in her work."
Several times in the broadcast discussions, Moyers points to the dysfunctions of the patriarchal families that were not cleaned up by any editor. What does he make of that fact?
"Even though I grew up in the Baptist church and spent five years at Southwestern Theological Seminary and the University of Edinburgh College, I never confronted the messiness of these stories.
"But many years later I began to face these questions that had been ignored, even in seminary, such as Abraham's conduct with his wife Sarah. I went back and got out Hurlbut's Story of the Bible—which we used in Sunday school a lot [when I was a young man]. I found that Hurlbut does not even mention Abraham's giving Sarah to the Pharaoh. That revelation of a frightened man, who in many respects was a moral coward, just wasn't there. The character flaws in people who were instruments of a divine purpose were not subjects that our teachers in seminary felt we had to worry about.
"So, much, much later I came to see that even as my own family life is messy, so their family lives were messy. The dysfunctional family is not a modern invention. I may have been naïve or something, but it just was never a factor in my appreciation of the Bible as the word of God-or of these people as instruments of God."
Well then, how does God use knaves and scoundrels to advance his plan? I asked.
"If God intends redemption in the world, he has to begin the redemption with the clay of human flesh.
"I grew up in east Texas. And I thought Bowie and Crockett and Travis and Houston were giants in the land. It never occurred to me until 20 years later that Sam Houston, who was a Baptist, was a drunkard, a womanizer, and a carouser.
"I thought the same of Abraham and David and Jacob and Joseph, and then suddenly I realized that both secular and religious history are the histories of two-footed creatures who are found to possess a purpose and a mission and a discernment that enabled them to fulfill something that they were not themselves capable of creating. That to me is the great mystery."
Evangelicals have been uneasy with Moyers's approach to contemporary religious trends-giving gurus like the Jungian mythologist Joseph Campbell a prominent platform but little criticism. I asked him about a Newsweek writer's recent charge that he practices "acolyte journalism."
"It is not in my nature to be adversarial. I am not Mike Wallace. I do not believe that there's anything served by playing 'gotcha journalism' on camera. I do believe in challenging people and asking difficult questions; but I'm not adversarial. I'm a student.
"Life to me is a continuing education course. I was a very good student in high school, college, and seminary. I love sitting at the feet of people who have something to say. I'm there to draw out of a learned person what he or she has to say. I'm the audience surrogate. A good listener I am, and a good student I am."
Moyers has high hopes for the formation of Genesis groups across the nation. (He estimates that about 2,000 discussion groups sprang up after his Power of Myth series.)
"We hope the programs will stimulate conversation the next morning at the water cooler or in the car pool or at the breakfast table or between generations in the same family—that its value would be beyond what happens on the screen at the given moment of broadcast.
"I've been saying to preachers as I travel the country, Have your congregation watch this. Have them come to the church on Wednesday night and watch it, and then have them the next week invite participants from other churches to come and watch it and then talk about it. Then try to grow your own ecumenical group. I hope that happens. A lot of book clubs are planning to use the book for discussions.
"Understanding what others believe is a very profound challenge, and living peaceably with so many beliefs is another challenge. And in a pluralistic society in which Americans are becoming more religiously unalike all the time, we have to learn to talk seriously with each other about our beliefs, without surrendering our basic principles."
THE RISK OF CONVERSATION
Evangelicals entering into the kind of discussion Moyers wants are bound to feel uneasy—as did Fuller professor Lewis Smedes. Smedes said such "public conversations are always a risk that you will not, in the mind of listeners, contend adequately for the evangelical message. I went away from the taping worried that I failed my Lord, but also worried about what my evangelical brethren and sisters would think."
But Smedes found that he was not alone in his unease. "The Muslim woman who sat next to me," he said, told him after the taping, "I'm terribly worried about what Muslim men are going to think."
Smedes was, however, happy for the opportunity the show provided him. For example, he had the chance to keep the discussion on track: "We're forgetting the main character of the story," he said at one point. "Who is that?" Moyers asked. "God," said Smedes.
And so the discussion of the Abraham story returned to God and to his covenant. That in itself might have made his participation worthwhile. But, as a bonus, Smedes learned: "These people were seeing things that I had never thought about. And I was enthralled by what they were saying."
And should evangelicals participate in such things on a local level? "Absolutely," says Smedes. "It's a great idea."
-Genesis: A Living Conversation, a book version of Bill Moyers's television series, and Talking About Genesis: A Resource Guide are available at bookstores. Both are published by Doubleday.
Last Updated: October 9, 1996
Our digital archives are a work in progress. Let us know if corrections need to be made.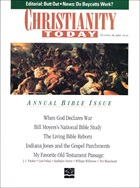 This article is from the October 28 1996 issue.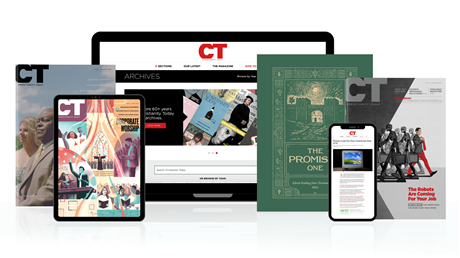 Find hope and historical insight. For a limited time, explore 60+ years of CT archives for free!
Daily devotions from Timothy Dalrymple during this pandemic.
Hundreds of theology and spiritual formation classics from Philip Yancey, Elisabeth Elliot, John Stott, and more.
Thought journalism that inspires you to think more deeply about your faith.
Join now and get print issues access to archive PDFs.
Bill Moyers's National Bible Study
Bill Moyers's National Bible Study