After six months in the limelight of unprecedented international advocacy, Hussein Qambar Ali, a Muslim convert to Christianity, fled his native Kuwait in mid-August to an undisclosed location in the United States.
Christian Solidarity International (CSI), an interdenominational human-rights group that helps persecuted Christians, flew the 44-year-old former Muslim out of Kuwait. Ten days before he left Kuwait, Hussein told Christianity Today by telephone, "I cannot take it anymore. The pressure is mounting. I am trying to leave this country now."
Hussein, who has changed his first name to Robert, was ruled an apostate by an Islamic court on May 29 (CT, July 15, 1996, p. 54). Under strict Islamic law, any Muslim who deserts Islam is forcibly divorced, divested of parental and inheritance rights, and subject to execution if unrepentant.
OUT OF HARM'S WAY:
According to CSI's U.S. president, Jim Jacobson, the American government was "extremely cooperative" in arranging a six-month visa and other details for Hussein. Kuwaiti officials had issued the convert a passport just days before his departure.
Jacobson told CT that at this point it was "completely [Hussein]'s decision" as to whether he would seek religious asylum in the United States. "As an organization, we go in and help people get out of harm's way," Jacobson explained. "He wanted to come; he felt as though his life was in jeopardy, and we verified this, so we acted on what we knew."
Stressing that Hussein's U.S. arrival had been planned for "total secrecy, without fanfare," Jacobson noted that CSI would not participate in any subsequent publicity involving Hussein.
"All we can say," he says, "is that Hussein is here. He's a free man, in a free society, so he can decide what he wants to do now. So we ought to be thankful for that.
"If there's a lot of fanfare, it'll most definitely have its backlash," Jacobson declared. "For his personal safety, he needs to remain anonymous right now."
Three weeks after Hussein shocked Kuwait last December by announcing his conversion to Christianity, a trio of Islamic lawyers filed suit against him, demanding that he be declared an apostate from Islam and stripped of his civil Muslim rights.
Tagged "the Kuwaiti apostate" by the Arab press, "Robert" quickly became a household name. An Internet Web site was even set up to champion his case, and scores of Christian organizations, churches, human-rights groups, and Western governments flooded Kuwait with protests on his behalf.
With his home ransacked and both religious and government leaders calling for his death, Hussein began a months-long ordeal as an outcast in his own country, moving from one expatriate Christian family to the next every few weeks.
The former businessman ended up trying to defend himself in ensuing court hearings because he could not manage to hire any Kuwaiti lawyer for a reasonable sum. In May, the Islamic Shi'a court trying Hussein handed down its verdict: guilty of apostasy, by his own admission.
Although Hussein's judge declared after the ruling that anyone who killed Hussein would be charged with murder under the civil criminal code, the written judgment recommended that the nation's top religious leader execute him. When Hussein continued to insist that this conviction was an implied death threat, the Kuwait Ministry of Justice formally denied on July 22 that he had been sentenced to death and guaranteed his protection under the Constitution.
SOME DISAPPOINTMENT:
While the National Evangelical Church of Kuwait where Hussein attended strongly supported the new convert's right to change his religious beliefs, they admitted in the wake of his departure "some disappointment" that he had increasingly distanced himself from the church in the weeks following his conviction.
"But from the beginning," one of the pastoral team said, "we have agreed that the case is much bigger than the man." According to Jacobson, Hussein's case has helped to "personify and personalize" to Western Christians the issue of conversion in the Muslim world.
Once Hussein had left the country, World Evangelical Fellowship (WEF) advised all Christian groups to suspend public advocacy on his behalf. An appeals hearing in his case is pending before the Islamic Court of Appeals.
U.S. Rep. Frank Wolf (R-Va.) introduced legislation August 2 asking the House to condemn the persecution of Christians worldwide. The legislation, which has 11 cosponsors, also recommends that the President expand international advocacy on behalf of persecuted Christians and appoint a White House special adviser on religious persecution.
"The U.S. has forcefully taken up the cause of other persecuted religious minorities," Wolf says, such as Soviet Jews during the Cold War, and, more recently, people of the Baha'i faith. Wolf's legislation applauds WEF for designating the last Sunday in September as an international day of prayer on behalf of persecuted Christians.
Barbara G. Baker is from Compass Direct news service.
Last Updated: October 2, 1996
Our digital archives are a work in progress. Let us know if corrections need to be made.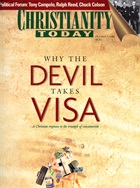 This article is from the October 7 1996 issue.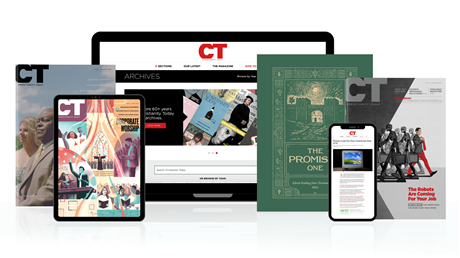 Subscribe to Christianity Today and get access to this article plus 60+ years of archives.
Home delivery of CT magazine
Complete access to articles on ChristianityToday.com
Over 120 years of magazine archives plus full access to all of CT's online archives
Subscribe Now
Persecuted Convert Flees to America
Persecuted Convert Flees to America