An early breakthrough in the Latin-American missionary movement took place in 1971 in a Mexico City Presbyterian church. Pablo Carrillo, a 22-year-old university student, and Roberto Dominguez, a young furniture maker, began meeting each day at 5 a.m. to pray for the evangelization of China. Three months into their vigil, Dominguez told Carrillo he had acquired a passport, "because I believe God is going to send me as a missionary to India."
Carrillo laughed at his friend's announcement. He thought Dominguez, who had failed to complete elementary school and just recently had learned to locate India on the map, was joking. "Little by little, I stopped laughing when I saw the Lord was in this," Carrillo recalls.
Soon afterward—and despite the objections of their families and pastor—the two young men attended a conference of Operation Mobilization (OM) volunteers in Milwaukee. They were the only Latin Americans there.
OM sent them to work short-term in Europe, the Middle East, and North Africa. Dominguez went on to spend four years in India. In 1974, Carrillo returned to Mexico to complete his degree in industrial engineering and married Jane Cornwaithe, another OM volunteer. In 1978, the Carrillos sailed back to Europe on an OM ship, this time with 70 other Latin Americans, to work short-term in Spain.
The Carrillos remained in Spain and in 1984 founded PM International, which today has 40 career missionaries from 10 Latin-American nations deployed in three strategic regions of the Muslim world. Many PM International staff work as bivocational "tentmakers" in countries off-limits to traditional Christian missionaries.
PM International is one of hundreds of mission organizations that have sprung up recently in the Latin world. Latin America, an evangelical mission field in the early 1900s, is fast becoming an important missionary-sending region at the close of the century.
EXPLOSIVE GROWTH: The Second Ibero-American Missionary Congress, known by its Spanish acronym COMIBAM '97, met in Acapulco, Mexico, October 27-31. The event brought 2,200 missionaries, missionary candidates, and missions-minded pastors together to gauge the progress of the Latin missions movement and promote its development.
"There has been a notable growth in the missionary consciousness of the church," Guatemalan Rudy Girn, COMIBAM '97 president, told CT. "I remember ten years ago, it was quite rare to hear of a theological institution or local church in my city that was having a mission conference. Today in Guatemala you can find ten conferences going on simultaneously. The church is waking up."
Girn, who is moving to Moscow to direct the Eurasian School of Christian Ministry, helped organize the first COMIBAM, held in 1987 in So Paulo, Brazil. That event attracted nearly 1,000 more participants than this year's meeting. Organizers believe Hurricane Pauline, which struck Acapulco 17 days before COMIBAM, dissuaded some delegates from attending.
However, a quota system that limited the number of delegates from each of the 31 participating countries appeared to be the primary reason for lower attendance. COMIBAM '97 registration rules required attendees to study three missions books and attend national forums before coming to Acapulco. The process aimed to develop local networks to promote mission. COMIBAM leaders recognize that the future of the movement ultimately depends on what happens at the national and local levels.
"The national movements are in different phases, some more developed, some just now beginning," Bertil Ekstrom, COMIBAM's new president, told CT. "We want to support these movements by developing [sending] churches, training centers, and missionary agencies."
MORE WORKERS NEEDED: Statistics compiled by Ted Limpic for Latin American Evangelization Service show that the region's Protestant missionary force has grown from 2,500 a decade ago to 4,000 today. That is not nearly enough, leaders say, for an evangelical population of 60 million. South Korea, with only 12 million evangelical believers, fields 5,000 cross-cultural workers. North America sends nearly 20 times as many Protestant missionaries as do Latin-American nations.
However, the ratios are likely to change due to the dramatic increase in new Latin missions organizations. According to Limpic's data, two-thirds of the 400 training centers and sending agencies in the region have been established in the past 20 years.
Bill Taylor, director of the Missions Commission for World Evangelical Fellowship, believes the movement will continue building momentum. He cites the explosion of new mission societies since COMIBAM '87.
"Also, the number of churches that have become involved has increased significantly," Taylor says. "The Latin-America movement is primarily a church-driven movement, whereas the North-America movement is agency-driven."
NOT NORTH AMERICA'S STYLE: Earlier this year, Taylor edited Too Valuable to Lose (William Carey Library), a book on missionary attrition that points out differences and similarities in missionary movements in North and South America.
For example, more Latinos return from the field due to decline in their support levels than do their North-American counterparts. Missions leaders attribute the weakness to the youthfulness of the movement and expect financial support to firm up over time. On the other hand, fewer Latinos leave missionary service because of health problems or family issues. This trend also reflects the youthfulness of the Latin-American movement.
"The Latin church has demonstrated a lot of faith in the power of God," says Jonathan Lewis, director of COMIBAM's training department. "It's a fresher, younger movement, more adaptable to some of the situations they may be facing in the less-reached areas of the world."
Too Valuable to Lose reports similarities between the North and South American mission movements. For instance, the same ratio of cross-cultural workers, around 6 percent, leave missionary service due to conflicts with colleagues. The leading reason both stay long-term is their clear sense of call, according to the study.
PENTECOSTALS LAG BEHIND: Limpic's research turned up noteworthy traits about the deployment of Latin-American missionaries. More than two-thirds are sent by home-grown organizations; only 10.5 percent work with foreign agencies. Brazil is the largest sending nation, accounting for more than half of cross-cultural workers. It is also the largest receiving nation, with 520 Latin missionaries working within its borders, many among tribal peoples in the Amazon basin.
Nearly two-thirds of Latin-American missionaries work in Hispanic countries. Only 11 percent are deployed in the so-called 10/40 Window, comprising the world's least evangelized nations. The fastest-growing branch of the evangelical church in Latin America, Pentecostals, has been the slowest to develop cross-cultural outreach. Three-fourths of Protestants in Latin America identify themselves as Pentecostals, but Pentecostals account for only 22 percent of Latin-American missions organizations.
Taylor of World Evangelical Fellowship believes traditional sending countries should take the rise in Latin-American missions seriously. "The movement that is emerging in the newer sending nations is forcing the older missionary movement of North America and Europe to rethink its role," he says.
Latin missionaries see their role as complementing, rather than replacing, missionaries from other parts of the evangelical world. "I don't believe we are living in the twilight of the Anglo-Saxon missionary movement," says Marcos Amado, a Brazilian who is director of PM International. "We are living in a time when Anglo-Saxon organizations must retrench."
Amado says prayer is undergirding the outreach. "In Brazil, Antioch Mission has a place reserved for people to pray 24 hours a day for world evangelization," he says. "Every time I come to a congress like this, people I've never met before say to me, 'Brother, my family and I have been praying daily for seven years for your ministry.' That is important."
Indeed. When Latin Americans begin to pray for world evangelization, some end up acquiring passports.
December 8, 1997 Vol. 41, No. 14, Page 70
Have something to add about this? See something we missed? Share your feedback here.
Our digital archives are a work in progress. Let us know if corrections need to be made.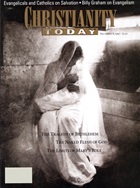 This article is from the December 8 1997 issue.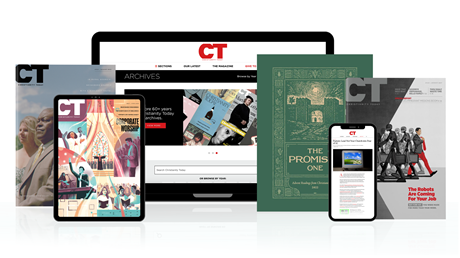 Subscribe to Christianity Today and get access to this article plus 65+ years of archives.
Home delivery of CT magazine
Complete access to articles on ChristianityToday.com
Over 120 years of magazine archives plus full access to all of CT's online archives
Subscribe Now
Mission-Minded Latinos No Longer Staying Home
Mission-Minded Latinos No Longer Staying Home