Orthodox Christianity is so old it is news. At first glance, Orthodoxy seems strange to Americans—with its gold, incense, and veneration of icons—but those who have converted to Orthodoxy often speak of "coming home."
While Orthodoxy is still a mystery to many, it is gaining credibility among Americans as well as increased visibility. While the majority of the 3 million Orthodox Christians in America today have strong ethnic ties to their churches, some new followers are drawn by its elaborate liturgy, creedal theology, and a family-friendly orientation.
In the past 20 years, hundreds of evangelicals, charismatics, and former Episcopalians have made their way into new Orthodox parishes.
This fall, American Orthodox turned out in force to welcome Ecumenical Patriarch Bartholomew, "first among equals" of the heads of the 15 autocephalous Orthodox churches. Bartholomew toured 16 cities and was also honored by the White House and Congress.
GROWING PAINS: This visit marked the first U.S. tour since Bartholomew, 57, became ecumenical patriarch in 1991. Despite his honorary standing as leader of 300 million Orthodox, Bartholomew has administrative authority only over a small remnant in Muslim-majority Turkey and of Orthodox churches in the "diaspora" that includes the Americas, Western Europe, and Australia.
While mystic rites and theological stability have attracted Americans, growth has not improved relations between Constantinople and the other jurisdictions in North America. The largest group in the United States is the 1.5 million-member Greek Orthodox Church.
There is a concern among both clergy and laity that Orthodox leadership in Istanbul does not want to loosen its control of the American church. In the melting pot of the United States, many reform-minded Orthodox do not see a reason for long-standing divisions.
"If we don't destroy these ethnic barriers and feel at home in America, we will remain, in the eyes of our fellow Americans, some kind of Oriental cult or museum for ancient relics," says Metropolitan Philip, archbishop of the Antiochian archdiocese.
"I believe the church of America is ready to be more than an ethnic church," Philip says. "If this issue was left to the American Orthodox, there would be no problem whatsoever."
Metropolitan Theodosius, head of the Orthodox Church in America, and Archbishop Geron Iakovos, recently retired head of the Greek Archdiocese, spearheaded efforts toward U.S. structural unity in 1994 when bishops representing 10 jurisdictions met and declared their intent to become an "administratively unified" body (CT, Feb. 6, 1995, p. 45).
Those efforts evaporated as Patriarch Bartholomew sent word from Istanbul that the quest for jurisdictional independence did not impress him. Last year, Bartholomew forced Iakovos to retire at age 85.
UNPOPULAR APPOINTMENT: Many Greek Orthodox also have been frustrated over Bartholomew's recent handpicked appointment of Spyridon, whom they accuse of having an autocratic management style and trying to hinder unity with other American Orthodox.
"Ever since Patriarch Bartholomew appointed Archbishop Spyridon last year, we've been in crisis," declares John Collis, who has been speaking for the group Orthodox Christian Laity at open forums around the country. "Archbishop Spyridon has been heavy-handed, and many of his decisions have been made without due process."
Collis, a 60-year-old lifelong Orthodox, says, "We need dialogue, and we need the Lord to help us."
Spyridon has declared that American Orthodox Christians are not "mature enough" to be separated from mother churches.
But Metropolitan Theodosius recently addressed the patriarch at Saint Vladimir's Seminary in New York, saying, "In all candor and in a spirit of sadness and repentance, we must admit that the witness of the Orthodox Church in American society is hampered, diminished, and even contradicted by our own divisions, our own wrong priorities, by our own ecclesial inconsistency. While we confess the church to be one and holy, we live in jurisdictional isolation and in an unholy ethnic isolationism."
PROTESTANT, CATHOLIC CHASMS REMAIN: Those of other Christian faiths had hoped for constructive dialogue with Bartholomew on his U.S. tour. He offered little at Georgetown University in Washington, where Catholics expected a response to Pope John Paul II's 1995 call to accelerate reconciliation. The pope and the ecumenical patriarch excommunicated each other in the Great Schism of 1054.
"The divergence between us continually increases, and the end points to which our courses are taking us, foreseeably, are indeed different," Bartholomew said.
At a speech before the National Council of Churches in New York, the patriarch criticized Protestant missionary efforts in the former Soviet Union. Russia has the largest number of Orthodox, 100 million.
"In lands where the Orthodox church is recovering from decades of persecution, a new threat to the Orthodox faith has appeared," Bartholomew said. "Many Protestant missionaries from the West whose voices were not heard during the decades of oppression have not come to lend support, but to convert Orthodox believers. These so-called missionaries claim to be Christians, but they behave as wolves in sheep's clothing."
December 8, 1997 Vol. 41, No. 14, Page 75
Have something to add about this? See something we missed? Share your feedback here.
Our digital archives are a work in progress. Let us know if corrections need to be made.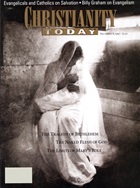 This article is from the December 8 1997 issue.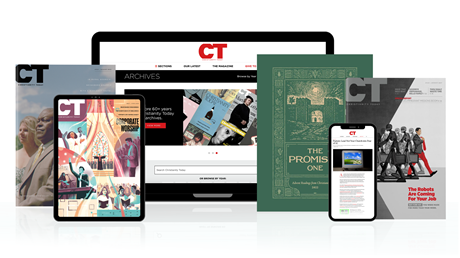 Subscribe to Christianity Today and get access to this article plus 65+ years of archives.
Home delivery of CT magazine
Complete access to articles on ChristianityToday.com
Over 120 years of magazine archives plus full access to all of CT's online archives
Subscribe Now
Orthodoxy: American Growing Pains Strain Relations with Patriarch
Orthodoxy: American Growing Pains Strain Relations with Patriarch