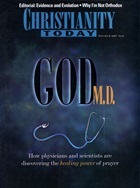 This article is from the January 6 1997 issue. Subscribers can read all of CT's digital archives.
It's 6:30 on a Wednesday night, and 80 teenagers are on the move. Thirty minutes before starting a youth outreach service that weekly draws upwards of 600 youth, these 80 young leaders cram into a long, narrow storage room behind the sanctuary at a church in Marysville, Washington, north of Seattle, for a time of forceful prayer, which they also coordinate with regular fasting.
As the teen leaders pray aloud, others hold hands or huddle in corners with heads bowed. The back of a shirt worn by a young man proclaims, "God's Huge!" They call these intensive sessions "warfare prayer," and afterwards they move quickly into the sanctuary at Marysville's First Assembly of God to await the arrival of hundreds of their peers, some having been driven more than an hour to attend the twice-weekly youth events.
Worn-out methods
Starting in 1992, Benny Perez, an evangelist and youth pastor at First Assembly, came to realize that existing youth outreach methods were missing a large segment of teens. "God really laid it upon my heart as I came up here to be different, to be radical, to be a voice," says Perez, a native of southern California.
Perez, 31, attributes the growth of his ministry—starting with 20 teens in 1992—to impassioned prayer and fasting. "We literally pray that the heavens would open and the power of God would descend," he explains. "We have people crying out for revival. Most pastors I talk to don't pray fervently. Prayer takes time. We keep asking, and we don't stop." He and his youth leaders take turns fasting and praying for the youth every day of the year. Dates are reserved on a calendar one month in advance.
The teens take these demonstrations of commitment seriously. Once the service begins, teens flood ...
1
Getting Teens Hungry for the Gospel
Getting Teens Hungry for the Gospel