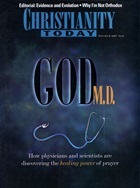 This article is from the January 6 1997 issue. Subscribers can read all of CT's digital archives.
In Good Company: The Church as Polis,by Stanley Hauerwas (Universityof Notre Dame Press, 268 pp.; $29.95, hardcover);
Where Resident Aliens Live: Exercises for Christian Practice, byStanley Hauerwas and William H. Willimon (Abingdon, 124 pp.; $12.95,paper);
Two Cities, Two Loves: Christian Responsibility in a Crumbling Culture,by James Montgomery Boice (InterVarsity, 271 pp., $19.99,hardcover);
Here We Stand: A Call from Confessing Evangelicals,edited by JamesMontgomery Boice and Benjamin E. Sasse (Baker Book House, 208 pp.; $16.99,hardcover). Reviewed by Robert W. Patterson, associate editor of PrisonFellowship's Wilberforce Forum in Reston, Virginia.

When New Testament scholar J. Gresham Machen bolted from Princeton TheologicalSeminary to form Westminster Seminary in Philadelphia in 1929, a movementamong selected conservative Protestants, christened as evangelicalisma dozen years later, was born on the presumption that theology was the watershedissue of the twentieth century. Yet as Presbyterian historian D. G. Harthas revealed, to the surprise of conservatives and liberals alike, what motivatedMachen was less a matter of theology per se and more a matter of the natureof the church and her relationship to society.
If Hart's analysis is accurate, the issue that rattled Machen remains everybit as unresolved nearly 70 years later. What has changed, however, is thatdescendants of those early battles are conceding that they may have morein common than meets the eye, and that the defining issue for faithful Christiandiscipleship at the end of the twentieth century is the taxing intersectionbetween church and society. Theological differences notwithstanding, Protestantsfrom mainline academics in the South to evangelical parish ministers ...
1
To Infiltrate or Separate?
To Infiltrate or Separate?