Responding to hundreds of complaints about proposed gender-related revisions to the New International Version, the International Bible Society (IBS) has canceled plans for all revisions—including those based on new archaeological findings and current biblical scholarship. "It is clear that the evangelical church said: Don't mess with our NIV. IBS has said: We hear you," says Steve Johnson, director of communication for IBS, which is based in Colorado Springs and holds the NIV copyright.
Meanwhile, IBS and Zondervan Publishing House in Grand Rapids, Michigan (which has exclusive publishing rights to the NIV), have asked the Evangelical Press Association (EPA) to investigate World magazine's reports on the now-scuttled revision.
ONGOING ISSUE:
The Asheville, North Carolina-based World, circulation 75,000, began a series of articles about an inclusive edition of the NIV with a March 29 cover story by assistant editor Susan Olasky, which called the proposed NIV "The Stealth Bible." World's inside headline referred to the possible NIV revision as a "Femme Fatale" and a "feminist seduction of the evangelical church."
Referring to the publication of an "inclusive version" of the NIV published exclusively for the British market by Hodder & Stoughton (now Hodder Headline), World alleged that the NIV was "quietly going gender neutral," which would "cloud the uniqueness of men and women."
Officials at both IBS and Zondervan say that World's reporting—especially the NIV cover story—may violate the first standard of EPA's code of ethics. That standard says Christian publications should be "characterized by sincerity, truthfulness, accuracy and an avoidance of distortion and sensationalism. … In dealing with controversial matters, opposing views, when presented, should be treated honestly and fairly."
IBS and Zondervan officials believe the cover story did not describe the inclusive NIV accurately or fairly. They object to descriptions of the proposed NIV as "gender-neutral," "unisex," and "part of a trend toward egalitarianism," which World defined as "the denial of any distinctions between men and women."
IBS and Zondervan protest that Susan Olasky did not seek comment from IBS or Zondervan when preparing her initial story.
World publisher Joel Belz responded that his magazine's initial story focused properly on the Committee on Bible Translation (CBT). The CBT is an independent body of 15 evangelical Bible scholars that carries out the work of revising and updating the NIV translation. "This story was not about publishing and marketing," Belz says. "It was about text."
Kenneth Barker, secretary of the CBT, objects to how Olasky quoted him. "I will never consent to another interview by Susan Olasky or anyone else connected to World magazine," Barker says. "They have simply done too much unwarranted damage to the NIV, the CBT, Zondervan, and IBS."
Olasky declined to speculate on what prompted Barker's regrets but says she appreciated CBT members' "openness, frankness, and obvious pride in what they're doing."
NEW BATTLE FOR THE BIBLE?
The Battle for the Bible, title of former ct Editor Harold Lindsell's book, became the rallying cry in 1976 for evangelicals concerned that their seminaries and colleges had abandoned the doctrine of biblical inerrancy. World editor Marvin Olasky—Susan's husband—uses the phrase in the debate about Bible translations and contemporary English usage. "The story is the battle for the Bible," he says. "We are not neutral when it comes to preserving God's Word."
CBT members are no less committed to the Bible, Barker says. "We are all conservative evangelicals who are totally committed to all the great evangelical doctrines of the historic faith-including the Bible as the authoritative, infallible, inspired, and completely truthful Word of God."
Both sides quote revered evangelical patriarchs. World cited theologian J. I. Packer in its April 19 issue: "Adjustments made by what I call the feminist edition are not made in the interests of legitimate translation procedure. These changes have been made to pander to a cultural prejudice that I hope will be short-lived."
In contrast, pastor-scholar John Stott has backed the inclusive NIV. "When man means human being, without any intention to exclude women, and when the use of brothers was never intended to exclude sisters, then to retain such gender-specific words would be offensive," Stott wrote in an endorsement for the U.K. version. "Even worse, it would actually misrepresent the meaning of the biblical text. The revisers have done their work with skill and sensitivity, and without in the process developing a clumsy, ponderous, or repetitive style."
CHANGING MARKETS:
Gene Rubingh, IBS's vice president for translations, says the CBT's independence is designed to protect it from commercial pressures that could be brought by Zondervan or IBS. The CBT has, or had, sole responsibility for what revisions to make to the NIV.
Rubingh says publishers Zondervan and Hodder & Stoughton first suggested a more inclusive text to the CBT because they knew of seminary professors dropping the NIV in favor of the New Revised Standard Version, which makes extensive use of inclusive language. Zondervan, along with its corporate parent Harper-Collins, is one of the publishers of the New Revised Standard Version. Market research by Zondervan showed less interest in an inclusive NIV among readers in the United States than in Great Britain, Rubingh says.
Zondervan has protested that World portrayed the inclusive NIV as virtually a done deal, to be foisted quietly upon an unsuspecting evangelical audience. As evidence for that concern, World cites the release of the New International Readers' Version (NIRV), a simplified version for children, adults learning to read, and adults for whom English is a second language. Released in 1996, the NIRV incorporates many inclusive-language changes without announcing those changes anywhere in the text, World reported.
The IBS board voted to reverse those changes and "begin immediately to revise [the NIRV] in a way that reflects the treatment of gender in the NIV."
While supporting the IBS decision, Zondervan president Bruce Ryskamp vigorously defended the NIRV: "We respect IBS's decision as the issue is one of language preference. It is a distinction without a difference in meaning between Bible versions. The NIRV we publish gives clear, accurate, and easily understood expression to the timeless truth of God's Word."
Belz says he believes that Zondervan would have published an inclusive NIV quietly had it not been for Olasky's story. "The record—particularly from Priscilla Papers [the journal of Christians for Biblical Equality]—suggests that was a fair assumption," Belz says.
The proposed NIV would not have been the first NIV to make inclusive-language revisions. In 1983, Barker says, the CBT made about 500 changes, which incorporated new knowledge from archaeological discoveries and current biblical scholarship. Among those changes, the CBT replaced man or men in all cases where the Hebrew or Greek used a neutral noun. The CBT has not received any complaints about those changes, Barker says.
In the inclusive NIV sold in the United Kingdom, the CBT changed "generic" uses of masculine language that does not exclude women but left masculine references for God.
UNDER PRESSURE:
IBS announced its decision to cancel revising the NIV on May 27, only 13 days after another news release said that revisions for an update would be complete by 2001. The current NIV, last revised in 1983, will remain intact. The decision reverses the NIV tradition of ongoing revision in light of new biblical scholarship. "Because of the climate in the evangelical church, and because certain linguistic issues have not been settled, I doubt that you'll see this issue resurface anytime soon," Johnson says of all revisions to the NIV.
Johnson says IBS received up to 500 complaints—including one from a man who drilled holes through a few NIVs—after World began its reports. IBS's decision to cancel revisions was a response to the evangelical community and not to World's articles, Johnson says, adding that IBS still supports the EPA inquiry into World's reporting.
Belz praises the IBS decision. "I do see it as a clear statement that people from this highly varied background have clarified their obligation to resist the cultural shaping of God's Word," he says. "I see it as providing a remarkable and unprecedented platform for continued discussion of gender issues as they re- late to Bible translations, apart from the heat of the past few weeks' controversies." "Treatment of gender" would have accounted for about 25 percent of the proposed changes in a new NIV, according to Jonathan Petersen, director of corporate affairs at Zondervan. The rest of the changes would have reflected advances in biblical scholarship.
SECOND TIME AROUND:
The NIV matter marks the second time in two years that World has faced a possible EPA inquiry into the journalistic ethics of its reporting. Ron Wilson, EPA executive director, confirms that the group received a complaint last year regarding World's report on a Christian environmental conference. The disputed article, "It Isn't Easy Being Green," appeared in the May 11/18, 1996, issue. Dean Ohlman, who brought that complaint, dropped it after an exchange of letters and a personal meeting with Belz. Ohlman told ct he remains unsatisfied and does not consider the matter resolved.
Both Zondervan and World are eager for the current EPA inquiry to proceed. "We're not concerned about it," says Belz. "We welcome it." "What was done was wrong, and we don't want it to happen again," says Petersen. EPA's Wilson tried unsuccessfully to have the parties resolve the matter through mediation.
"We're not doing it to get a pound of flesh from World," Petersen says. "Our main desire is to restore people's confidence in the NIV." He says the code of ethics of the EPA, a professional association representing more than 300 periodicals, should either be enforced or eradicated. Editors subscribe to EPA's doctrinal statement and code of ethics each year when they pay membership dues.
THE MARKET DECIDES:
EPA bylaws normally call for the president to appoint any ethics committee. But Christianity Today Executive Editor David Neff, who last month succeeded Belz as president of EPA for a two-year term, recused himself from appointing the committee. (Christianity Today International has been a publishing partner with Zondervan on several books and study Bibles, and Zondervan's staff includes former CTI personnel.) Wilson, as EPA's executive director, has appointed the ethics committee, with advice from Neff and other EPA leaders.
World has continued to press the matter after publication of Olasky's initial article. In an April 19 editorial, Belz wrote, "We stand by our story, and we didn't make up any quotes." The May 3/10 issue included a column by Focus on the Family President James Dobson, who urged readers, "Don't give in to feminist pressure to rewrite the Scriptures." Olasky wrote a follow-up article on Zondervan, and Belz wrote another editorial.
Dobson convened a meeting at Focus on the Family on May 27, only hours after IBS announced its decision. The meeting included officials of Focus, IBS, Zondervan, World, and the Council on Biblical Manhood and Womanhood. Belz said participants hoped to issue a joint statement within a few days.
Zondervan's Petersen says the decision to undo revisions of the NIRV may affect the "continuity" of that version's availability. "We don't think it's necessary to recall it," Petersen says of the NIRV. "Our plan is to sell through the current version and then to sell the revised version."
David Scholer, professor of New Testament at Fuller Theological Seminary, believes inclusive versions of the Bible are inevitable. Scholer wrote an article for Priscilla Papers, which Belz credits for alerting World to the inclusive NIV. "I think American English has genuinely changed," Scholer says. "If I were an NIV publisher, I would start to realize that I'm going to begin losing my market within the next decade."
Editor's note: Doug LeBlanc was a freelance writer for World magazine from 1986 to 1994.
Have something to add about this? See something we missed? Share your feedback here.
Our digital archives are a work in progress. Let us know if corrections need to be made.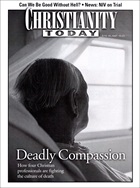 This article is from the June 16 1997 issue.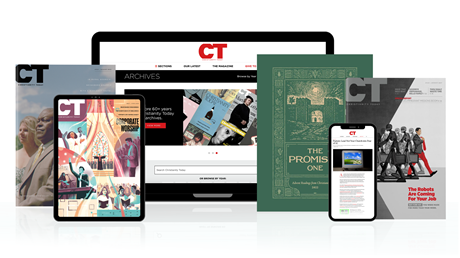 Annual & Monthly subscriptions available.
Print & Digital Issues of CT magazine
Complete access to every article on ChristianityToday.com
Unlimited access to 65+ years of CT's online archives
Member-only special issues
Subscribe
Bibles: Hands Off My NIV!
Bibles: Hands Off My NIV!