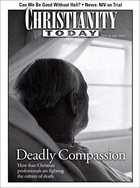 This article is from the June 16 1997 issue. Subscribers can read all of CT's digital archives.
Nearly 30,000 women assembled inside the Rose Bowl in Pasadena May 16-17 for "Chosen Women: Daughters of the King," the largest women-only stadium rally since the birth of the Promise Keepers (PK) men's movement six years ago.
Though attendance fell short of the 80,000 organizers had projected, participants enthusiastically joined in the activities. In many respects, the gathering resembled the enormously popular PK men's meetings—which drew 1.1 million to 22 stadium events last year.
In Pasadena, women of all ages sang, danced, did the wave, blew bubbles, batted beach balls, prayed, and applauded the all-female lineup of speakers.
The conference's emphasis was on revival and renewal. Chosen Women founder and executive director Susan Kimes said she hoped that attendees would "go home and transform our families, our communities, our churches."
Organizers recruited a roster of sought-after speakers, including Jill Briscoe, Bunny Wilson, Elisabeth Elliot, and Anne Graham Lotz, to address a wide range of topics, such as servanthood, submission, and personal holiness.
MOVEMENT GROWTH: Chosen Women is the latest in a number of events for women that have followed on the heels of the enormous success of PK.
Since 1995, groups such as Heritage Keepers, Women of Faith Joyful Journey, Promise Reapers, A Promise Kept, Praise Keepers, and Keys for Abundant Living: A Promise Keepers Counterpart have held smaller rallies around the nation (CT, March 3, 1997, p. 62).
Joyful Journey—until now the biggest player—drew 15,000 to Riverfront Coliseum in Cincinnati in January and hopes to attract 150,000 women to arenas and stadiums in 14 cities this year. Joyful Journey director Laurie Knox told CT that her group and Chosen Women share ...
1
Our digital archives are a work in progress. Let us know if corrections need to be made.
Women's Conference: Chosen for Revival
Women's Conference: Chosen for Revival