When Stephen Kasamba came to the United States last October, he brought a spiritual legacy full circle. Kasamba, a young Anglican evangelist and worship leader, was part of a Ugandan ministry team invited to help foster renewal within Episcopal churches in several American dioceses. The team's charge was to be a spiritual encouragement to flagging U.S. churches. In Uganda, the Anglican Church has been growing phenomenally: there are 5 million Anglicans in 21,000 churches, compared to the United States where Episcopalian membership has dwindled to about 2.5 million in 7,360 churches.
For Kasamba, the task held deep personal meaning. Decades earlier, an American missionary working in northern Uganda had told Kasamba's grandfather, "Today, we are coming to you to preach the gospel, but tomorrow, you shall bring the gospel to us." That day had finally come.
Kasamba's story is a living illustration of dramatic changes occurring within the global evangelical movement—shifts that are forcing new interpretations of missions and ministry.
As recently as 1960, evangelicalism was largely a movement concentrated in Western Europe and North America. Today it has become a global movement with startling new dimensions. Of the world's estimated 400 million evangelicals, 70 percent are non-Western, living in Africa, Asia, Oceania, and Latin America. As the new millennium grows nearer, church leaders from around the world agree that such an enormous demographic transformation has significant implications for theology, for missions, and for the future of evangelicalism.
In Abbotsford, British Columbia, evangelical leaders representing 115 nations and 110 organizations in early May will convene the tenth General Assembly of World Evangelical Fellowship (WEF), the international umbrella group for national and regional evangelical alliances.
WEF International Director Agustin B. Vencer, Jr., says the meeting in suburban Vancouver was planned to "celebrate the globalization of Christianity." For the opening ceremony, delegates are to enter the convention site carrying their national flags in a vivid display of a WEF theme Bible verse: "My name will be great among the nations" (Mal. 1:11).
"Our world is becoming a smaller village each passing day," says Vencer, a Filipino lawyer and pastor and WEF's first non-Western leader. "This has an impact on the church because we are aware that we are part of a global body, that the point of reference is no longer defined simply by missions but by the reality of what God is doing in other parts of the world as well."
Delegates to the general assembly are expected to commemorate the one-hundred-fiftieth anniversary of the founding of WEF's predecessor, the Evangelical Alliance. But much has happened since the 1846 London meeting when Christians from ten nations sat down to form a new international evangelical organization. And in setting global evangelical priorities for the twenty-first century, WEF delegates will have new strategies to consider.
GROWTH SPURTs SOUTH AND EAST: According to veteran researchers Patrick Johnstone and David Barrett, who have been tracking global church trends for nearly three decades, as late as 1960 more than half of all professing Christians still lived in North America and Europe. But, says Johnstone, by the early 1970s, the "center of gravity of Christianity" began moving toward the Eastern and Southern Hemispheres. By 1990, only 38 percent of all Christians lived in Western nations, and by 2000, Johnstone estimates the figure will be down to 31 percent.
Western evangelicalism is by no means dead. Johnstone says there has been a "slow, but steady growth" in the number of evangelicals in the West. But within the past 20 years, he says, there has been a virtual explosion of evangelicalism in Latin America, Asia, and Africa.
For example, Johnstone's Operation World (Zondervan, 1993) reports that in 1960 there were 4 million evangelicals in Brazil, the largest Roman Catholic nation in the world. By 1990, that number had risen to 26 million evangelicals, about 18 percent of the population. In fact, Brazil now has the third-largest national evangelical community in the world, after the United States and China.
In 1900, there were about 8.8 million Christians in Africa, composing less than 2 percent of all the world's Christians. By 2000, there will be about 338 million Christians in Africa, nearly 17 percent of the total global population. In Uganda alone, more than 80 percent of the nation's 22 million people are Christians.
At the beginning of the century, only 4 percent of the world's Christians lived in Asia. Today that number is close to 20 percent. South Korea, where the first Protestant church was planted in 1884, is now home to 10 of the 20 largest congregations in the world, including the single largest congregation, Full Gospel Central Church in Seoul.
Some scholars suggest this southern and eastern trend is part of the "serial movement" of Christianity that has characterized the faith since its very beginnings. According to Bryant Myers, director of the Mission Advanced Research and Communication Center (MARC) at World Vision International, the church may have begun as a Jewish movement in Jerusalem, but the center of gravity quickly moved to the Greek world as Christianity spread into Greece and Turkey. Then for many centuries the church was a Roman-dominated movement, until the period of the Reformation, when a new center of gravity moved into northern Europe and England. In the modern era, the demographic center shifted to North America.
With the explosive growth of evangelicalism in the Third World, Myers says, it appears that Protestant Christianity is again heading into a new dispensation, although its final composition may not yet be set. "A demographic shift that is as significant as this will take some time to play itself out," Myers cautions. "We're not far enough into it to be able to comment with any certainty."
RESHAPING EVANGELICAL THOUGHT: Nonetheless, Myers and others agree the new trend already has major implications for the worldwide church. One of the key influences is likely to be felt in the reshaping of evangelical thinking.
"All the great authors of the world, all of the great philosophers, all the great thinkers of evangelical thought are no longer necessarily centered in just one or two geographic areas," says Dwight Gibson, North American director of WEF.
"The theology of the future is the theology of where the Christians are," says Kwame Bediako, a Ghanaian seminary professor who wrote Christianity in Africa: The Renewal of a Non-Western Religion.
Many evangelicals from developing countries used to come to North America or Europe for advanced studies, but today seminaries and other evangelical educational institutions are being established across Asia, Africa, and Latin America to teach the evangelical faith from a non-Western framework.
"Africans, Asians, and Latin Americans are asking different questions, and because you have so many Christians there, you'll find theology trying to address those questions and, hence, a new center of theological creativity," says Myers.
In Africa, for example, Bediako notes that Christians wrestle with numerous topics that have not been pressing issues for the West, including the influence of traditional religions, struggles between ethnic groups, and church-state relationships in situations where Christians are a minority.
Africa can be a "laboratory" where "those Christian answers are going to be hammered out," Bediako says.
As South Africans have discovered fresh approaches to racial reconciliation, Western leaders have been learning from African achievement.
One of the key mediators behind the scenes in the 1994 elections was Michael Cassidy, team leader of African Enterprise. He encouraged Washington Okumu, a Kenyan professor who is also a Christian, to play an important role in resolving longstanding political difficulties.
In addition, Cassidy, during the election campaign, brought 90 opposing politicians face to face during intensive weekend encounters. "The key in those experiences was having each person share an autobiography and history," Cassidy says. "This required everybody to listen rather than talk. And when that happened, the stereotypes were broken."
Since his successful efforts to aid democracy in South Africa, Cassidy has been drafted to speak about reconciliation in other countries.
Cassidy told CT that once an alienated adversary is fully understood and "humanized," the stage is set for apology, repentance, and reconciliation. "We stumbled almost unwittingly onto a formula that was powerful and which we have found to be workable."
The Christian leader took that message abroad to Northern Ireland last October, where he met 300 leaders. He intends to return there in August at the invitation of the Presbyterian Church.
He also addressed groups of Promise Keepers in Charlotte, North Carolina, and Chicago last July. A third speaking engagement, during which he will again talk about racial reconciliation, is scheduled for June 7 in Knoxville, Tennessee.
According to Cassidy, the South African situation could be a model for helping to improve racial tensions in North America, the political and religious impasse in Northern Ireland, or the tribal strife in Rwanda and Burundi.
African Enterprise has been active in all of these countries. Cassidy is also considering some involvement in Liberia as that war-torn West African country struggles to return to normalcy after years of fratricide.
David Richardson, the African Enterprise Canadian director who has worked closely with Cassidy for 20 years, says North Americans could apply the same principles of reconciliation to ease multicultural tensions, including those of the Asian and Native American communities. "They have never been dealt with in a way that brings healing and closure to historical hurts," he says.
"The whole thing about race relations in many parts of the world is that they have been ignored; they have been such a hot potato," he adds. "No matter how far back in history it may be, it [reconciliation] is doable within the understanding of the Christian context."
Daniel Ho, senior pastor of the Damansara Utama Methodist Church in Petaling Jaya, Malaysia, says Asian evangelicals also face distinctive challenges, such as learning to function in sharply restrictive environments; dealing with "heightened religious sensitivities" among other faiths, including Hinduism, Buddhism, and Islam; and coping with a rapid urbanization.
"It is a great challenge for the church to know how to operate and witness in this context," says Ho, former general secretary of the National Evangelical Christian Fellowship of Malaysia.
From his vantage point in WEF's world headquarters in Singapore, Vencer says he sees evangelicals in the Third World applying a more holistic vision to how their faith impacts all areas of life, including poverty, justice issues, and politics. "Evangelicals are now becoming conscious of oppressions and injustices in their own lands and the role they can play in their own countries so they can be part of the process of transforming their societies for Jesus Christ," he says.
In some places, WEF's Vencer concedes, this role has led to political involvement that has not been well thought through. "There are some negatives to this, of course, but by and large, it doesn't change the fact that they are picking up a biblical agenda to be truly evangelical and take, as we say, the whole gospel to the whole world."
SHIFTING PARADIGMS: In fact, overwhelming numbers of evangelicals from Africa, Asia, and Latin America are indeed taking the gospel around the world. The emergence of a vibrant missions force from developing countries has been one of the hallmarks of the past decade. Scholars estimate that by the end of the century there will be as many missionaries from the Third World as there are from the West.
"It's not a competition, but simply a growing awareness on the part of the Third World to pay their global debt to the gospel, to reach their own neighbors, and contribute to the task of proclaiming the goodness of Jesus to all the world," Vencer says.
In some cases, Christians within the developing world are ministering to unreached people and language groups within their own borders. The 1996 Directory of India Missions, published by the India Missions Association, lists 86 indigenous agencies, all headquartered inside India and largely financed by Indian churches. Most are working with India's many ethnic groups.
Another widespread trend is the growth of Third World tentmaking missions. With the rise of labor migration, many contract workers from the developing world are finding ministry possibilities in the wealthier nations where they work. Thousands of Filipinos, Indians, and Ethiopians are hired annually in Muslim Gulf States. Peruvians with a Japanese ethnic background are going to Japan in search of jobs. Some of these overseas workers are Christians committed to sharing their faith, planting house churches, and forming cell groups in their new environments.
Increasingly, Third World churches are following the more traditional route of sending missionaries "abroad." Daniel Ho's church in Malaysia has planted four churches in Cambodia and is helping those local Christians establish income-generating projects. Many Latin American missionaries have effectively worked in Muslim nations, and missionaries from South Korea and Singapore are working around the globe.
(First of two parts; click here to read part 2)
Have something to add about this? See something we missed? Share your feedback here.
Our digital archives are a work in progress. Let us know if corrections need to be made.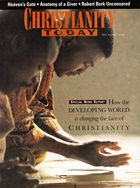 This article is from the May 19 1997 issue.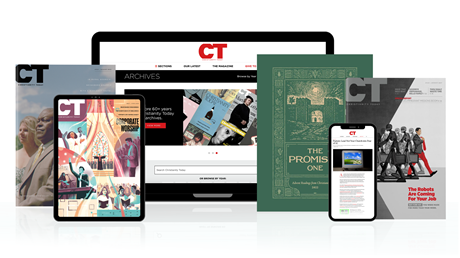 Subscribe to Christianity Today and get access to this article plus 65+ years of archives.
Home delivery of CT magazine
Complete access to articles on ChristianityToday.com
Over 120 years of magazine archives plus full access to all of CT's online archives
Subscribe Now
Faith Without Borders (Part 1 of 2)
Faith Without Borders (Part 1 of 2)