In 1979, Southern Baptist Convention conservatives elected the first in a still-unbroken string of presidents who resolved to appoint only biblical inerrantists to the governing boards of SBC agencies.
But even as conservatives were winning the "battle for the Bible," another theologically oriented movement began emerging, largely from within conservative ranks: a resurgence of Calvinistic doctrine, especially among a new generation of the SBC's institutional leadership.
Currently, two of the denomination's six seminary presidents are proponents of Reformed theology: R. Albert Mohler, Jr., of Southern Baptist Theological Seminary in Louisville, Kentucky, and Mark T. Coppenger of Midwestern Baptist Theological Seminary in Kansas City, Missouri.
By some accounts, the movement began in 1982 with the formation of the Southern Baptist Founders Conference (SBFC). The SBFC—so named because many early SBC leaders were Calvinistic in doctrine—has become a loose-knit network of pastors and other church leaders who hold annual meetings to hear speakers promote "the doctrines of grace."
EARLY TRADITION: During the first 50 years following the SBC's founding in 1845, the denomination elected presidents who mostly adhered to the "five points of Calvinism":
—Total depravity: People are spiritually dead and therefore unable to respond to God's offer of salvation unless he first regenerates them.
—Unconditional election: God chose some to be saved because he loved them, not because of any merit on their part.
—Limited atonement: Christ died only for the sins of the elect, not for everyone's sins.
—Irresistible grace: All whom God regenerates will inevitably choose to repent and exercise faith.
—Perseverance of the saints: God will preserve in salvation and eternal life those he saves.
Based on the theology of John Calvin (1509-64), the five points were developed in the early seventeenth century by the Synod of Dort in Holland in opposition to key teachings of Jacob Arminius and his followers.
Though early Southern Baptists believed the five points, they rejected other traditional Calvinist ideas, such as infant baptism, hierarchical polity, and state religion. Instead, they advocated believer's baptism, congregational autonomy, and separation of church and state.
"Fifteen years ago, critics were accusing us of being 'deep-water Presbyterians' and were claiming that Southern Baptists have never been Calvinists," says Tom Ascol, editor of the SBFC's quarterly publication, The Founders Journal. "Hardly anyone is making such unfounded accusations today."
Ascol, who is pastor of Grace Baptist Church in Cape Coral, Florida, credits the distribution of more than 100,000 books by the SBFC as instrumental in helping contemporary Southern Baptists become more aware of their roots.
Bill J. Leonard, dean of the Wake Forest University Divinity School and a church historian, acknowledges that early SBC leaders had Calvinistic beliefs but says he doubts Reformed doctrine can make a widespread comeback any time soon.
"At least in this generation, I don't think you can convince a majority of Southern Baptists that Jesus died only for an elect chosen from the foundation of the world," Leonard says.
But Ascol says, "Of those who believe that church life and ministry ought to be theologically driven, a majority would consider themselves Calvinistic."
The revival of Reformed theology is growing among younger pastors and ministers in training, Ascol observes. "This is largely a young church leader movement," he says. "Boomers and busters are willing to put aside preconceived notions. More and more seminary and college students are coming to see that the doctrines are nothing more than an accurate summary of the biblical teaching of salvation."
The impact of younger Baptists, who are often computer-literate, also has been felt in the SBCNet forum of CompuServe, where there are several lines of vigorous online discussion about issues related to Reformed theology.
At times, the cyberspace dialogues have been conducted fiercely—occasionally turning into personal attacks—by debaters on both sides. Additionally, the SBFC itself has a Web site at www.founders.org, which receives more than 2,000 monthly hits, Ascol notes.
In large part, contemporary SBC Calvinists regard themselves as inerrantists and denominational conservatives, though they disavow any political role for the SBFC.
CONTRARY VIEWS: Even so, the movement has drawn occasional barbs from such non-Calvinist conservatives as former SBC presidents Jerry Vines, copastor of Jacksonville's First Baptist Church, and Adrian Rogers, pastor of Bellevue Baptist Church in Memphis.
"Are you a Calvinist, or are you an Arminian?" Vines asked two years ago at Southeastern Baptist Theological Seminary in Wake Forest, North Carolina. "If you are either, you are a religious humanist, because that is a man-centered theology instead of a God-centered theology. I could care less what Calvin believed, and I could care less what Arminius believed. I want to know what the revealed Word of God has to say."
Rogers told an audience at a 1995 evangelism conference that he rejected the Calvinist notion that only some can be saved.
"Christ is the propitiation for our sins— and not for our sins only, but for the sins of the whole world," Rogers declared. "You say, 'Well, I believe they're elected.' Well, they may be, but I like to nominate them. … You'd be surprised how many more get elected in a red-hot, evangelistic service."
OUT OF FAVOR: Indeed, it was nineteenth-century revivalism, Wake Forest's Leonard believes, that brought about moderation of early SBC Calvinism.
But Calvinist scholars such as Mohler lay the demise of Reformed theology at the doorstep of E. Y. Mullins, Southern's president from 1899 to 1928. According to his critics, Mullins introduced a more subjective and experiential element into the "doing of theology" among Southern Baptists.
But Leonard begs to differ. "Baptists modified their Calvinism long before Mullins arrived," he says. "The early Calvinists, from Jonathan Edwards on, were evangelical. They preached like everyone could be saved, knowing that preaching would call out the elect."
Leonard is not the only critic outside conservative ranks who has taken Calvinists to task for their theological views and historical interpretations.
Earlier this year, William R. Estep, a retired church history professor from Southwestern Baptist Theological Seminary in Fort Worth, published an attack on SBC Calvinism in the Baptist Standard, newspaper of the Baptist General Convention of Texas.
Estep wrote that Calvinism is "logically antimissionary," robs persons of responsibility for their conduct, and is marked by intolerance, divisiveness, and haughtiness.
"If the Calvinizing of Southern Baptists continues unabated, we are in danger of becoming a perfect dunghill," Estep warned.
Ascol acknowledges that opponents "are usually motivated out of a fear that this theology will kill evangelism and missions." He says that while the fear may seem justified because sound doctrine will kill shallow, shoddy, man-centered evangelism, it really is groundless.
"Most of the greatest missionaries and evangelists in history have been Reformed in theology," Ascol says. "The Southern Baptist Convention, which has become one of the greatest missionary-sending agencies in history, was rocked in the cradle of Calvinism."
Have something to add about this? See something we missed? Share your feedback here.
Our digital archives are a work in progress. Let us know if corrections need to be made.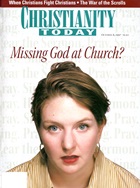 This article is from the October 6 1997 issue.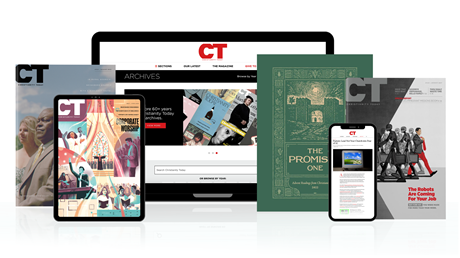 Annual & Monthly subscriptions available.
Print & Digital Issues of CT magazine
Complete access to every article on ChristianityToday.com
Unlimited access to 65+ years of CT's online archives
Member-only special issues
Subscribe
Southern Baptists: Calvinism Resurging Among SBC's Young Elites
Southern Baptists: Calvinism Resurging Among SBC's Young Elites